Here are a half dozen new fly patterns I learned to tie the last few months during the Winter Fly Tying Classes that look pretty good to me.
I'll give you a caveat…I haven't fished these, but they sure look fishy and I can't wait to try them out.
Here are a trio of flies Peter Bowers of The Patient Angler taught us this year:
A Steelhead Green Rock Worm (size 6) that I'll use as a dropper to a heavier nymph when swinging for chrome doesn't work.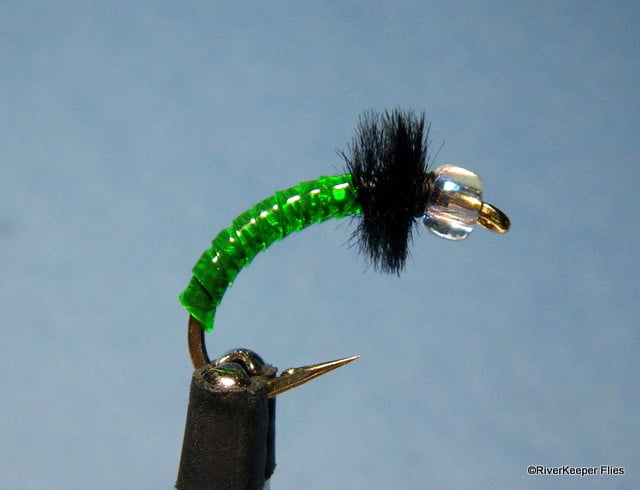 A damsel fly nymph that's easy to tie and looks incredible – Pauls English Damsel Nymph (size 14).
The third fly is a Water Boatman (size 14). Never tied or fished any of these. I think I've missed the boat, so to speak.
A simple fly pattern presented by Bill Seitz, is the Skip Nymph (size 14).
And a Euro Jig Nymph (size 16) Jeff Perin of The Fly Fisher's Place taught us. Looks like a fish catching fly.
Lastly, here is a tiny caddis pattern, a Peacock Caddis (size 18) Sherry Steele taught us. It's a Dry Fly Innovation fly from the guys in Boise.
I've added these flies to the Fly Patterns page. Tie up a few of these flies and let me know if these new fly patterns work for you.
Lastly, I received several requests to tie flies for people. I've started tying custom flies and would be happy to tie some for you. All the flies are tied by me and I will tie any fly you see on my website. Just contact me for prices and delivery times. For more about my fly tying and fly fishing journey, check the About Me page.
A couple other things:
If you'd like to receive an email when a new Post is published, be sure to sign up in the SUBSCRIBE area on the sidebar of this page.
Check out the Fly Patterns page on the website as I continue to add patterns I fish. Don't tie? That's OK. Many of these patterns can be found in your local fly shop.
Feel free to share with your friends by copying the link to RiverKeeper Flies (www.johnkreft.com), or using the buttons below to SHARE on your Facebook page or pin pictures to Pinterest.
If you'd like to follow me on Facebook, click Follow RiverKeeper Flies on the sidebar where I add a few pictures and thoughts.