I've been fly fishing and fly tying for a long time. I won't call myself an expert, but I know a lot of things I hope will help you in your fly fishing journey.
How did I start fly fishing?
It began around 1970. I was mesmerized by the beauty of casting.
I bought some flies, lost them and thought this was going to be an expensive hobby…if I would have only known…purchasing materials…fly rods…more fly rods…
I learned to tie flies from Wayne Doughton. He owned the local hardware store in Salem, Oregon. I'd never seen a hardware store with garbage cans filled with rod blanks, glass cases filled with reels of all types, 5 gallon tins with India necks, and all the other fly tying materials.
Wayne sold me a Thompson Model A vise (I still have that vise), four flies with materials to tie them and told me to come over to his house on Sunday. He taught me to tie those four flies and encouraged me to tie them at home until I got them right. Then, bring back the four fly "models" and trade them for four more and purchase materials for the new flies. Well, you get the picture. That's how I learned to tie flies.
You can read more of my fly fishing story in the post – My First Flies.
Last year, I tied about 180 dozen flies. My Custom Flies seem to be popular. I tie custom fly orders for clients and friends, and have been known to give flies away on the river, Central Oregon Flyfishers, and Central Oregon Project Healing Waters.
I've fished nymphs, dries and streamers. Fished all day long when I had a chance. That's when I worked. Now retired, I'm fortunate to live in Sisters, Oregon close to my home water, the Metolius River.
I seem to fish with dry flies more these days. I love watching trout rise slowly to the flies I tie. There's a satisfaction of watching a fish rise to a fly you tied that's difficult to explain. Like playing a chess match with the fish.
I enjoy teaching people and this website helps me do that. RiverKeeper Flies is loaded with tips and tricks, along with over 200 fly pattern sheets you'll find on the Fly Patterns page.
I've been known to say…"you can use whatever you want, but this is what I do." A friend of mine listens more intently when that line is used. Guess I use it often.
And I enjoy capturing and making special moments with my camera. That's why you'll see images in most of my posts.
I was fortunate to retire early and wanted to find volunteer activities as a way to "give back". Here are some of the fly fishing activities that have taken up my time over the years:
Oregon Council – Fly Fishers International – I was Treasurer of the Oregon Council from December 2011 to June 2016. In March, 2016, I received the Federator of the Year award and the 2016 Oregon Council Award of Excellence from IFFF In August 2016.
NW Fly Tyer & Fly Fishing Expo – I was the Expo Treasurer from December 2011 to June 2016. I served as Chair for the 2015 and 2016 Expo (sponsored by the Oregon Council – IFFF). The NW Expo has been heralded as the "largest fly tying event west of the Mississippi". I wrote about the 2016 Expo HERE.
I was honored to receive the 2017 Stan Walter Memorial Fly Tyer of the Year at the NW Expo.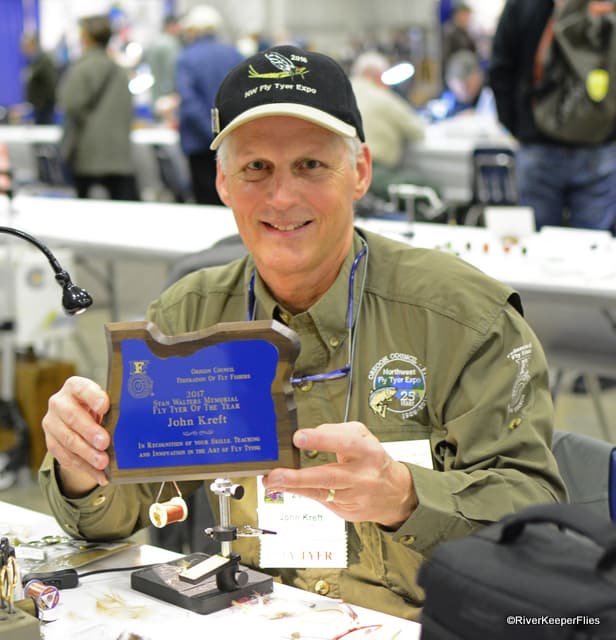 Central Oregon Flyfishers – In 2012, I took over as the leader of the Central Oregon Flyfishers Winter Fly Tying and continued in that role through 2019. I averaged over 28 tyers in the room every week in January, February, and March in 2018. In April 2016, I was honored to receive my club's Flyfisher of the Year award. In 2020, I decided to take a break from COF because of Covid-19.
Next Cast Flyfishers – I helped my wife with our fly club's youth flyfishers called Next Cast Flyfishers at the annual Fish Camp and Master Class at East Lake. She retired from her position in 2019.
Central Oregon Project Healing Waters – I served as a Board member from 2011 – June 2018 and taught fly tying and fly fishing to Veterans through 2019. Unfortunately, they disbanded in 2020.
Trout Unlimited & US Forest Service – I've volunteered to help with several Metolius River rehabilitation projects. See Metolius River Stewardship Project blog post for details, pictures, and a short video.
Casting for Recovery – I've supported Karen, my wife, in her volunteer work at retreats in Oregon. I've been a Casting for Recovery River Helper since 2013.
Presentations – I've started making presentations to fly clubs, which have been well received. Contact me for more information about presentations to your fly club.
Demonstration fly tying – I've tied at various fly fishing shows, including: Western Idaho Expo (Boise, ID), NW Fly Tyer & Fly Fishing Expo (Albany, OR) beginning in 2007, IFFF Fly Fishing Fair, and the Pacific NW Fly Tyers Rendezvous (Portland, OR). In 2020, I ventured into the online world of fly tying through Zoom and my own RiverKeeper Flies YouTube channel.
I was featured in American Fly Fishing magazine's "Masters at the Bench" in the Nov/Dec 2020 issue.
Thanks for stopping by. Maybe I'll see you on the river.