I've settled into the chair at my fly tying table, working to fill three orders for Christmas presents. These orders are for a combined total of 191 flies and I hope to complete them in the next week or so. I was asked to recommend some flies, which I was happy to do. It got me thinking about this year's fly fishing road trips and my favorite dry flies of 2020.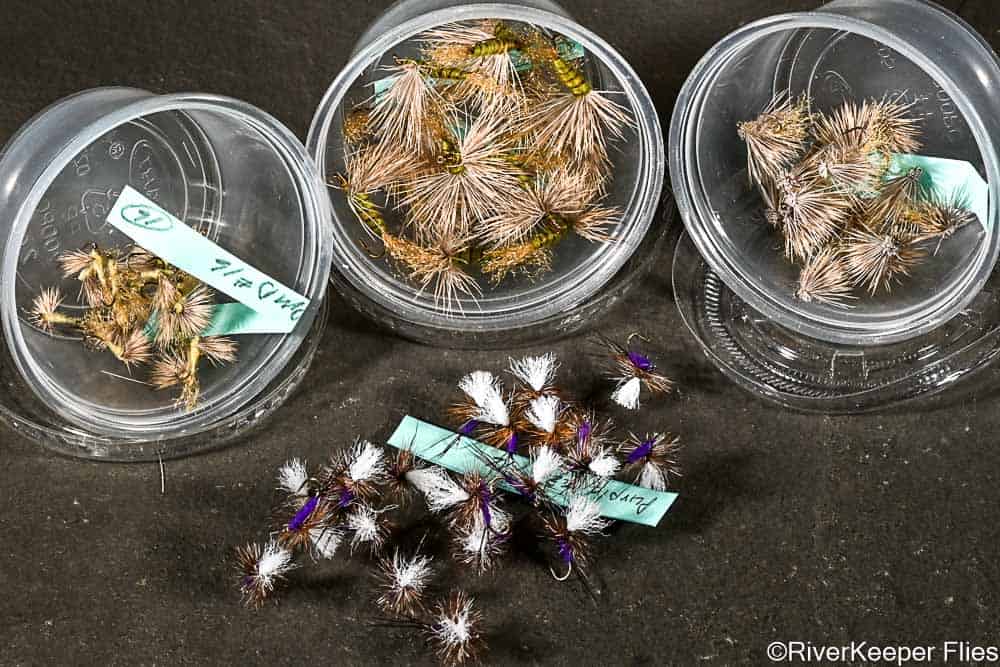 How did I come up with the list? I have a number of favorite dry flies. They are reliable and have worked on my home waters, the Metolius, as well as during stops to rivers in Idaho and Montana.
It's no secret I like to fish mayfly hatches. The Green Drake hatch on the Metolius is my favorite. I'll find a few in mid-May, but the hatch doesn't get going until early June.
Once the fish notice them AND start rising to eat the naturals the fishing can be incredible. We'll find the first big fish of the season. The fish rise with reckless abandon for a couple days, but it doesn't take them long to realize my fly has a point on it!
Here is the Green Drake Sparkle Dun. It's the first fly I pull from the fly box and knot onto my tippet. There's a reason I tie it on first.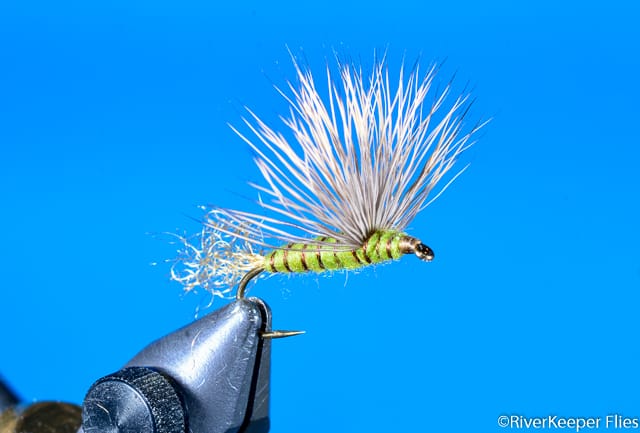 My RiverKeeper Soft Hackle Cripple is another dry fly that works well for me.
I tie both flies in sizes 14 to 8 to imitate Green Drakes and their smaller cousins, Flavs.
It even works on the Madison River, MT. (Madison River – July 2020)
How about a few caddis imitations?
We've experienced excellent caddis hatches on the Madison River, MT. It's one of the reasons we drive so many miles during our fly fishing road trips. Sure, this hatch brings in lots of other fly fishers, but we've always been able to find a spot to fish. To say it's memorable is an understatement!
The first couple weeks of July are known for a terrific hatch of Hydroschyche caddis on the Madison. Here are our favorite flies to imitate this hatch…an X Caddis, Iris Caddis, and the Improved F Fly.
Sizes 18 and 16 brought fish to the surface. (Madison River – July 2020)
Whether my Sparkle Dun PMD imitates a PMD or Epeorus mayfly, it seems to work. We had a good time on the Clark Fork after figuring out what the fish were eating. (Clark Fork River – August 2020)
All I know is a size 16 PMD Sparkle Dun was working. It was close enough.
They might work on the Metolius too!
And my RiverKeeper Soft Hackle Cripple PMD fooled a few fish as well.
And don't forget to have a few mayfly spinner fly patterns. Galloup's Compara Spinner and Galloup's Sunken Spinner were two new fly patterns I found and tied for our trip. These two flies replaced my standard Rusty Spinner – Biot Body. Galloup's Compara Spinner was much easier to see because of the wing profile. (Madison River – July 2020)
Galloup's Sunken Spinner is a variant of Kelly's original I've changed a little to create a dry fly. He designed the fly to fish in the water column because the spinners do in fact sink and the naturals are easy for fish to eat as they float by in the current. I just like to watch the fish eat the fly and my subtle change worked.
We didn't fish the Deschutes Salmonfly and Golden Stone hatch this year because of Covid-19. Lee Clark's Lady Stone and his original Golden Stone are flies I carry to imitate these big bugs (size 10 – 8).
This Lady Stone tricked a Brown Trout on the Madison River, MT. (Madison River – July 2020)
And last, but not least, be sure to have a few Purple Haze. I don't know why this fly works, but it does. It's a fly I wouldn't be without.
It saved us on Rock Creek. (Rock Creek – August 2020)
I'm sure you have your favorite dry flies. These are mine.
Enjoy…go fish, stay safe!