Here is the fly pattern sheet for Clark's Lady Stone.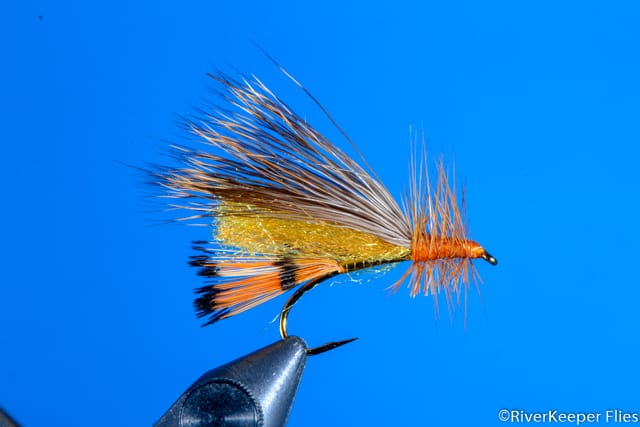 The image below is my version to imitate a Salmonfly (see Clark's Stone Salmonfly)
A Clark's Lady Stone tied by Lee Clark.
Bottom view
Materials
Daiichi 1280, 1260 or any 2XL dry fly hook, #8 – 10
UV dyed orange Golden Pheasant tippet
Clark's poly yarn – rust & gold, combed or straight orange
Directions
Begin tying thread behind hook eye and wrapping back to bend of hook to create a thread base on the hook shank. Wrap thread forward about 1/4 inch where tail will be secured.
Use the middle section of golden pheasant tippet with the filaments attached to the feather shaft. The back of the tail should extend about 1/4 inch beyond the bend of hook.
Tie in gold flat tinsel at tail tie-in point and continue wrapping thread forward to a position 1/3 back from eye. For durability, apply a small amount of Zap-a-Gap to the thread.
Wrap tinsel forward with slightly overlapped wraps and secure with thread. Trim tinsel tag-end.
Tie in combed poly yarn fibers 1/4 inch behind eye of hook. Yarn fibers should extend to black tip of golden pheasant tail material. The orange tippet with black tip will be visible to the fish. Trim tag end and form gentle taper with thread base.
Select a bundle of deer hair and remove underfur. DO NOT STACK. Place the deer hair wing over poly yarn with natural curvature positioned downward. Deer hair tips should extend 1/4 inch beyond poly yarn. Use light thread tension on first few wraps to prevent flaring the wing. Trim butts and use thread to form taper and base for hackle.
Tie in saddle hackle using 3 to 5 wraps in front of wing.
Cut notch in bottom of hackle to give the fly a lower profile.
Change the underwing to imitate a different stonefly, i.e., (see Clark's Stone Salmonfly).
Lee is a big proponent of using UV dyed orange golden pheasant tippet for the tail. I use it to imitate the Salmonfly, but use the natural golden pheasant tippet to tie a Golden Stone.
Here is a link to my RiverKeeper Flies YouTube channel where I demonstrate tying Clark's Lady Stone. The only difference is an added tail. The fly shown in the video imitate a Golden Stone.
Personal tying notes:
While Lee doesn't stack the deer hair, I do. It depends on the patch you have. I've had some where I didn't need to.
Size 12 or 14 mylar is used for the body.
Lee doesn't over-hackle the fly. He wants it to float in the surface film.
I purchased UV dyed orange Golden Pheasant tippet directly from Lee.
I try to match Golden Pheasant tippet colors to imitate body color of natural.
Variegated rust & gold or orange
Lee designed the original Clark's Stone 40 years ago. His new fly pattern was developed in 2015 and is used here with permission by Lee Clark.