Here is the fly pattern sheet for the RiverKeeper Soft Hackle Cripple.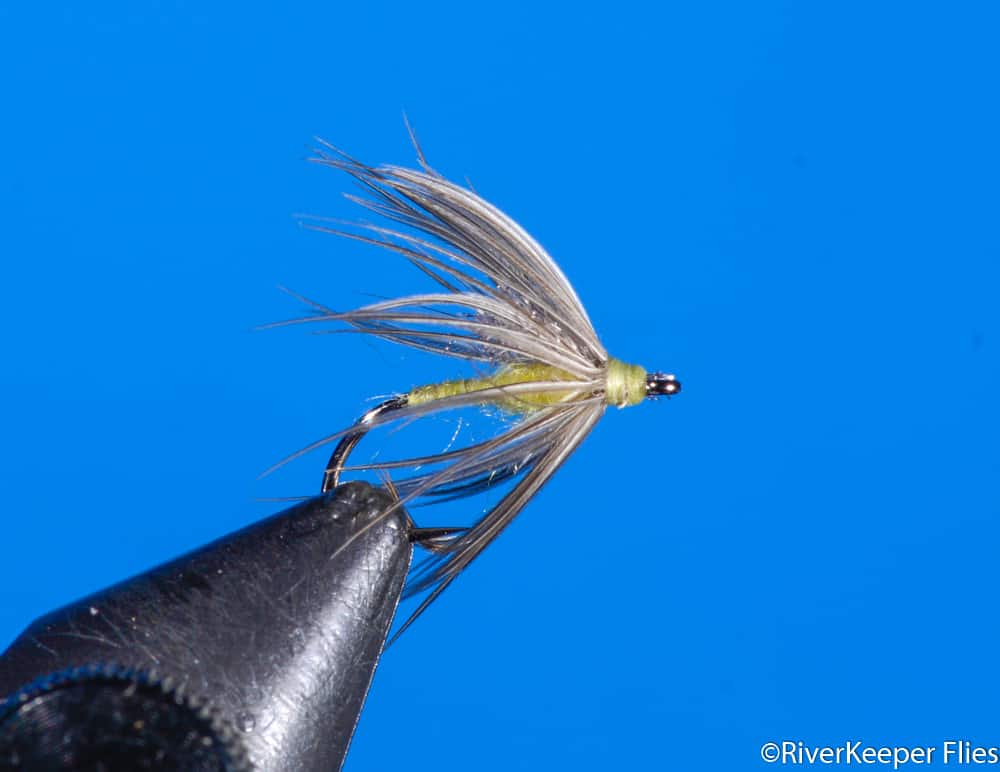 And here are a few real Mayfly Cripples…note the profile of the wings laying flat in the water. The RiverKeeper Soft Hackle Cripple attempts to emulate this profile.
Here is a PMD and RiverKeeper Soft Hackle Cripple.
And a Blue Wing Olive (BWO) version of the fly pattern, size 19.
Green Drake or Flav imitation.
Lastly, a March Brown
Materials
Alec Jackson Soft Hackle, Daiichi 1310, TMC 102Y, or any standard dry fly hook
Uni 8/0 or Danville 6/0 – brown, tan, yellow (PMD), olive dun, march brown or black
Superfine dubbing to match insect
Thread or embroidery thread (optional)
Zelon – mayfly brown, olive brown, dun
Hungarian partridge, mallard covert feather
The RiverKeeper Soft Hackle Cripple is a style of fly that can be used for any mayfly cripple. Coordinate the thread and body color.
Directions:
Start thread on hook and advance to barb.
Dub slim tapered body forward to a position 2 eye lengths back from eye.
Tie in zelon on top of hook at thorax area. Tie in securely with 5 wraps as zelon is slick. Trim about 1/3 length of body.
Prepare a soft hackle feather by pulling off the excess fluff. Feather length should be to the hook point, or slightly longer.
Tie the feather in by the tips just behind the eye of the hook.
After securing the feather on the hook with the shiny side forward, hold the shaft and bend towards eye of hook. This begins to break the shaft. Hold the shaft up, moisten fingers and squeeze or "fold" the barbules so they are perpendicular to the shaft. This action forces the barbs backwards and prevents over-wrapping of barbs.
Wrap the feather forward with a wrap in front of a wrap. Over hackle the fly – a typical soft hackle uses 1 ½ turns of hackle. Use 2 or 3 turns of hackle to complete the fly (larger flies may need 3 to 4 turns).
Tie off the thick shaft on the side to fill in the space and create a small head. Trim stem.
Sweep hackles backward and add a few thread wraps to make small head.
Whip finish.
Here is a link to my RiverKeeper Flies YouTube channel where I demonstrate how to tie the fly.
The challenge in making an effective fly is to find the appropriate hackle for the fly. Early in the fly development, I used Hungarian partridge almost exclusively. Since then, I've experimented with chukar, quail, duck (mallard, green teal), jackdaw, starling, golden plover, or any other upland game bird. Most recently, I've settled on the shoulder feathers from mallard wings for PMDs and Green Drake RiverKeeper Soft Hackle Cripples to match the dun colored wing of the natural. (See my post Preparing Hackle for Soft Hackle Flies for more information.)
The bobbin holder is pointing to the covert feather in the picture above. Below is a closeup of the covert feathers.
The number of wraps and stiffness of the feather is what makes the fly float.
Many bird wings have small, useful feathers at the leading edge (covert feathers) or where it connects to body. Preference would be for a feather that has a bit of body that will stand up imitating a dry fly wing.
Fishing the fly
Traditional soft hackles are usually swung as a wet fly. I use it as a "dry fly/cripple" and try to fish it with a dead drift. Get the fly wet and apply Frogs Fanny on it so the fly sits in the film. It looks like a cripple at this point. When brushing on the Frogs Fanny, push the hackle back to get the hackle to stand up. Also apply Frogs Fanny to the body. If it sinks, put on more Frogs Fanny.
Grayish-olive or olive brown
Olive, ribbed with yellow or brown thread
Olive, ribbed with yellow or brown thread
From top to bottom:
Green Drake #8
Green Drake – Flav – #12
Caudatella #15
PMD #15
BWO #19
Comparable hooks – I created a post entitled Comparable Fly Fishing Hooks where I discussed using Daiichi hooks instead of TMC 102y for this fly. Don't get me wrong, I like the Tiemco hook, but wanted to find a Daiichi hook I could use and Alec Jackson hooks are made by Daiichi.
Tiemco 102y size 15 = Alec Jackson Soft Hackle size 11
Tiemco 102y size 17 = Alec Jackson Soft Hackle size 13
Tiemco 102y size 19 = Alec Jackson Soft Hackle size 15.
(Note: both of the hooks listed above come only in odd sizes, not the even size you may be used to.)
I looked at the Alec Jackson North Country hook which is a slightly heavier hook, so I settled on the 1X fine wire Alec Jackson Soft Hackle hook. In fact, I use them exclusively for the light bodies mayflies like a PMD. I find the black hook shows through light colored dubbed bodies.
You can certainly use a dry fly hook, but if you do, I'd recommend a 1X short. When I do, a Daiichi 1310 is my hook of choicel.
I hope it helps.