Welcome to this year's holiday wish list for fly fishers. I hope you find something useful on the 2022 Fly Fisher's Christmas list.
Many of these items can be purchased at your local fly shop and I encourage you to do so. But if you can't find the item, here are links to Amazon (affiliate links) or websites where you can locate these fine products.
Custom RiverKeeper Flies
First on the list are some Custom RiveKeeper Flies. Purchase some for yourself or your fly fisher. I can help select the right flies. Contact me by leaving a Comment below.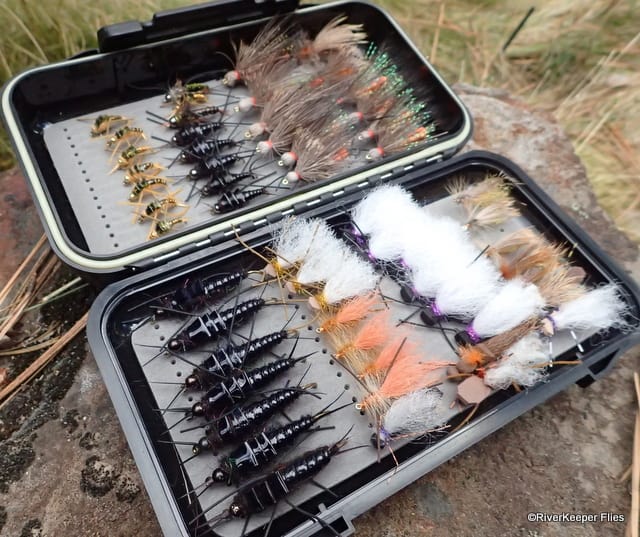 Fishing Ideas
Gifts Under $50
Gifts from $50 – $300
Korkers Boots ($160 – 300) – Korkers are the best boots I've ever had! I wore my first pair of Devil's Canyon boots from 2015 – 2018 and ended up with roughly 350 days on the water. I like the interchangeable soles to switch back and forth between studded felt, regular felt, aluminum hex or bars, and rubber. And I don't have to deal with shoestrings! I always had trouble tightening the laces in regular boots. Seems like they always loosened up. The improved M2 BOA lacing system is even better than the original. They're quicker to tighten and snug up tight. I just take a couple of deep squats to make sure the boots adjust to my feet and can always get a few extra "clicks" with the BOA dial. My wife wears the Darkhorse and I've added a link to their newest boot, the Terror Ridge. Read my review of Korkers HERE.
Korkers Soles ($50 – 70) – One of the reasons I like Korkers are the interchangeable soles. I wear studded felt 95 percent of the time, but change to aluminum when not allowed, like Yellowstone National Park. In addition, I use the felt soles that come with the boot during guided trips when studs aren't allowed in the raft.
Fly Tying Ideas
Gifts under $50
Ideas over $50
Enjoy…go fish!
(John Kreft is a participant in the Amazon Services LLC Associates Program, an affiliate advertising program designed to provide a means for sites to earn advertising fees by advertising and linking to amazon.com.)