I'm back to tying flies and filling orders. Why? The weather changed. Remember last week's Fall Fly Fishing on the Metolius post where I mentioned someone throwing a switch on November 1? Well, they finally did, although a few days later. What a difference a week makes. A week ago our high temperature was 67…yesterday 37 degrees. I was hoping to see a few Baetis mayflies hatching with fish rising to them. There were and a few fish were looking up…but I'm getting sidetracked.
I have several orders in hand and getting serious about filling them. One of the patterns was an X Caddis. I was looking forward to tying them.
It brought back some very good memories of fishing the Madison River, MT in July.
I tied six flies to fill the order and another dozen for the provider box. I'm looking forward to using them on the Madison River, MT next year!
Before I go too far, I thought I'd share the fact I was featured in the Nov/Dec American Fly Fishing magazine's "Master at the Bench". Perhaps you saw it.
I'm honored and humbled to be recognized for the quality of files I tie.
Now back to more caddis fly patterns.
The next fly on the order is a Hemingway Caddis.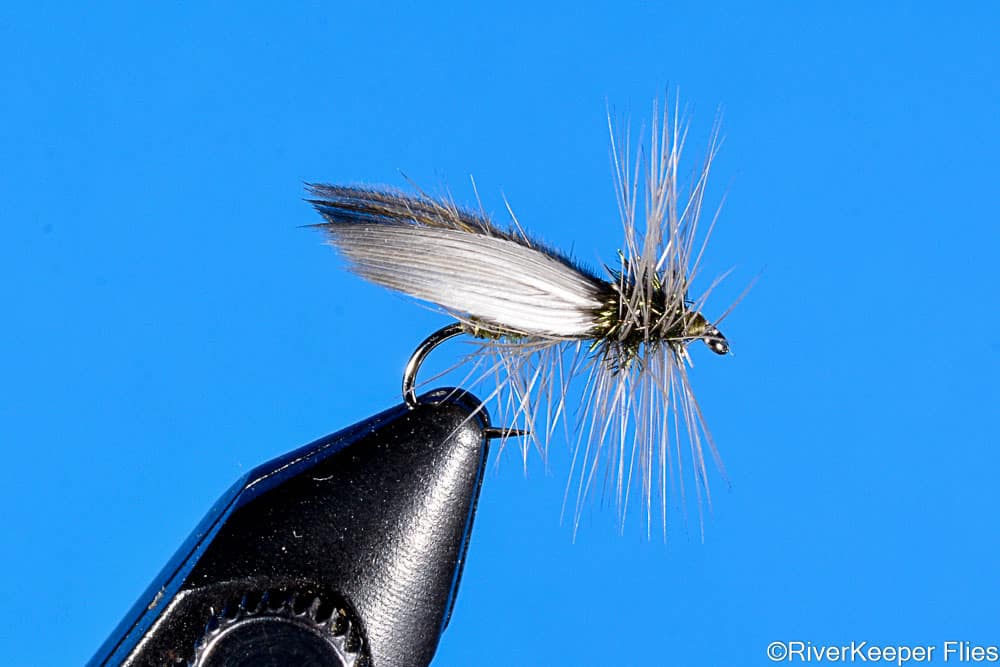 I really like the quill wings, there's an elegance to it. Funny though, it won't stay that way after a fish eats it. Overall, I'm quite happy how they turned out.
I've learned a few lessons selecting quill wings when I tried tying them several years ago. I don't dread tying these flies now. But when I started tying a Hemingway Caddis, it certainly was frustrating! Knowing what part of the quill to use makes all the difference.
To size the wing, I use the hook gape to estimate the width of each slip. When imitating caddis wings, I don't want them too wide. I pull the fibers off the stem rather than cutting them. The individual fibers hold together much better.
To set the wing, I butt the longest side of each slip next to each other, making sure to even the tips. Next, I hold them in my right hand and measure to length. Then I fold them together directly above the fly with my thumb and index finger of my left hand. Holding them tightly, I place a loose thread wrap around the hook and slowly pull upward while TIGHTLY holding the wing. Take a couple of additional wraps to secure and remove your fingers to check the wing. You might be surprised to see them on top of the fly! But it does take practice. I remember throwing away a lot of quill wings that didn't seem to work. Trust me, they'll get better.
I've been thinking about making a few fly tying videos this winter when I have more time indoors. The Sparkle Dun and RiverKeeper Soft Hackle Cripple are two flies that come to mind. Perhaps I'll add the Hemingway Caddis to demonstrate setting the wings.
Today I plan to tie up a few Kings River Caddis.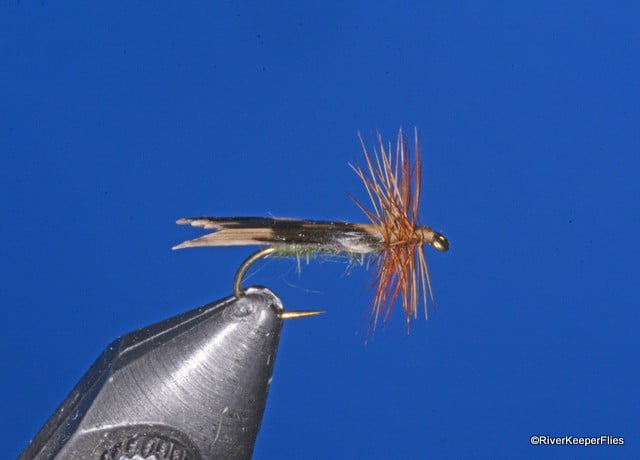 Lastly, would you like an opportunity to purchase some RiverKeeper Flies and support Casting for Recovery? CFR National will hold their Annual November Online Auction November 12 – 22. Proceeds from the sale of my flies along with the following items will help support the Southern Oregon CFR retreat. (Here is a link to my post about the 2019 Casting for Recovery Oregon South Retreat.)
Here are the 64 flies included in a fly box donated by my friend Jeff Perin at The Flyfisher's Place – click HERE to bid.
And other auction items supporting a Southern Oregon CFR retreat: (PLEASE NOTE – I DIDN'T TIE THE STEELHEAD FLIES)
There are many other auction items which support other local retreats as well as the National program. I encourage you to spend your money! It goes to a good cause.
Enjoy…go fish, stay safe!