This week's Throw Back Thursday post is about Hoffman Super Capes.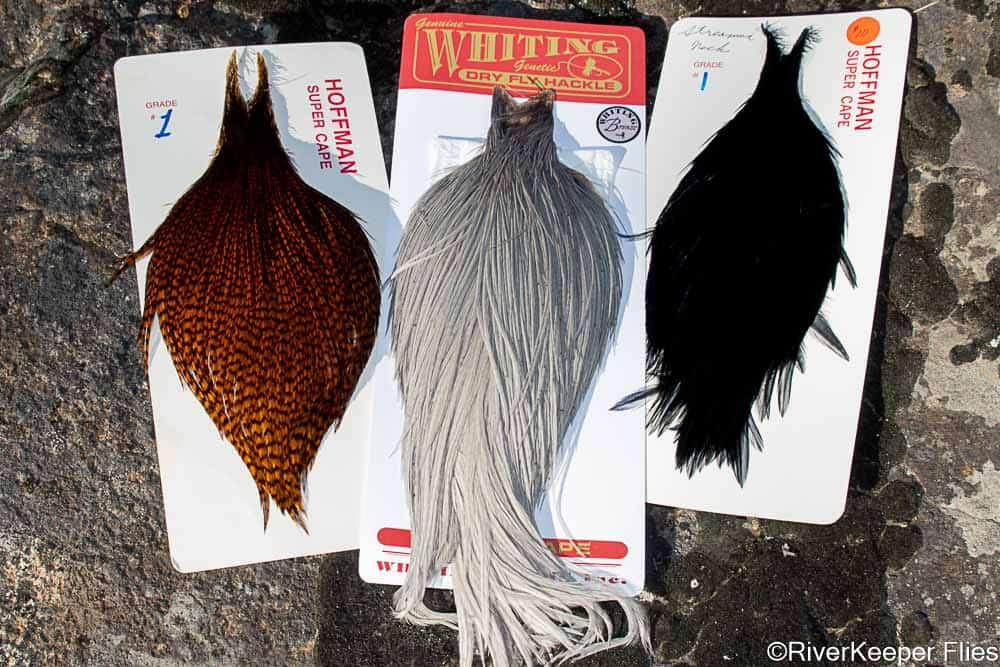 The image above is of two grade 1 Hoffman Super Capes from many years ago. For perspective, I placed them beside a Whiting bronze grade cape I purchased last week. The Hoffman Super Capes are grizzly dyed brown and black. The cape on the left is much more brown than the image shows.
But look at the difference in the old vs. new cape. It's the result of many years of Tom Whiting and his remarkable genetic work to create longer, stiff, high barb count, and supple quills.
I purchased my first Hoffman cape at the Scarlet Ibis Fly Shop in Corvallis, OR I'm guessing in the early 1980's. A friend of mine joined me to purchase a brown and grizzly cape. Michael Gorman, the shop owner, took a razor blade and cut them in two. We each selected a half and were set to tie some high quality dry flies. I still have the remnents of those capes. While they were the best a fly tyer could obtain in those days, it is a far cry from the Whiting hackle available today. In fact, I'd bet it was several years older than the Hoffman Super Capes shown above. Henry continued to improve his product every year as he selected roosters with the feather quality he was looking for.
Here is Henry at the 2017 NW Fly Tyer and Fly Fishing Expo in Albany, OR.
He had a display board in his booth showing the changes in grizzly hackle over the years. It was very informative and impressive how he was able to create better quality with each generation.
Whiting purchased Henry's business in 1989 and has continually improved the quality of fly tying hackle. With the stiffest, most dense barb count on the supplest of quills, the Whiting line of capes and saddles are the preferred choice of dry fly tiers around the world.
Henry started raising chickens in the mid 1960s in Warrenton, OR. His selective breeding technique improved the quality needed to create a good dry fly hackle.
Among his recognitions are the 2008 national Fly Fishers International (FFI) Buz Buszek Memorial Award and the 2000 Stan Walter's Memorial Tyer of the Year from the Oregon Council FFI.
To read more about Henry's journey, be sure to read this Oregonian article.
The other recommended reading is from Whiting Farms website. Their Whiting Farms Story includes information about Henry as well as their own journey.
If you are a fly tyer, you owe a big THANK YOU to Henry for his years of work.
Enjoy…go fish, stay safe!