I'm packing the car and heading to the 2018 NW Expo in a couple of days. Besides being a Demonstration Tyer on Friday and Saturday, I'll be teaching a Contemporary Soft Hackle class on Friday afternoon.
You may have read last week's post Volunteer Activities and Fly Tying were I talked about helping some of our Next Cast Flyfishers' prepare for their own opportunity to become a Demonstration Tyer.
Our last tying session is Wednesday to make sure these kids have all the materials they need to craft their flies. My friend Pete Martin has helped teach the kids with me for a total of five days in the last couple of weeks. There will be seven of our kids included with the other 200 tyers on Friday and Saturday. They will be tying the third session on Saturday.
I tied three flies for plates at the 2018 NW Fly Tying and Fly Fishing Expo. All of them will be auctioned off on Friday night. As the Stan Walters Memorial Fly Tyer of the Year for 2017, I was asked to tie the "show" fly – a Royal Wulff. This fly will be on the "show" plate. I'm looking forward to seeing it.
I was honored to have one of my flies on the Legend's Plate for the first year since I was awarded the Stan Walters Memorial Fly Tyer of the Year. There are some terrific fly tyers on this plate! It was created by Dan Kellogg of Stillwater Custom Fly Plates. He sent pictures of his plates for me to use in today's post.
I tied a variant of the Hatchmaster Green Drake for the Legend's plate.
My local Central Oregon Fly Tyer's Guild has been creating fly plates for several NW Expos the last few years. I've had flies on those plates and this year was no exception. The theme of this fly plate was the Metolius River. In addition to the Green Drake Emerger I tied, my photo of the Metolius River is center on the plate.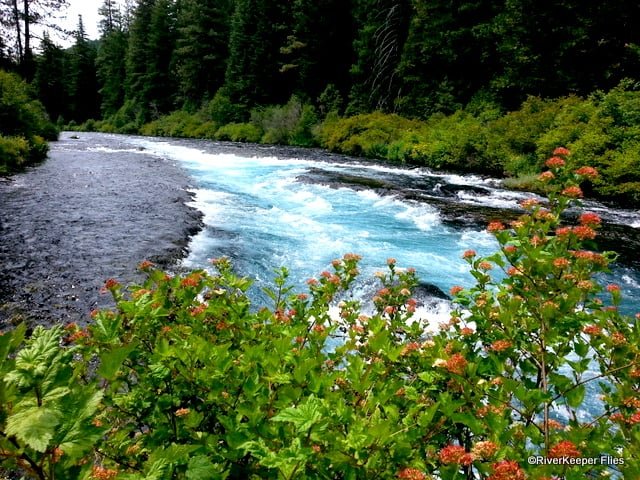 Lastly, I've been tying lots of flies the last few weeks and I couldn't help adding one last picture of the deer hair I used to complete the X Caddis seen in the Caddis provider box. It's a piece of deer hair I picked up from Blue Ribbon Flies in West Yellowstone, MT.
I probably have tied over 300 caddis of one type or another using this piece of deer hair. I'm really going to miss this patch!
I can't say enough about the quality of their deer hair for X Caddis and Sparkle Dun. But I've also seen really good deer hair packaged by Nature's Spirit as well. There are probably other good sources out there, but these two are the best I've seen.
That's it for this week.
I hope to see you at the NW Expo!
Enjoy…go fish!