I've been busy lately with volunteer activities and fly tying. It's winter and a good time for me to give back and help fly fishers who want to tie flies become better fly tyers.
I'm sure you've read about Central Oregon Flyfisher's Winter Fly Tying classes. This isn't a beginning class, but as long as you know the basics, members are welcome to drop in every Tuesday night in January, February, and March. This is my seventh year leading this fly fishing class. I teach one or two classes and find other fly tying instructors for the other 10 or 11 weeks. Perhaps you've read Central Oregon Flyfisher's Winter Fly Tying where I give additional details about these classes.
I spent a couple days last week helping a few Next Cast Flyfishers prepare for the NW Fly Tying & Fly Fishing Expo on March 9 & 10 in Albany, OR.
This is a time to refine techniques and ensure these fly tyers have all the materials necessary to demonstrate a couple of fly patterns at the Expo.
Last year, six fly tyers shared three tables and tied their flies. This year I'm proud to say they are included with the other 200 fly tyers who will be tying over two days at 72 tables. I'm really excited for our youth fly tyers. I'll spend a couple more days this week teaching them a new fly pattern and evaluating their "show" flies. They are scheduled to tie on Saturday afternoon, so if you attend, be sure to stop and watch them tie their flies.
Here are a couple more creating magic.
And you might remember my Filling the Caddis Provider Box post from last week? I found time to keep filling the empty bins. Here's what it looked like last week.
And a week later, it's full…22 1/2 dozen or 270 flies!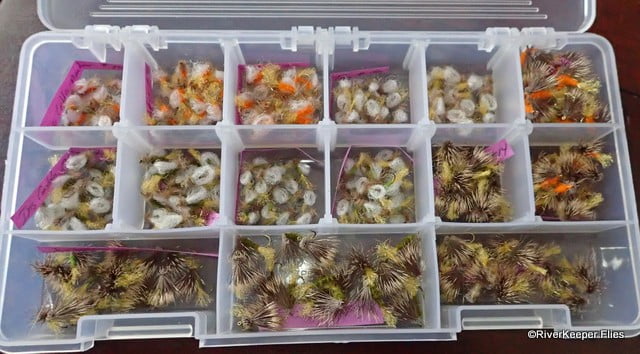 That's a lot of Iris Caddis and X Caddis in amber, tan, olive, and Caddis green.
Some of these are headed to a customer later this week. I think he'll be happy!
Back to the fly tying vise…
Enjoy…go fish!