The 2018 NW Fly Tying & Fly Fishing Expo is one month away.
You might recall I was the Expo Chair in 2015 & 2016, as well as the Treasurer for 4 1/2 years. I decided to step away from the Expo Committee last year and now answer a question or two in my adviser role. So this year I continue to be a Demonstration Tyer and for the first time will teach a class on Friday afternoon from 2:30 – 3:45 pm called Contemporary Soft Hackle Dry Flies. The class will focus on tying my RiverKeeper Soft Hackle Cripple and allow students to tie these flies with a variety of soft hackle feathers. In addition, I will briefly discuss the classic soft hackle fly and differences I've incorporated in the design to make it float. (As I write this, there are only 4 slots remaining – sign up HERE.)
2017 Stan Walters Memorial Fly Tyer of the Year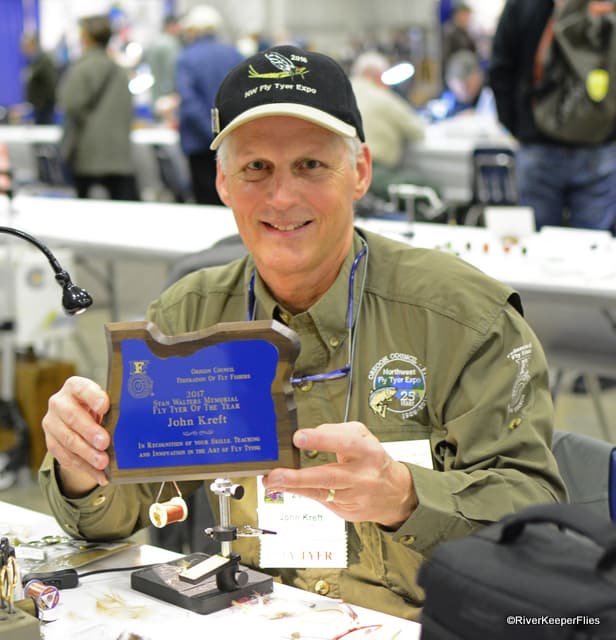 In addition, I helped to get seven of our Next Cast Flyfishers as a regular fly tyer at one of the 72 concurrent fly tying tables. That's right…7 of almost 200 fly tyers are Next Cast Flyfishers! I'm really proud of these guys.
They are scheduled to tie on Saturday afternoon, so be sure to keep an eye out for Branson Broderick (table 59), Forrest Franklin (table 45), Joe Grover (table 4), Anders Korman (table 69), Isaac Korman (table 70), Joey Pattee (table 53), and Kinkaid Smeltzer (table 39).
Not a fly tyer?
Take a fly fishing class. Examples include Stillwater Presentation, Tenkara, Hatch Phases & Riseforms, Winter Dry Fly Fishing, Dry Fly Academy to name a few.
Or how about improving your fly casting? Fly casting classes include 1 on 1 Coaching, Exploring Curve Cast, and Single Hand Spey.
You can access all the classes HERE.
If you'd like to get a better idea what the Expo looks like, be sure to check out the NW Fly Tying & Fly Fishing Expo posts from previous years.
The 2018 NW Fly Tying & Fly Fishing Expo is one month away, so you better finalize your plans now.
When: Friday, March 9 & Saturday, March 10, 2018 (9 am – 5 pm each day)
Where: Linn County Expo Center – Albany, OR
It should be a fun two days! I hope to see you there.
Enjoy…go fish!