We always say no two fishing days are alike. Well, that statement applies to our 2020 Kelly Creek and NF Clearwater River fly fishing adventure. No two years are alike!
Last year we had a terrific time fly fishing Idaho's Kelly Creek and North Fork Clearwater River and decided to try it again this year.
We arrived the evening of June 29 and fished the next two days on Kelly Creek.
Our trip was delayed a day because I looked at the extended weather forecast and noticed we were heading into .5 inches for rain for two days. That didn't sound like ideal conditions for a good fly fishing experience.
The water level was considerabley higher than last year. We arrived during a rainstorm.
I'm not sure what the rain total was, but here is the water gauge from the NF Clearwater River (I can't find one for Kelly Creek).
Yes, you read the gauge correctly, the water rose 1,000 cfs while we were there trying to fish!!!
We arrived in the evening and didn't see a hatch at all. Not even BWOs. Many fly fishers look for cool, overcast days to fish this hatch. I'm guessing it had rained quite a bit and perhaps the water temperature was a little cold.
After sitting in the van for a few hours the next morning waiting for the rain to stop, we ventured upstream to a spot we fished last year. I made some coffee and we watched the water while rain continued to fall.
Rain turned into showers and we finally saw a few fish begin to rise. That's all it took, and we donned our waders and walked down to the water. It only took a couple of casts for Dancingtrout to hook up.
She landed a beautiful cutthroat trout using her new Galvan fly reel I have her for her birthday. It seemed too work just fine!
While landing a fish with a BWO Sparkle Dun, a brown Drake landed on my net. I think I bumped a bush and it fell on the net. At any rate, I decided to tie on a size 14 Sparkle Dun Green Drake. I thought it was a close imitation. Remember size, profile, and color when selecting a fly to imitate the natural. Well, it turned out to be close enough and we had several fish rise to the fly.
And the biggest fish of the trip…a little over 15 inches.
It turns out BWO mayflies weren't hatching at all. This little mayfly dun was on the water. Our Sparkle Duns were close enough for the fish to rise to the flies.
I mentioned the high water. Here is Pie Creek running high and dumping into Kelly Creek,
The mountains are beautiful along Kelly Creek. With all the recent rain, the whole landscape was green.
Like last year, we planned to drive up the NF Clearwater and fish along the way for a day or so. With all the high water and increased activity because of the July 4th weekend a few days away, we didn't find any water to fish. Someone was camped in a spot we fished last year, so we kept driving upstream towards Hoodoo Pass on the way to Superior, MT.
The NF Clearwater seems to have more riffles and pools…and log jams.
Our images don't really do justice to the amount and speed of water flowing downstream.
This is a beautiful area and I'd like to give it another try.
Here are a few flies that worked for us on this trip.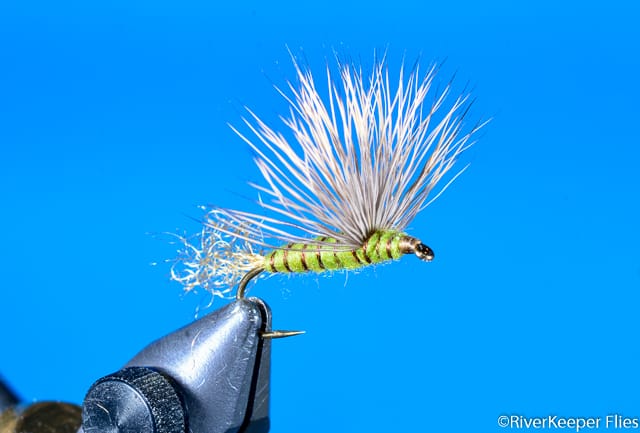 Enjoy…go fish, stay safe!