Here is the fly pattern sheet for the Kings River Caddis.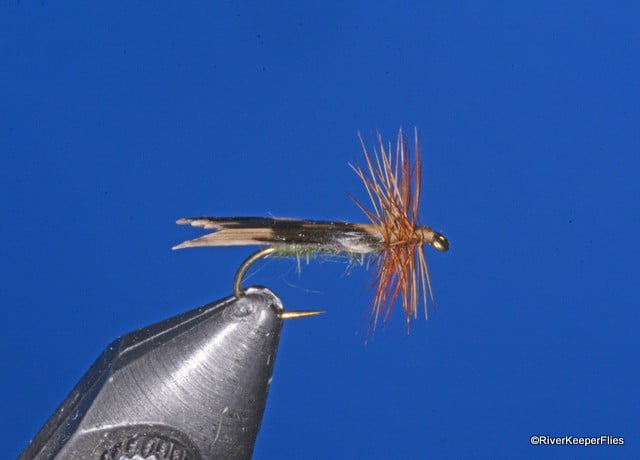 Kings River Caddis Top View
Materials
Daiichi 1100, 1180 size #12 – 20
Directions
Select turkey wing and trim to approximate size of hook gape. Coat with UV resin and use torch to set. Earlier versions of the fly used Flexcement over turkey wing.
Dub thick body and cover most of hook shank. Return thread to 1/3 mark.
Tie on wing. Trim tie-in point of turkey slightly to more easily secure on hook. A touch of wax on thread will assist in keeping wing in place. Tying wing over dubbing will help as body diameter will more easily allow wing to be applied.
Tie in hackle and move thread forward behind eye. Create slight taper with thread towards hook eye to allow hackle to flare properly.
Tie off hackle and whip finish.
Personal Tying Notes
The thorax should be large enough in diameter to help the wing hold and not allow thread to slip forward.
If having problems with hackle slipping forward, either build up with a thread base or use a small bit of dubbing.
Other variations – use brown, tan, green, and black dubbing to match other caddis colors. Darker turkey can be used to imitate other caddis.
Find more information about the fly's history in the Throw Back Thursday Fly post – Buszak's Kings River Caddis.