Last weekend, I had the pleasure to be a River Helper at the 2019 Casting for Recovery Oregon South Retreat. Casting for Recovery (CfR) is a retreat designed to help women in various stages of breast cancer enrich their lives through fly fishing.
I've helped with CfR Oregon North retreats for the past six years at Lake Creek Lodge in Camp Sherman and Black Butte Ranch. This is my first time as a River Helper at the Oregon South retreat.
Casting for Recovery's mission is:
… to enhance the quality of life of women with breast cancer through a unique retreat program that combines breast cancer education and peer support with the therapeutic sport of fly fishing. The program offers opportunities for women to find inspiration, discover renewed energy for life and experience healing connections with other women and nature. CfR serves women of all ages, in all stages of breast cancer treatment and recovery, at no cost to participants.

Casting for Recovery website


CfR retreats hope women find:
inspiration from other participants
renewed energy for life
experience healing connections with other women and nature
Fourteen women learned to tie knots, cast, and identify bugs on Friday and Saturday. Sunday is when they get to put their new-found skills to work and fish.
That's where I come in. River Helpers show up on Sunday and are paired with one of the participants and fish for a couple of hours.
My goal as a River Helper is to share my passion of fly fishing and pass along a few tips to shorten their learning curve. And hopefully, catch a couple fish!
The CfR Oregon South retreat is held at the Big K Ranch in Elkton, OR.
The Ranch is an intimate setting in spite of being in a large space. I was able to capture a few peaceful images early Sunday morning.
Below is an image of the peaceful, serine pond before all the action begins.
After a wonderful breakfast where the River Helpers were able to meet our fly fisher, the wader party began. It was a new experience for these women!
The next step is to put all those new-found skills to work and attempt to fool a few pan fish and small mouth bass.
The women lined up all around the pond's shore.
A couple of them decided to see if their waders really kept them dry!
The fish gods were smiling down upon us that day as everyone caught something. Thirteen women caught fish and the last one hooked up on a salamander!
I love fishing around ponds with these ladies. Whenever someone hooks up, they all cheer with delight. Oh, the sounds of joy!
I hope these 14 participants had a memorable experience – Suzanne, Brooke, Nancy, Marlitt, Colleen, Gayle, Suanne, Kim, Lori, Denise, Carol, Kristi, Willow, and Sue.
I am in awe of their courage and happy to share my love of fly fishing with them. I hope in the short time I was with them, I was able to help in their healing process. I hope they find ZEN in their own life journey.

Here are the 2019 CfR Oregon South staff – Kelli, Karen, Beth, Tammie, Kim, Kathy, and Susan.
I was proud to support my wife who was the Retreat Leader. I celebrate her journey and continue to help wherever I can. She still proudly wears her pin.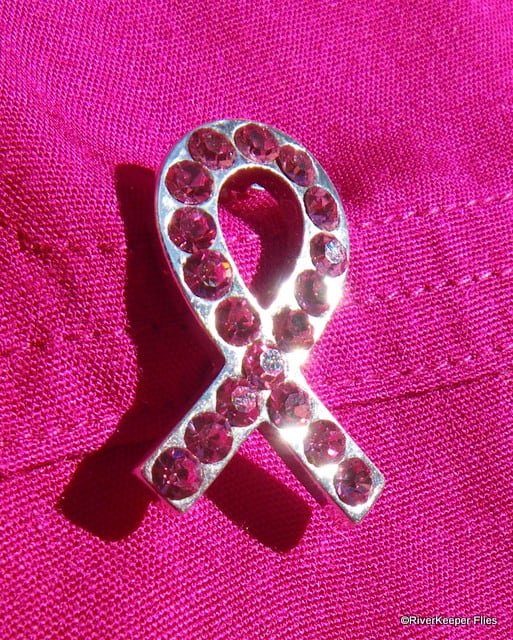 If you or someone you know might be interested in attending one of these retreats, please go to the Casting for Recovery WEBSITE.
Lastly, here are other posts about CfR you'll find on RiverKeeper Flies.
Enjoy…go fish!