Last weekend, I was honored to participate as a Casting for Recovery River Helper at a retreat held at Black Butte Ranch.
Sunrise at BLACK BUTTE POND
This is a beautiful serene setting for the retreat.
I hope you have heard about Casting for Recovery (CFR). The goal of CFR is "to enhance the quality of life of women with breast cancer through a unique program that combines breast cancer education and peer support with the therapeutic sport of fly fishing."
You may have read a post from last year's experience as a River Helper entitled Casting for Recovery and my attempt to document my CFR day as well as a little info about my wife's journey.
Fourteen women, who are breast cancer survivors, participated in the two day retreat and learned how to tie knots, tie some fish-catching flies, identify bugs, and cast.
River Helpers show up on Sunday to meet their fly fisher. This year I ended up with two ladies, Helen and Susan. After wadering up (is that a word?), stringing the fly rod, and tying on a fly we joined a casual parade around the pond trying to find the fishiest spot.
My ladies spread out and began to cast. I asked them what they had learned about casting. Since both had fly fished before, they decided to see who could cast the farthest. Perhaps a little competitive, but it was all in fun. Let's put some perspective on the casting. It started at 25 feet, with the farthest cast around 35 feet. Well, the term "championship casting" is in the eye of the beholder. 😎
I provided a few tips to load the rod more and behold, a few casts of 40 – 45 feet on occasion. They were happy.
I suggested they use a count-down method to allow the sink-tip line time to sink their black Woolly Bugger. In addition, I explained how I utilize different stripping methods…slow and short strips, slow and long strips, and other combinations to entice a fish to bite.
This was my third year at Black Butte as a River Helper. In the past two years, NO ONE had caught a fish. Seems like the rainbows are pretty smart and slowly move just out of casting distance.
But this year was different. Perhaps it was the rain! The fish gods smiled upon Susan first and then Helen. Both caught a fish! You should have seen the excitement…and I'm not talking about Susan and Helen. Obviously, they were excited about catching a fish…but me!
I yelled…"Judith, fish on!" Judith was one of the retreat staff and happened to have a camera around her neck. Since we hadn't landed a fish the previous two years, we needed evidence!!!
I was so happy for my fly fishers; words can't express the feeling.
The smiles, joyous smiles that were on their faces.
And mine.
Two others caught fish as well.
I believe all the ladies began to experience what I call the ZEN of fly fishing. They may have discussed their cancer journey with their River Helper or not. This year, mine didn't. They were too focused on their "championship casting" and enticing a fish to eat their fly.
I hope I was able to teach a little ZEN fly fishing to my fly fishers.
That's what the day was about for me.
Teaching the ZEN of fly fishing and observing the pure JOY on these women's faces, some of their faces with a few tears of JOY on occasion.
I am in awe of their courage and happy to share my love of fly fishing with them. I hope I'm able to pay it forward in some small way to help in their healing. I hope they find their own ZEN.
Capturing the Moment
Casting for Recovery is a wonderful program. During the retreat, women can find:
inspiration from other participants
find renewed energy for life
experience healing connections with other women and nature
Lastly, it just so happens October is National Breast Cancer Awareness Month. Timely right? Remind your loved ones to schedule a mammogram and perform periodic self-exams.
It saved my wife.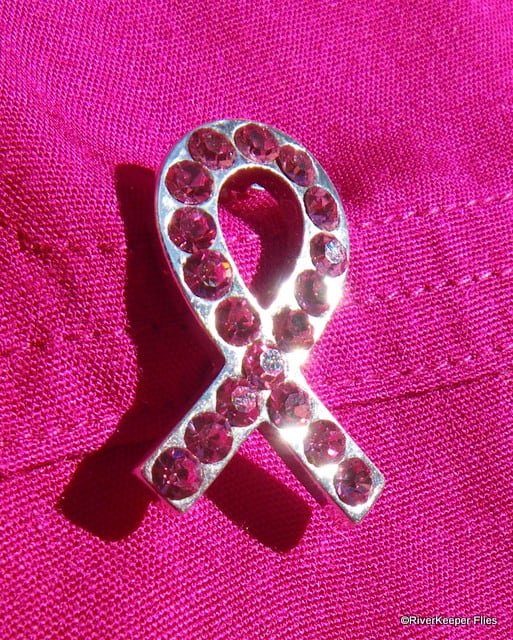 Enjoy…go fish!
A couple other things:
If you'd like to receive an email when a new Post is published, be sure to sign up in the SUBSCRIBE area on the sidebar of this page.
Check out the Fly Patterns page as I continue to add patterns I fish. Don't tie? That's OK. Many of these patterns can be found in your local fly shop or send me a Comment for more information about how to purchase RiverKeeper Flies.
Feel free to share with your friends by copying the link to RiverKeeper Flies (www.johnkreft.com), or using the buttons below to SHARE on Facebook, Twitter, Google+, or pin pictures to Pinterest.
If you'd like to follow me on Facebook, click Follow RiverKeeper Flies on the sidebar where I add a few pictures and thoughts.