The Green Drakes are winding down, so I decided I better begin thinking about what fly patterns I'll be fishing soon and make sure the fly boxes are stocked. What better way than to come up with a list of the Top 10 Dry Flies for July?
The list I compiled could be used on many rivers and lakes this month.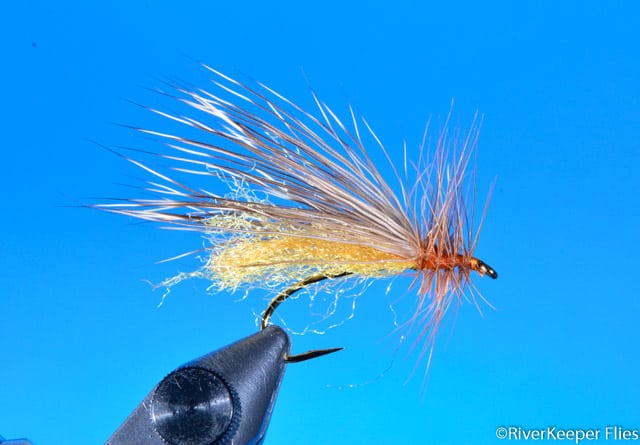 The Clarks Golden Stone is my go-to fly for the Golden Stonefly hatch. While the hatch may be over on the Deschutes River or your local river, it's just beginning on the Metolius. I looked along the grass a couple of days ago and didn't see any bugs, but they should begin soon. A second Golden Stonefly to have in the fly box is the Kaufmann's Stimulator – Golden Stone. I fish it in faster water, but like the low profile of the Clarks Golden Stone in most situations.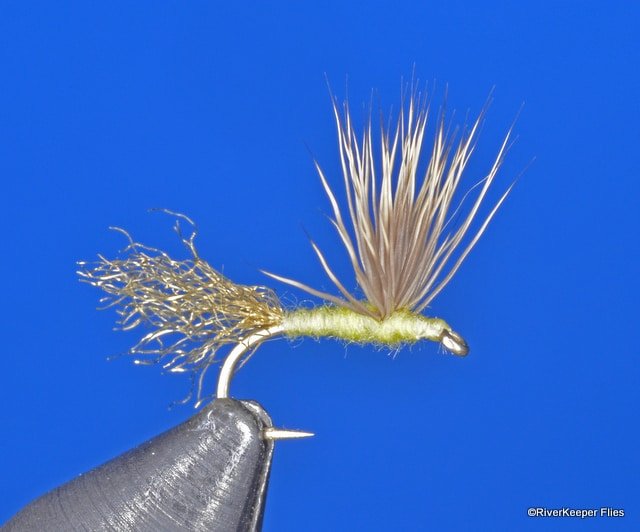 One of my go-to flies is the Sparkle Dun which I use for every mayfly imitation…from #20 BWO to a #8 Green Drake. Many days this is the first fly I'll tie onto the leader. Hooked up yesterday with a nice fish blind casting…no rising fish, but I did coax one up to eat this fly. Check out my favorite fly patterns in my Sparkle Dun post.
3. RiverKeeper Soft Hackle Cripple – PMD
The second of my top two mayfly patterns I fish. This fly is designed to imitate a cripple where the wings are stuck on the water's surface. Be sure to check out RiverKeeper Soft Hackle Cripple – PMD fly pattern link to view a picture of the real bug and how to fish them.
Spinners are the final phase in the life of mayflies and of significant importance to trout. I recently wrote about the mayfly life-cycle in the post Spinners. You may have heard the term "spinner fall". This term is used when these bugs literally fall from the sky. After mating, the males eventually fall to the water's surface and the females sometime later after depositing their eggs in the water to start the next generation of PMDs. If you see fish sipping in the evening and can't determine what they are taking, give this fly a try.
Have you noticed any hoppers while you walk along the bank? I have. July is when I pay attention to them and I always have a few of the Improved Chaos Hopper in my fly box. If the wind is blowing, it's a good time to try some Hopper Fly Patterns. I found this fly pattern at Blue Ribbon Flies in West Yellowstone several years ago. It's easy to tie and IT CATCHES FISH!
I don't know why this fly works, but it does! I've written about Beetle Bailey before in the post Fly Fishing with Beetles. I use this fly to blind cast when I don't see any fish working.
Olive and tan caddis will be hatching in July. Look for Glossosoma (Saddle-case Caddis), Rhyacophila (Green Rock Worm) and Hydropsyche (Spotted Sedge) caddis in July on local rivers. Match these hatches with olive and tan Elk Hair Caddis in sizes 14 – 18. You don't need to know exactly which caddis fly is hatching. Just match size and color and hang on!
8. Iris Caddis
The Iris Caddis imitates an emerging caddis in the surface film. The white Zelon used to tie the fly is quite visible on the water. The fly pattern looks like a mess, but oh, it works!
9. RiverKeeper Callibaetis Emerger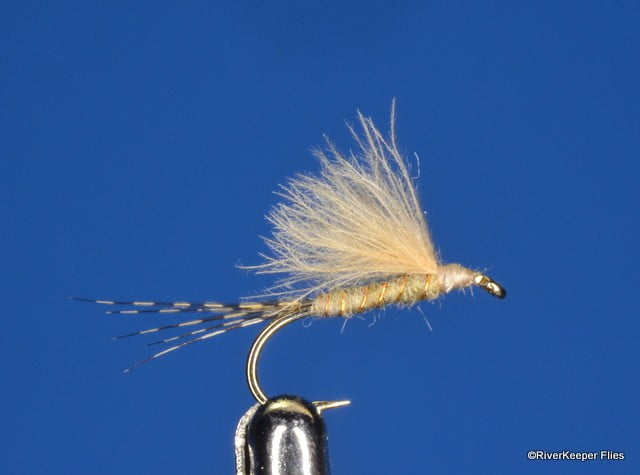 Yes, this is a lake fly. I thought I better add a couple lake flies because I'll be fishing lakes in July. This fly really works well for me during a Callibaetis hatch. For some reason, the CDC really adds to the fishability of the fly. Find a favorite Callibaetis emerger you have confidence in.
10. Braided Butt Damsel Fly – Variant
Another lake fly. I love this fly. Have you ever caught trout using adult damsel flies? It's like a toilet bowl flush when the fish sucks down the fly. They are serious about eating this fly.
I've made a few changes to the fly so it looks like this:
So there you have it. My list of the top 10 dry flies for July. Yes, there are other flies to imitate the July hatches, but this will be a good start.
Or if you'd like to simplify your flies, just use a Parachute Adams and Purple Haze in an appropriate size.
You'll excuse me now. I have a few flies to tie.
(PS – remember if you can't find these at your local fly shop, let me know. I tie Custom Flies.)