This week's Throw Back Thursday Fly is Stalcup's CDC Biot Comparadun TBT.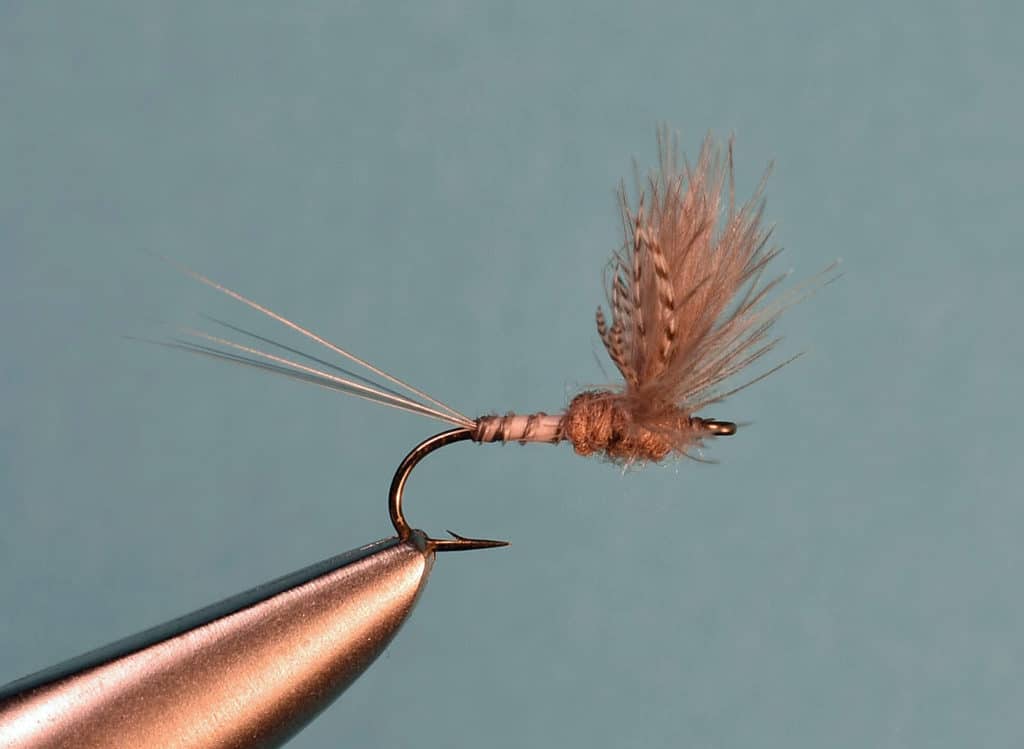 You may have seen a couple Shane Stalcup flies in previous TBT posts. I received a Comment of appreciation for highlighting Shane's flies from a friend of his, Jimbo Busse. I always enjoy receiving Comments about my TBT posts because I've stirred a thought or two from one of my RiverKeeper Flies readers. Bringing back good memories and sharing the history of fly fishing is the reason I post TBTs each week.
Jimbo offered to provide an image of a few Stalcup flies for me to use in my Throw Back Thursday Fly posts. I really appreciate his efforts and willingness to share a little fly fishing history with me and you.
Stalcup's CDC Biot Comparadun TBT can be found in Shane's book entitled Mayflies "Top to Bottom" on page 99. He cites Dennis Black was the first person to introduce cul-de-canard feathers in the US around 1990. Shane received some CDC feathers and this is one of the first flies he tied using them. He decided to substitute CDC feathers for the traditional deer hair used to tie the wing.
The following quote is some background about Jimbo and Shane met.
In the early 80's my friend Ray Sapp and his wife Rhonda opened a fly shop in Lakewood Colorado called "The Colorado Angler". I worked there part time teaching fly tying, rod building, fly fishing school and guiding. Shane was commercial tying and sold his flies in Ray's shop. That's where we met. The Colorado Angler had a booth at the International Sportsman Expo for many years and both Shane and I tied in their theater. We didn't fish together a lot but when we did it was western slope lakes like Lake John, Delaney Butts Lakes, and Cowdrey Lake. I used a number of Shane's lake patterns like his damsel nymph and adult. But we all had our own special flies we had faith in. Shane had a leech pattern we all used and modified to make it more durable and easier to tie. We still use it today. My sister lived in north Denver just a few minutes from where Shane lived so I would visit him a lot and we would hash over patterns and technique and materials. At one time he applied for work where I was as a designer and draftsman. I worked for a civil engineering and land surveying firm. JIMBO BUSSE
I didn't know of Jimbo before receiving his Comment, so I asked him to provide a little background about himself. Here's what he wrote:
I live in Colorado Springs, Co. have been here for 12 years now. I'm retired and spend most of my time fishing and hunting with my wife. My dad would take my brother and I fishing every weekend mostly to Lake McConaughy in Nebraska. After I got home from the Vietnam war I moved from NE Colorado to Denver in 1969 and started fly fishing with Ray Sapp and another friend from back home. We fished the South Platte a lot and fished the Blue River and the Eagle River when we could. I met Sylvester Nemes at one of the ISE shows and picked his brain about wet flies and soft hackles and now I have become one of his addicts. I love wet flies and use them a lot in both rivers and lakes. Feb 9th I will be tying at the West Denver TU annual fly tying clinic in Lakewood. This will be my 35th year at the event. There are about 40 to 50 tiers from all over the region tying every style of fly you can think of.
Thanks again Jimbo for providing information about Shane. I really appreciate your efforts.
You'll see a few more of Shane's flies in the near future, thanks to Jimbo.
Enjoy…go fish!