If you've been reading my blog for a while, you know I talk about Craig Mathews and Blue Ribbon Flies in West Yellowstone, Montana.
Craig and the rest of the guys in the shop are responsible for many of the flies I fish. The flies they develop fit my description for success – simple to tie, effective in catching fish. Perhaps that is the ultimate definition of a "guide fly". I know fly fishermen who wait for the annual Blue Ribbon Flies catalog to see the new flies developed and tested by these tyers.
Here are a few samples of flies created over the years that I fish: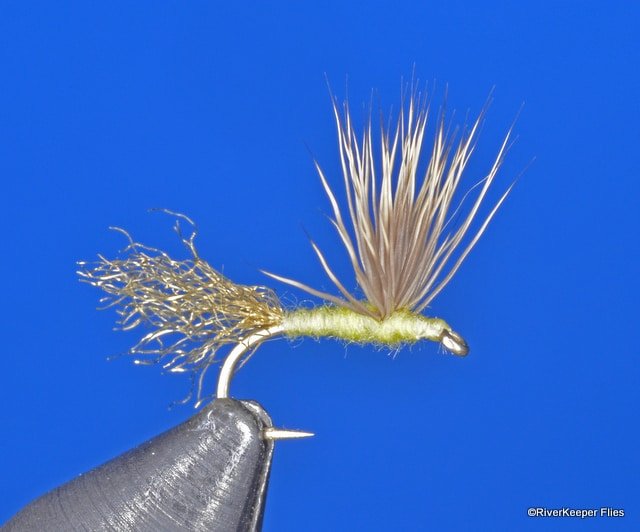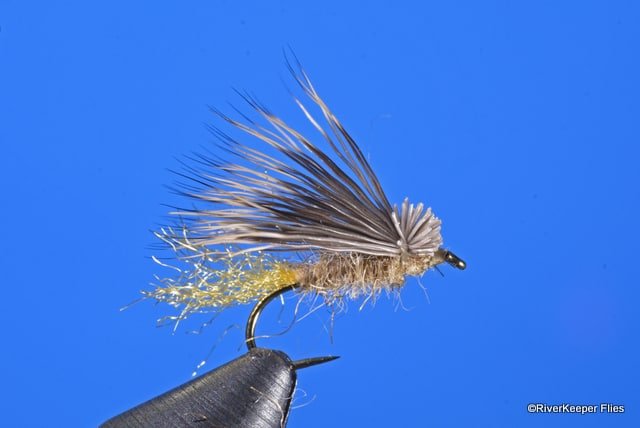 I've been fortunate enough to fish in Yellowstone Country several times. When there, I always stop at Blue Ribbon Flies and stock up on Zelon, deer hair, and elk hair. They offer bins full of hair and I enjoy sorting through many patches in search of the best hair I can find…straight hair with short black tips. My shopping bag always has Sparkle Dun deer hair in natural and dyed dun, X Caddis deer hair, yearling elk, and cow elk in natural and dyed dun.
And I tie lots of Sparkle Dun flies each year, which is why I stock up on materials. Last year, I tied over 23 dozen Sparkle Duns (yes, over 270 flies) in a variety of sizes and colors…from size 20 Blue Wing Olive (Baetis) to size 8 Green Drakes.
A "Plate" of Sparkle Duns
I fish them in my favorite spring creek. And I've been known to hand them out to fishermen along the river. Lastly, they are popular flies at my local fly club where I've been donating 1 to 2 dozen flies each month in the club raffle for a couple of years.
You might be asking why I selected to write about Craig Mathews and Blue Ribbon Flies. It got me thinking about all of their fly patterns I use and how these flies have influenced my own fly tying.
Besides the great fly patterns mentioned above, here is an opportunity for you.
Craig Mathews will be in Bend, Oregon on February 21 and 22, 2015. Don't miss your chance to learn from the master. My local fly club, Central Oregon Flyfishers, is sponsoring a 2-day Winter Seminar – Exploring Yellowstone Country's Overlooked Waters.
"This workshop brings together entomology, pattern selection, presentation, and fly tying along with conservation for the fly fisherman. It will include Yellowstone's overlooked waters, places to visit most anglers have never heard of, and opportunities just a short walk down the path. Craig will review the different times of year, special insect emergences and so much more."
If you'd like more information, please go Central Oregon Flyfishers website.
So if you plan on visiting Montana or Yellowstone National Park, this is a wonderful event you must attend.
And tie up some of those Blue Ribbon Flies fly patterns and fish them on your favorite river. I know you'll catch fish!
Hope to see you there!