Are you fly fishing with beetle patterns? You should.
Why do fish eat beetles? Who cares. All I know is my wife and I have caught some of our biggest trout recently with Beetle Bailey. We were sitting along the river bank waiting for the Green Drake hatch a couple of weeks ago and started reminiscing about all the big fish we'd caught with Beetle Bailey.
And here is proof – a recent fish that took the Beetle Bailey fly in an eddy while a few PMD cripples were floating by.
RAINBOW Trout, METOLIUS RIVER
I'm sure you've seen beetles along the river, floating close to shore or stuck in an eddy. I saw this beetle one day and it reminded me I should try one.
I hadn't used one in a while, so I tied on Beetle Bailey and…….it worked! This fish rose slowly and ate the bug. They know it won't fly away so why not take some time during the rise? The trick is waiting and waiting for them to close their mouth because the take is so slooooowwwww. Here it is:
So I'll ask again…are you fly fishing with beetles?
I didn't for a long time. Got caught up in "matching the hatch". You know how that is. Waiting for the Green Drakes to hatch…or perhaps there will be an epic PMD hatch today.
And then the hatch doesn't happen. Shall I fish some nymphs, try a different fly, or put the rod away? Well, these days I'll probably tie on Beetle Bailey.
How did I decide to start fishing terrestrials? Well, on a trip to Montana and Yellowstone National Park, I stopped at one of my favorite fly shops – Blue Ribbon Flies. These guys are always developing new flies that work or stocking fish-catching flies. And that includes terrestrials…beetle and ant patterns (like the Harrop's CDC Ant). They suggested using terrestrials in the Lamar Valley. So I did. And caught fish.
A couple of years ago, we headed north to British Columbia after fishing in Montana. Always wanted to try the Elk River and its tribs. Guess what? They worked there too. OK, cutthroat are known to rise to almost any fly, but that isn't necessarily true. This big cutty was sitting under the foam in an eddy and would occasionally rise…he looked more like an orca. All you would see is a big mouth wide open that barely came out of the foam to eat something. We tried a few flies. He finally took Beetle Bailey.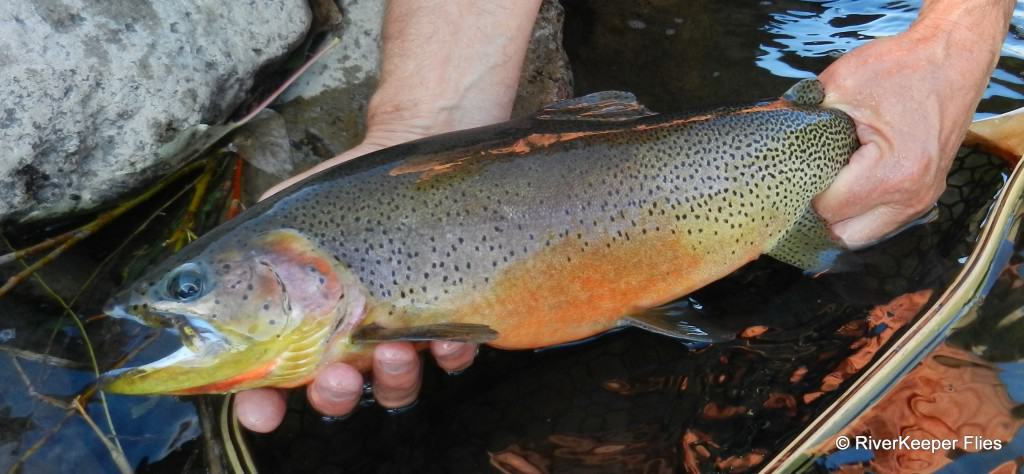 Elk River, Fernie BC
I returned to my home waters and said to myself – "why not try a beetle"? So I did. Hmmm, works here too!
So back to Beetle Bailey. I found a beetle fly on one of our fly fishing road trips. My apologies to the original tyer and I don't remember the fly name. I changed it a little over the years. Here's what it looks like today in the size I use most – #14:
Remember that BC trip? Well, a friend said cutthroat really like red, so I tied it with a red body and the Beetle Betty was born. It works too.
And here is one last example. Tie up a beetle pattern or go to your local fly shop and buy a couple. Try it in your local water. Be ready for a BIG fish!
Rainbow, Metolius River