I don't know about you, but I've been like a deer in the headlights because I don't know where to fish. There are too many choices! Seems like many rivers and lakes are getting good all at once and I don't know which way to turn.
Shall I fish the Deschutes? Did you see my post last week about my Favorite Salmonfly Patterns? I could fish the Middle or Lower Deschutes for this spectacular hatch. A fly fisher doesn't want to miss this action!
I hear Davis Lake should be good. I had a trip planned with Central Oregon Project Healing Waters last week, but the weather turned for the worst and I heard there were even a few snowflakes! The fishing really turned off because of the weather, but that should change soon.
Then I could fish Crane Prairie Reservoir. For some reason, I like the tranquility of that lake. It opened recently and I've heard some success stories there as well.
The Crooked River flows are getting back to fishable levels and fly fishers are beginning to do well again.
How about my local water, the Metolius? Sure there are some fish to be had, but the hatches and fish haven't aligned for me to be a consistent producer…and there are SO many choices of other water to fish.
And those choices are just off the top of my head. I'm sure I could think of a few more as well.
All those choices impacts my fly tying too. I filled my fly orders recently and am tying for myself now…kind of a "just in time" fly tyer. Coming back from the river I always ask my fishing partner "what flies did you need today that weren't in your fly box"? Then I hit the fly tying bench and tie up a half-dozen for the next fishing day.
Last night's flies were a dozen #14 olive X Caddis.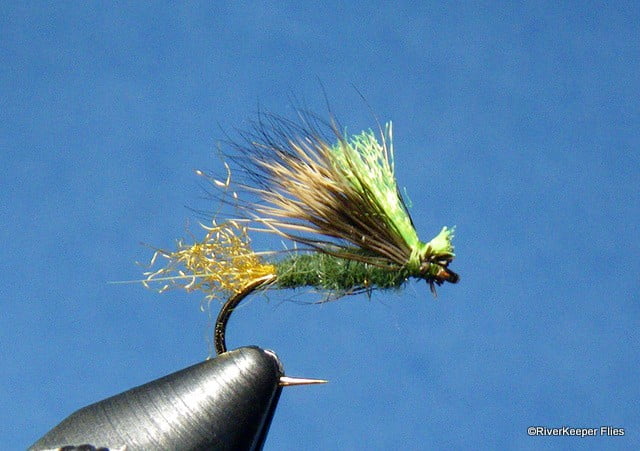 Last week I tied up a few black leeches for Davis Lake. I hope to use them in the next couple of weeks. I might need a few more Salmonflies…then the Golden Stones should be popping…Green Drakes…you get the picture of why I freeze up. Which flies should I tie first????
So help me out…where should I head first?
And remember, I enjoy tying flies, so if you need a few be sure to leave a comment below and we'll discuss your order.
Enjoy…go fish!