It's that special time of year when Salmonflies and Golden Stones are hatching on major rivers close to me.
These are the bugs many fly fishers wait for with high expectations. Some fly fishers start shaking as they approach the river knowing the bugs are out and the fish are looking up, ready to explode on their fly!
Today's post provides a few pictures of the real bug and offers some of the favorite stonefly patterns I carry in my fly box.
The following picture includes Salmonflies and a Golden Stone apparently trying to mate.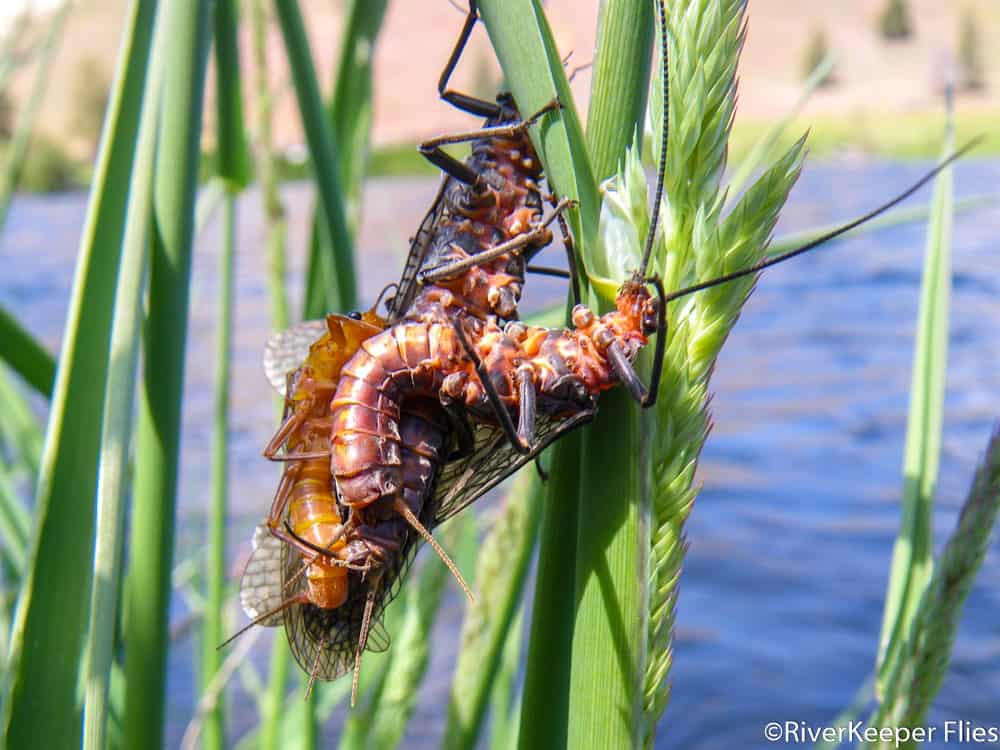 Stoneflies begin their life-cycle as an egg that drops from the female's abdomen and sinks to the gravel at the bottom of the stream bed. Shortly after that, nymphs hatch from the eggs and these little creatures walk along the bottom eating algae. The nymph continues to grow by eating not only algae, but is carnivorous. It eats other larvae and nymphs of mayflies, caddis, and midges.
As it grows, it will add length and girth. Depending on the river and species, two or three years will pass before a stonefly crawls to the edge of a river and hatches. Here is an immature Golden Stone nymph, probably a year old.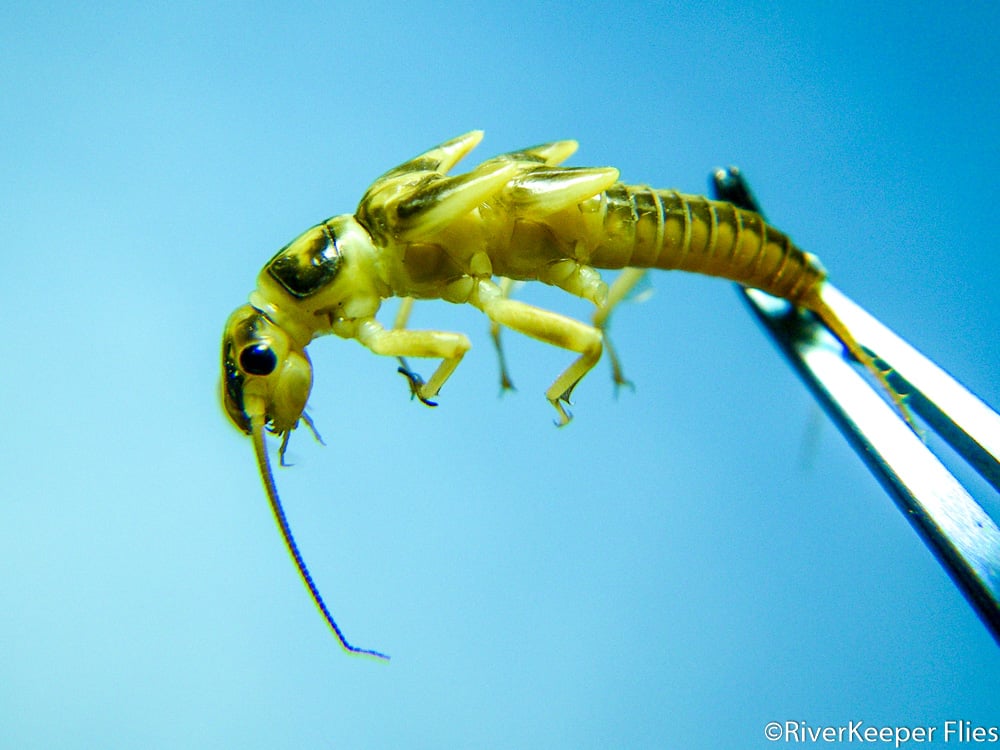 This is a picture of a Salmonfly nymph beginning to hatch.
Salmonflies, known as Pteronarcys californica, and Golden Stones, known as Hesperoperla pacifica and Calineuria californica, are the two most important stoneflies available to the trout in my area.
These are the biggest bugs the fish will see all year, so the fish usually go crazy when they're around. Salmonflies range from size 6, with some stretching out to size 2! Golden Stones range from sizes 10 to 6.
Here are a few pictures of a Salmonfly hatching from its nymphal shuck.
Still crawling out.
And unfurling and drying the wings.
The final fly with wings fully extended.
After a few days, the Salmonfles mate and the female is ripe with eggs, ready to deposit them in the river to start the life-cycle over again.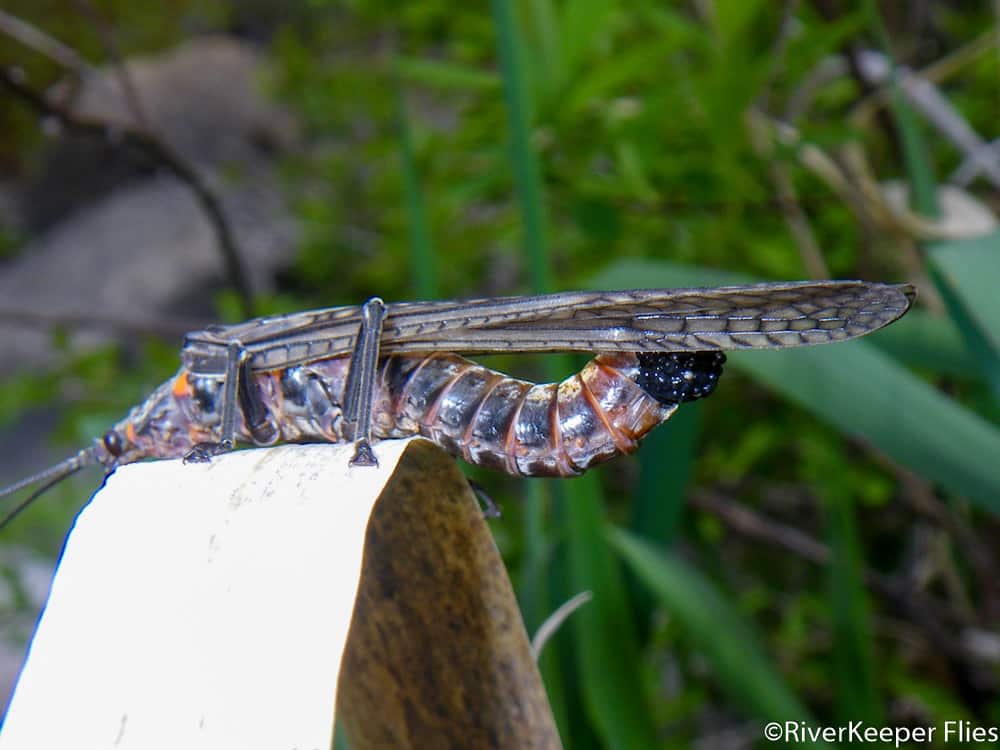 If you'd like to learn more about stoneflies, check out Arlen Thomason's BugWater book.
Now for a few flies I use to imitate the naturals.
I'll begin with a couple of my favorite nymphs. I like my own RiverKeeper Stonefly Nymph in sizes 6 and 4: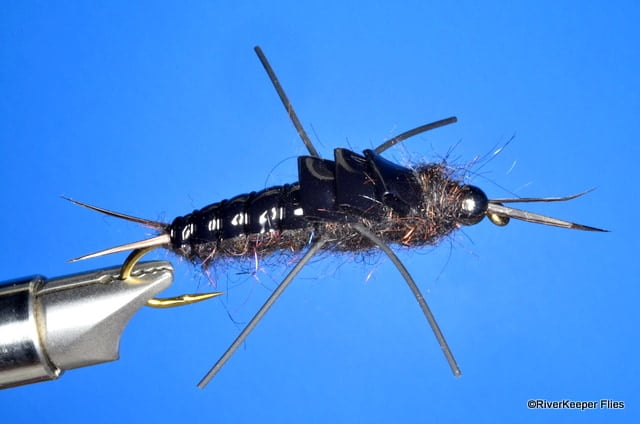 The Kaufmann Stonefly Nymph below is the fly I used to tie and fish during the Salmonfly hatch. What I don't like about it is the turkey wingcase. They always seem to split on me. Does this pattern catch fish? Sure…I just updated the fly pattern for my own need.
KAUFMANN STONEFLY NYMPH
The McPhail's Golden Stonefly Nymph – Variant is a nymph I use to imitate the Golden Stones.
The most exciting time is when the fish explode at the surface to take a dry fly. Here are a few ideas for flies to put in your fly box.
How about some Chubby Chernobyl's for the Golden Stones?
Or perhaps a purple Chubby Chernobyl. I don't know why, but purple just works. In fact, I wrote a post about the effectiveness of Purple Flies.
Clark's Golden Stone and Clark's Lady Stone are two more great flies.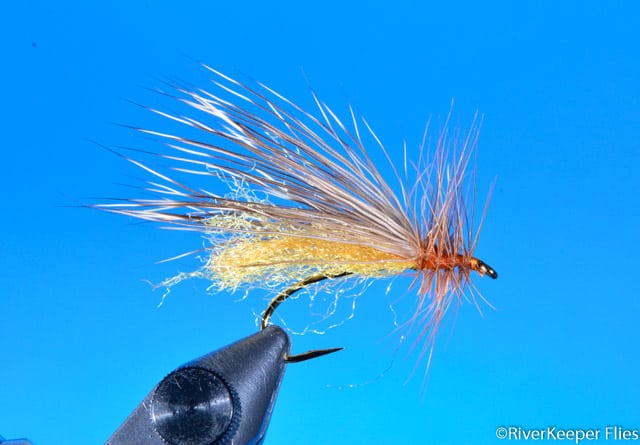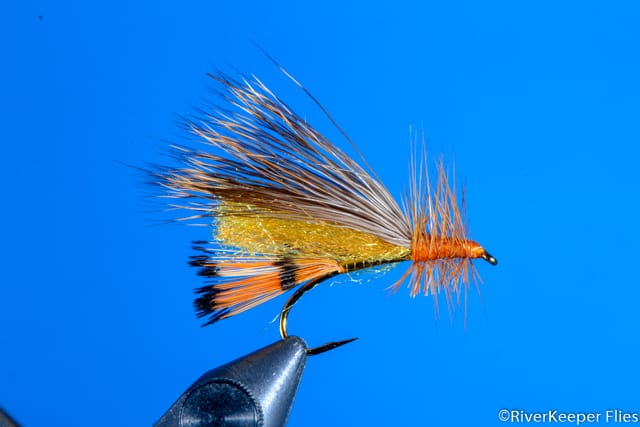 The Norm Wood Special in a fly developed on the Deschutes River.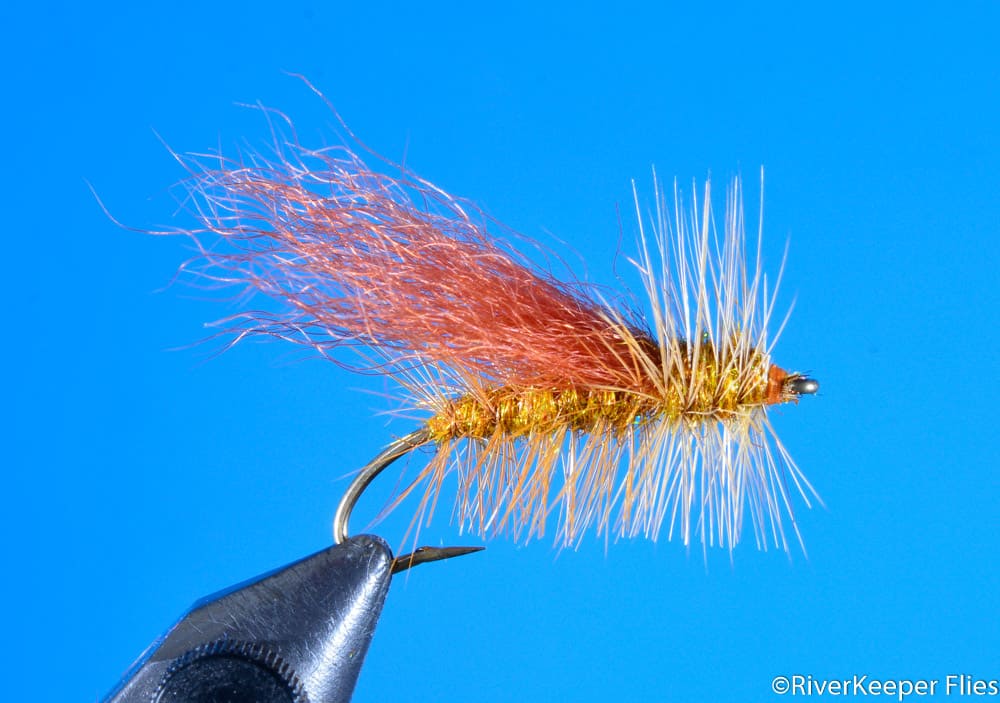 There are other fly patterns to imitate these bugs, but the flies listed above are ones I carry in my fly box.
Hopefully, your fly box is filled and ready when Salmonflies and Golden Stones are Hatching close to you.
Enjoy…go fish!