This week's subject is our Montana Road Trip – Lamar River and Slough Creek, the last stop on our Montana fly fishing road trip.
If you recall from last week's post, our previous fishing was on the Stillwater River. We decided to drive over the scenic Beartooth pass into Cooke City/Silver Gate area and into the Northeast corner of Yellowstone Park.
Yes, that's the road we drove on getting up the pass. Very spectacular views on our drive. We began at Red Lodge, MT with an elevation of 5,568 feet and drove through the Absaroka and Beartooth Mountains to it's highest point in Wyoming – 10,947 feet.
Why is it called Beartooth Pass? Well, take a look at the picture.
See the "bear tooth"?
We were headed home and only planned to be in the Lamar valley a couple of days. For some reason, this big, wide open valley speaks to me in a calm voice. In spite of the crowds (and the bison), I can find my fly fishing zen here.
We started fishing on Slough Creek this year.
All the rivers in Montana had less water in them and Slough Creek was no exception.
In spite of the low flows, we were able to locate some nice Yellowstone Cutthroats in the slow, still pools. Yes, we saw them, but I'm sure they saw us first.
The fish were rising on both seams in this short run.
And another small channel. Fish began rising. It took a little while to determine they were rising to Callibaetis spinners. I did manage to hook a big fish on a small Sparkle Dun and got it just to the net before it was able to get off.
Here is one that didn't get away.
And another picture.
Most fly fishers fish the Lamar, Soda Butte, and Slough Creek in the middle of the day. Us? We tried to fish early, take a break, then fish in the evening.
Here we are at Roosevelt Lodge on the front porch, relaxing with our fishing friend Eric Steele.
Speaking of Eric, he was kind enough to invite us to stay with him at his rustic Wolf Crossing cabin.
We have found great fishing from 5 pm to dark on many occasions.
There are a couple of fishing holes we always try to fish and since the time was limited on this trip, we decided to concentrate on them.
This is a favorite spot of ours in the Lamar canyon. It is a bit of a hike down to the river.
Look closely. It's really there! Remember, all the water from Soda Butte Creek and the Lamar River flow through this canyon.
And a shot from river level.
These are some slow, deep pools that hold a few nice fish.
In the evening, you would find us fishing here…
(Photo courtesy of Eric Steele)
This spot has been real good to us over the years and it didn't disappoint this year. It holds a lot of nice fish, but the ones we caught this year weren't real big, but still as beautiful. The number of fish we caught made up for the size.
It seems like whenever we fish this spot, we have an extra fishing friend show up.
This beaver must have a 7:15 pm dinner reservation because he swims by to check us out, then waddles up the bank, gets a small willow branch and heads back to the water to enjoy his dinner!
He must be 4 feet long when swimming! A friend joined him this year as well. Not something you see everyday.
Did I mention it's a relaxing place to fish?
(Photo courtesy of Eric Steele)
Turns out I can multi-task…fly fish AND drink a Moose Drool!
Here is a list of flies that worked for us on the Lamar:
Other flies included a spinner pattern I've been working on, a no-name foam ant pattern and a Callibaetis soft hackle
Flies that worked on Slough Creek:
RiverKeeper Soft Hackle Cripple in yellow (#14)

Sparkle Dun tan #20 (the picture is the PMD version)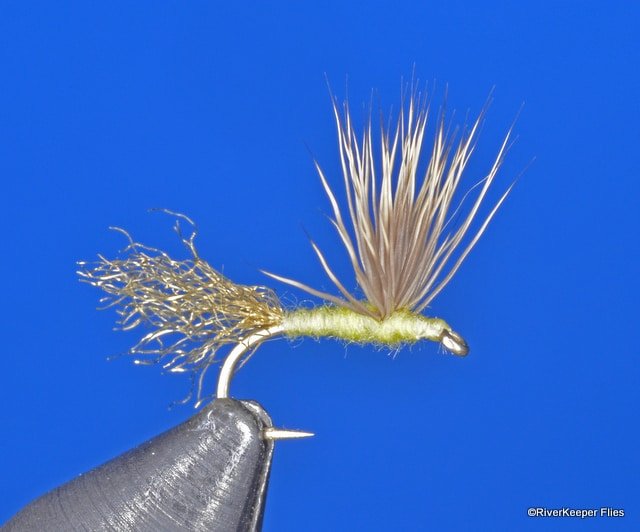 And a Callibaetis spinner pattern I'm working on.
e had a terrific trip and I can't wait until the next time we head to Big Sky country!
Be sure to read more about our Montana Road Trip in previous posts:
Enjoy…go fish!