I've been busy tying flies for customers and trying to refill the provider box. Since the first of the year, I've tied over 60 dozen flies. That's more than 700 hooks, which means I need to re-stock the hook supply.
I reviewed my hook inventory recently to determine how many hooks remained for the wide variety of flies my customers request, as well as flies I plan to fish in the next few months. So I pulled out all my Daiichi hooks and placed them on the table. It was the only way to determine what I had.
You might ask, do I only use Daiichi hooks?
The short answer is yes. I've used up most of my Dai Riki hooks. Seems like they've stopped making those. I still have a smattering of Tiemco (TMC) hooks too. And I've been experimenting with Moonlit, Montana Fly Company (MFC), and Kona hooks. I especially like the MFC and Kona hooks for the Euro nymphs.
It drives me crazy trying to convert hooks from one manufacturer to another when substituting hooks. There is no agreed upon standard. The best you can do is make an educated guess or use a Hook Conversion Table. It's one of my Resources you'll find on RiverKeeper Flies, along with a Bead Conversion Table. I've done my best to keep it current and revise when I use different hooks.
A perfect example is the Comparable Fly Fishing Hooks post I wrote a couple of years ago. I described trying to find replacement hooks for TMC 206 and TMC 102Y. The examples show a Daiichi 1140 and Alec Jackson Chironomid Trout Fly Hook (made by Daiichi) compared to a TMC 206. and an Alec Jackson Soft Hackle Trout Fly Hook (made by Daiichi) to replace a TMC 102Y. If you read the post, you'll see images of different shank lengths and sizes.
So I've settled on Daiichi hooks for most of my fly tying. They are well-made hooks and very sharp. My only wish is they designed a different barbless dry fly hook.
But I digress. I was explaining why I needed to purchase additional hooks.
Here are a couple of orders you might have seen in recent months.
A few Clark's Stones.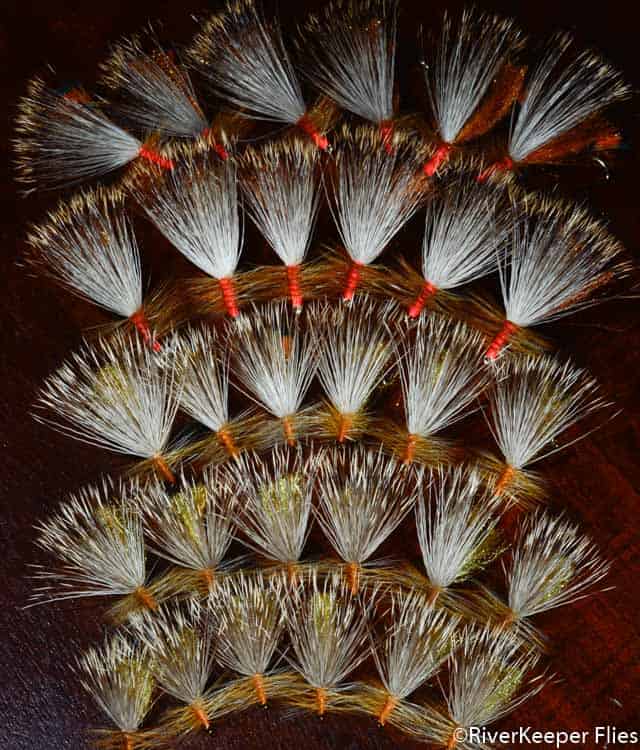 Or how about this order of 11 dozen flies?
Lastly, an image of 9 dozen flies for my latest customer.
What do these images prove?
Bottom line, I need more hooks!!!
It's difficult to keep all the hooks I need for fly orders in stock. I never know what flies a customer wants. Some are old patterns not found in fly shops anymore, like Polly Rosborough's Casual Dress. Other fly requests are patterns new to me, like the IOBO Humpy. It's one of the reasons I advertise about tying custom flies. I don't carry a lot of inventory, but I tie a few of the popular flies I've sold over the years in anticipation of future sales.
Here are half a dozen top sellers:
Several of these flies can be tied in different colors and sizes to imitate many mayflies, caddis, and stoneflies.
Now I need to get back to the vise…
Enjoy…go fish!
PS – If you're thinking about placing an order, you better do it soon. Fishing season is coming and that will definitely impact the time I have available to tie my custom RiverKeeper Flies. Just leave a Comment below and I'll get back to you.