I wanted to share a recent experience on my home waters, fishing the Metolius. My preferred style of fishing is casting a dry fly to rising fish, but if I want to increase my odds of catching a fish, I would have a better chance fishing with nymphs during winter months. Read on and I'll discuss my nymph set-up, effective flies, a few fish and end with a fish story.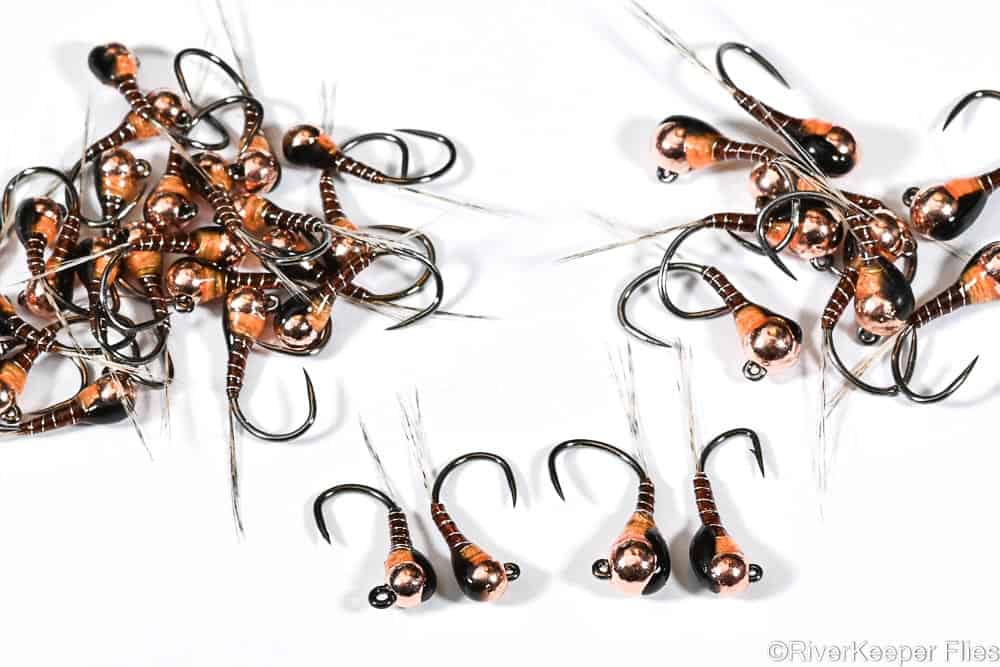 Before I start, I wanted to share my latest RiverKeeper Flies YouTube video where I tie the Manhattan Midge. It's part of a customer order for flies in sizes 18 – 22. This is a size 22:
Now for today's post.
I fish in different sections of the river in winter because the fish are moving to other areas to spawn. Yes, there are still fish in the normal runs, but I find more fish in the upper river. That's where I headed last week.
I arrived at the river before my hopeful 20 to 30 minute dry fly opportunity. Rather than hope for a rise, I decided to tie on a couple of nymphs to my Winston BIIX 9′ 5 weight fly rod. I was using it instead of my Beulah 10′ 3 weight euro nymph rod because I broke the tip recently. I think it happened with a poor cast and a heavy weighted fly. Turns out my reliable Winston fly rod worked just fine!
I fish nymphs during the winter months because I like to catch fish and believe I'll be successful with this technique. The last few years, I tie on one or two Perdigon nymphs.
Here is the set-up I used.
I tie a longer piece of 6X monofilament to the tippet ring, about 18 inches. A smaller section of 6 inches is also tied to the tippet ring. This set-up is tied to the end of my dry fly leader. Is this an optimal nymph leader system? Probably not, but it works for me.
Next, I tie a Pheasant Tail Perdigon to the longer section of monofilament. It's the heavier of the two flies I plan to use and this fly sinks quickly in the water column. The other fly might be a $3 Dip (a favorite of late) or an Olive Perdigon or Rainbow Warrior Perdigon. But honestly, you could try any small lighter weight nymph you have confidence in.
Ok, let's stop for a moment and count all the knots I just mentioned. That's right…5 knots.
Seems like a lot, doesn't it? Especially if you break it all off!!!! It happened the previous trip to the river…twice.
I write about this because I want to reinforce the need to practice your knots in the comfort of your own home. Watching TV at night? Pull out a spool of tippet and practice the knots you usually tie.
And if you really want to replicate conditions on the stream, stick your hands in some ice water for a minute or two and try to tie your fly. That's what it feels like after fishing in cold winter temperatures when your fingers barely work…and you have to tie those 5 knots again!
Now for a few fish.
I walked to a run I fished the week before and hooked a couple of fish. I planned to fish with nymphs until seeing fish rise…I hoped.
Like usual, I started casting about a rod length from shore. It was shallower water than I thought fish would hold in, but I hooked one there last week. Could I be lucky again?
Turns out it didn't take long to hook and land a nice, fat Rainbow.
A short time later, this Brown Trout ate the nymph.
I was somewhat surprised, but pleasantly so. I don't hook many Brown's on the Metolius because I usually fish lower in the river. I have caught them farther downstream, but believe I have a better chance in the upper river below Allingham Bridge. I was happy to place this fish in my net and snap a quick pic.
I won't bore you with the next hour of fishing, but there were a few more fish. Then I began to see fish rise sporadically. I quickly took off my nymph rig and tied on an IOBO Humpy. And it worked…a few times.
Here is one of the fish, a nice Rainbow.
Not all the fish came to hand, but I had a great day on the water. And I was suprprised where the fish were laying in the river. I found several in much shallower water than I expected. It reinforces the need to try different areas before wading through them to fish a spot you THINK should hold fish. I was wrong that day and it's a lesson I'll remember the next trip to the river.
What nymphs were on my line?
The two flies most of the fish have taken are the Pheasant Tail Perdigon (best by far) and $3 Dip.
And that IOBO Humpy fooled the fish.
As promised, here is the story.
It happened when dry fly fishing with my IOBO Humpy. I had worked up- and downstream a few times to rising fish. I had a difficult time gauging the fish size. All my fish had been in the 10 to 14 inch range.
I cast slightly upstream, about a rod length from shore. There was a subtle rise and I set the hook. I could tell the fish was another Brown Trout and I played the fish and quickly brought it under control. I was about to grab my net and all of a sudden, the fish seemed bigger than I initially thought.
But wait…the one I saw was about 2 feet long! It was a Bull Trout and the fish ate my fish! It was fairly close and I reached for my net. I had a good bend in the rod because I was attempting to turn the fish towards shore into softer water. That's when my Brown Trout came springing out of the water.
I had enough tension on the fish and the Bull Trout let go.
Here is an image of a dazed fish. I let him rest in my net for a few extra moments before letting him swim away.
But not before I looked in the river for that Bull Trout. My fish had escaped once, I'm not sure he would have the second time!
I'm convinced if I had my lake net with a longer handle, I would have landed TWO fish! It still makes me smile.
If you would like a few other suggestions about nymph setups, read my Effective Methods for Fishing Two Nymphs post.
Enjoy…go fish, stay safe!
(John Kreft is a participant in the Amazon Services LLC Associates Program, an affiliate advertising program designed to provide a means for sites to earn advertising fees by advertising and linking to amazon.com.)