I've heard through the grapevine that fish are rising to adult salmonflies on the Deschutes River. The beginning of the hatch is here. With the lower river boat ramps closed until later this month due to social distancing guidelines, I might be missing the salmonfly hatch this year.
I enjoy floating and fishing the Warm Springs to Trout Creek section of the lower Deschutes River at least a couple times each year and I've written blogs about our trips in the past.
So, Salmonflies are out and Golden Stoneflies aren't far behind. I thought I'd share what I've written in past years about their life cycle and effective fly patterns I use to fool fish. Perhaps I'll still be able to get out…we'll see.
Salmonflies, known as Pteronarcys californica, and Golden Stones, known as Hesperoperla pacifica and Calineuria californica, are the two most important stoneflies available to the trout in my area.
These are the biggest bugs the fish will see all year, so the fish usually go crazy when they're around. Salmonflies range from size 6, with some stretching out to size 2! Golden Stones range from sizes 10 to 6.
The image above was a salmonfly. You'll find them on grass and bushes along the water in massive numbers. These bugs are mating.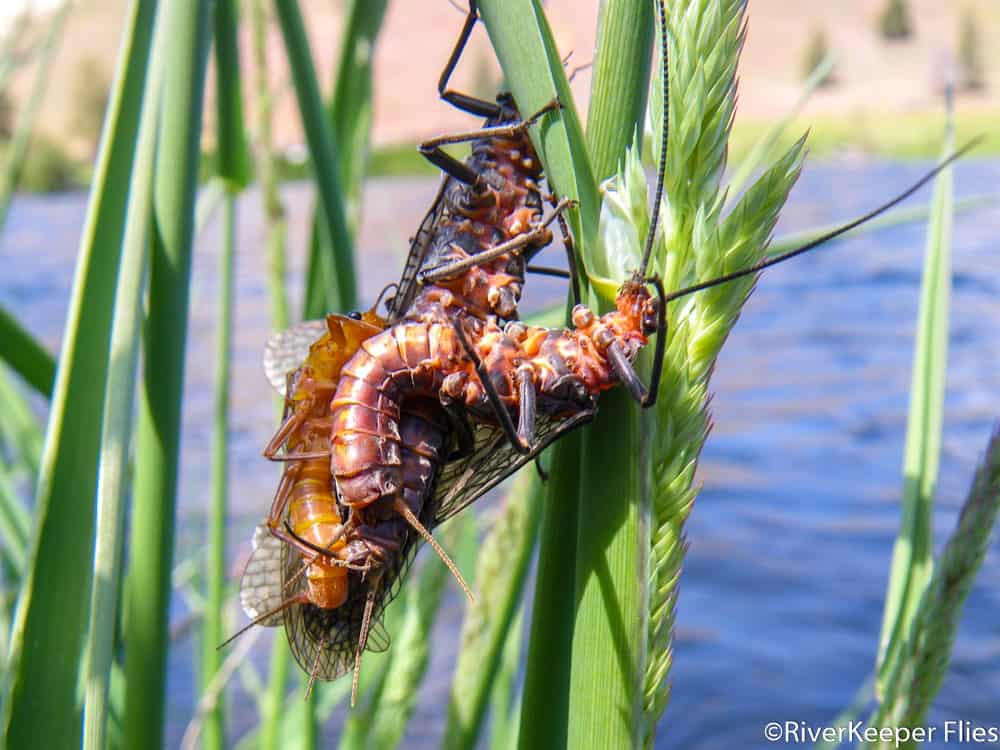 Look for Golden Stones in a couple of weeks. They are a little smaller and lighter in color.
Stoneflies begin their life cycle as an egg that drops from the female's abdomen and sinks to the gravel at the bottom of the stream bed. Shortly after that, nymphs hatch from the eggs and these little creatures walk along the bottom eating algae. The nymph continues to grow by eating not only algae, but are carnivorous as well. It eats other larvae and nymphs of mayflies, caddis, and midges.
As it grows, it will add length and girth. Depending on the river and species, two or three years will pass before a stonefly crawls to the edge of a river and hatches. Here is an immature Golden Stone nymph, estimated to be a year old.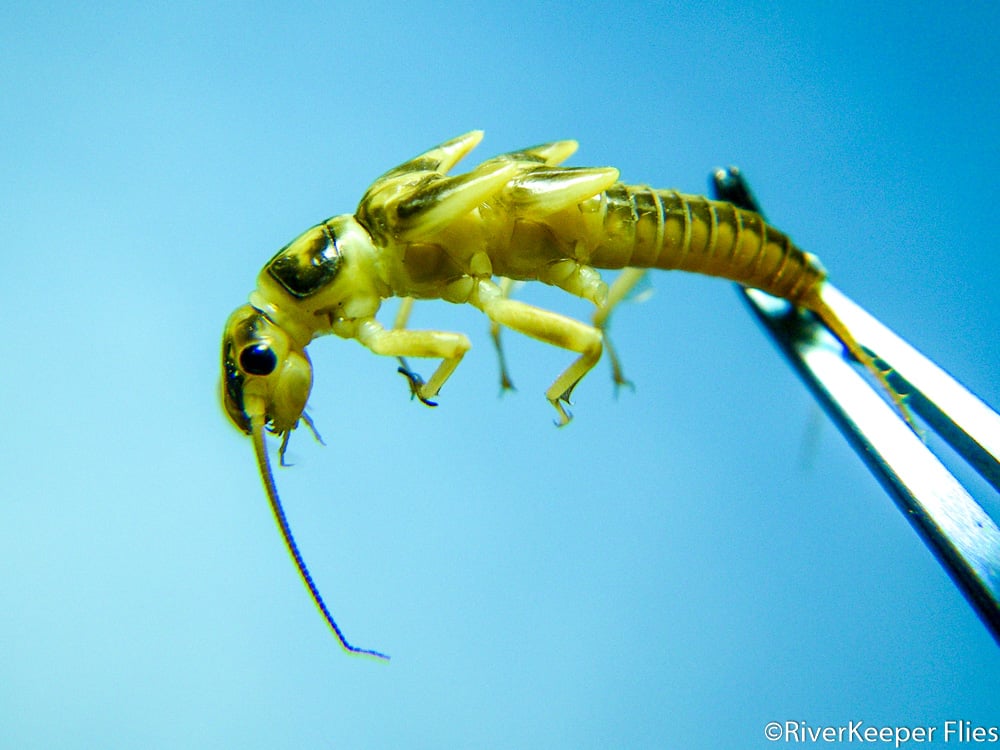 This image is a Salmonfly nymph beginning to hatch. You'll find them on the grass, sticks, and rocks along the rivers edge. Nymphs climb out of the water to begin morphing into an adult.
It takes a while for their full transformation to take place. Here are a few pictures of a Salmonfly hatching from its nymphal shuck.
Still crawling out.
And unfurling and drying the wings.
The final fly with wings fully extended.
After a few days, Salmonfles mate and the female is ripe with eggs, ready to deposit them in the river to start the life-cycle over again.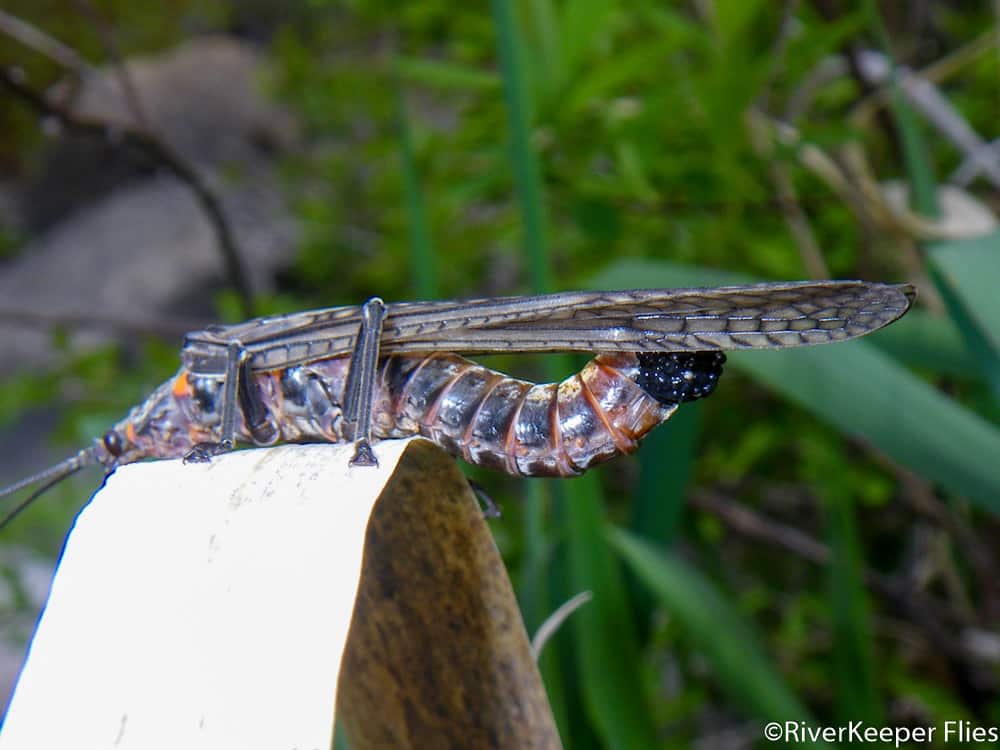 If you'd like to learn more about stoneflies or any other insects of interest to the fly fisher, I highly recommend Alen Thomason's BugWater book.
Now for a few flies I use to imitate the naturals.
I'll begin with a couple of my favorite nymphs. I like my own RiverKeeper Stonefly Nymph in sizes 6 and 4: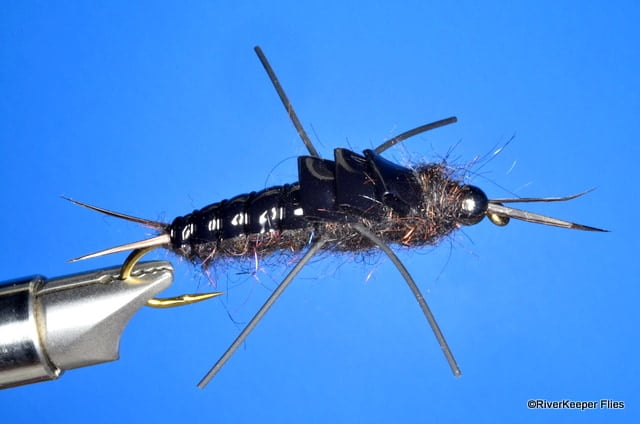 McPhail's Golden Stone Variant is a nymph I tie to imitate the Golden Stone.
The most exciting time is when the fish explode at the surface to take a dry fly. Here are a few ideas for flies to put in your fly box.
Clark's Golden Stone and Clark's Lady Stone are two more great flies.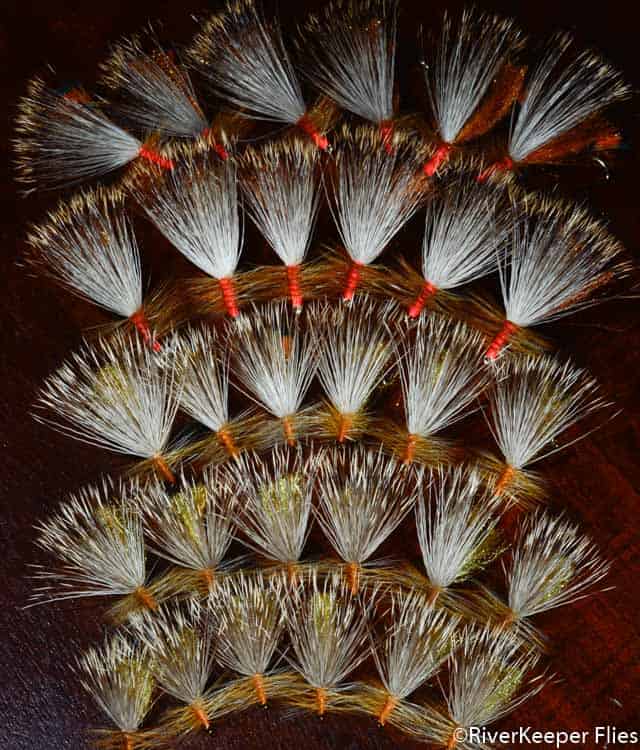 Clark's Lady Stone – Salmonfly version.
This fly was developed by my friend Lee Clark a few years ago. A tail was added to imitate a female egg sac. Remember the image above of the female loaded with eggs? This is my number one fly to imitate both Salmonflies and Golden Stones.
Clark's Lady Stone – Golden Stone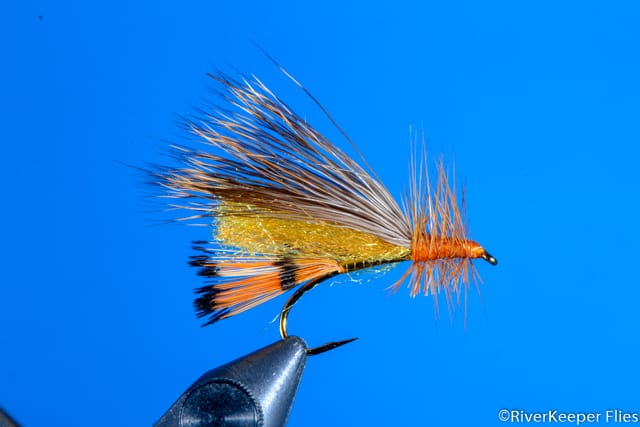 And Clark's Golden Stone, the original.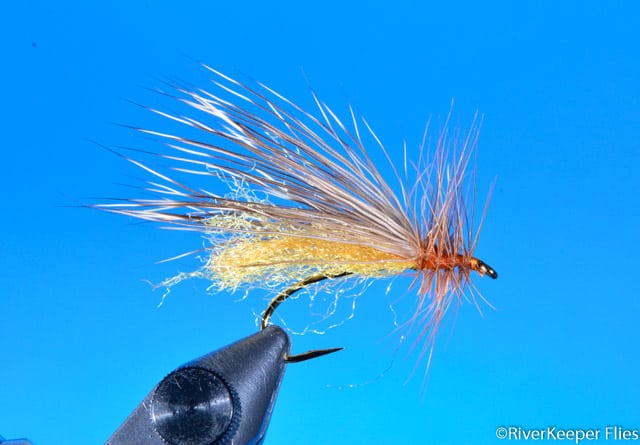 I might like these a lot!!!
Here are a few other popular dry fly patterns to fool trout.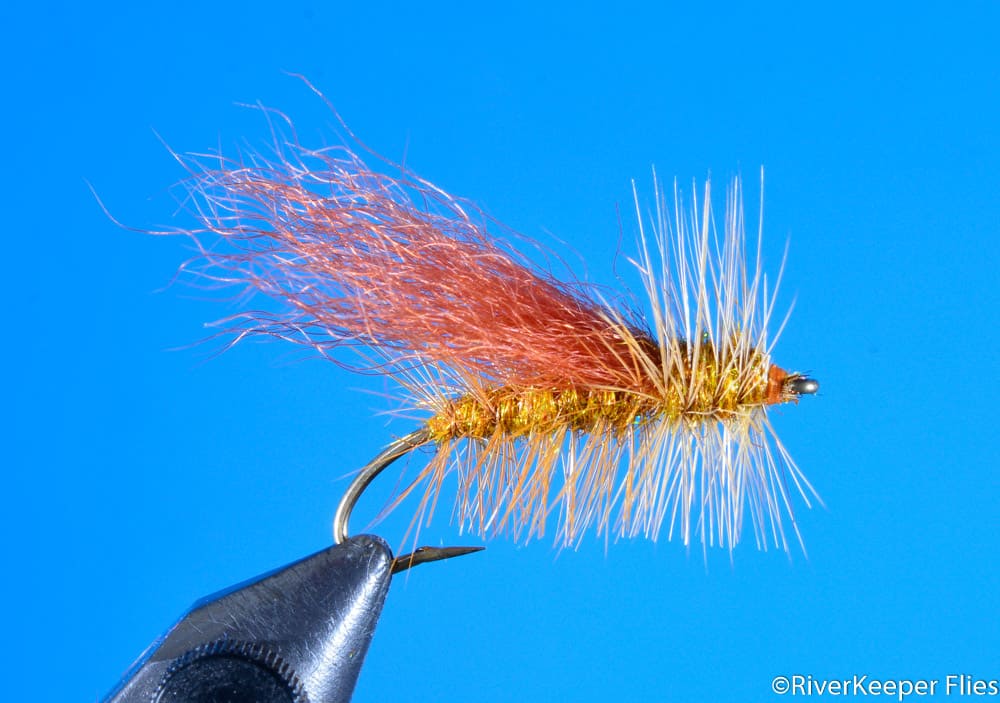 Or the popular Chubby Chernobyl Purple.
Honestly, those are about all I use. For more ideas, visit my Stonefly Fly Patterns page.
If I don't get to the river, I'll be watching the following video from Todd Moen of Catch Magazine.
If you haven't subscribed, I encourage you to do so. Last I checked, their annual subscription was only $12. Just click the link HERE.
Stay safe out there.
Enjoy…go fish when you can!