Last week I was honored to receive the 2017 Stan Walters Memorial Fly Tyer of the Year at the NW Fly Tying & Fly Fishing Expo in Albany, OR. The annual award is presented by the Oregon Council of the International Federation of Fly Fishers "in recognition of your skills, teaching and innovation in the art of fly tying."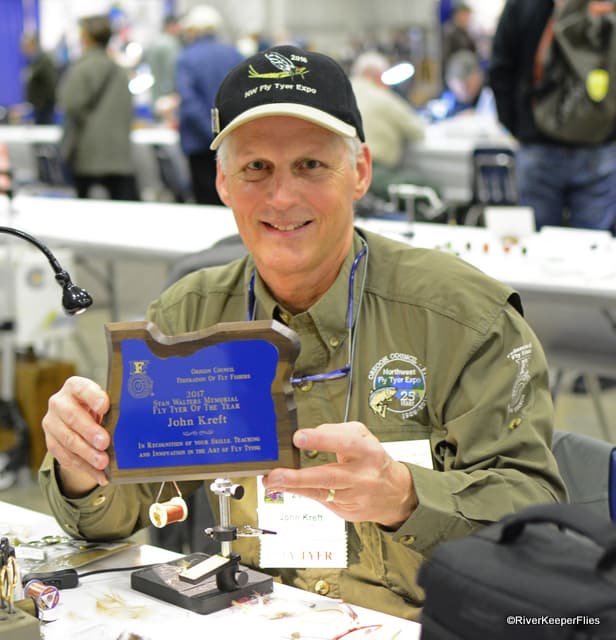 I was shocked when my name was called, but humbled to forever be part of this elite group of fly tyers as the 28th person to receive the award. The complete list of recipients is listed at the end of my post.
The rest of my post will highlight a few items from the 2017 NW Expo.
But one last thing…I'll be in Grants Pass and Medford this week tying flies and telling lies at the Rogue Fly Fishers (Wednesday) and Southern Oregon Fly Fishers (Thursday) monthly meetings. Maybe I'll see you there!
I was really proud to get a few of our great fly tyers from our local youth fly fishing club my wife runs a seat at one of the 80 tying tables. Here are a couple of pictures of the Next Cast Flyfishers concentrating as they tie their flies.
Joe & Branson
Kinkaid & Forrest
And some flies they tied.
Forrest's soft hackles
Kinkaid's mouse pattern
I decided to take a break from helping with the Expo Committee this year and walked around the venue when I wasn't tying flies. I stopped by and watched my friend Chris Williams tie flies. He has a creative mind and ties the type of flies I fish. Here are a few of his creations. I didn't get the names, so I made some up.
CDC Dry
Emerger
Catskill Pattern
Midge Emerger
Parachute
Mayfly Cripple
Green Drake tied by Jeff Smith
Jeff Smith
Lastly, here are a few pictures of some notable fly tyers.
Henry Hoffman – 2000 Stan Walter award winner
Al Beatty – 1999 Buz Buszek award winner
Norm Norlander – created the NorVise and is a master at using it
Stephen Fernandez – 2012 Buz Buszek award winner
Jim Schollmeyer – 2004 Stan Walters award winner
Jim Ferguson – 2006 Stan Walters and 2016 Buz Buszek award winner
Keith Burkhart – 2012 Stan Walters award winner
Hal Gordon – 2010 Stan Walters award winner
Jim Fisher – 2011 Stan Walters award winner
Dave Roberts – 2013 Stan Walters award winner
Chris Williams with Steven Fernandez
Previous recipients of the Stan Walters Memorial Fly Tyer of the Year:
1990 – Lee Clark
1991 – Stan Walters
1992 – John Rodriquez
1993 – Joe Howell
1994 – Gerald James
1995 – John Shewey
1996 – Ray Burkhart
1997 – Robert Borden Jr.
1998 – Cliff Adams
1999 – Gene Trump
2000 – Henry Hoffman
2001 – Larry Nicholas
2002 – David Barlow
2003 – Harry Gross
2004 – Jim Schollmeyer
2005 – Al Brunell
2006 – Jim Ferguson
2007 – Richard Youngers
2008 – Dick Winter
2009 – Jerry Criss
2010 – Hal Gordon
2011 – Jim Fisher
2012 – Keith Burkhart
2013 – David Roberts
2014 – Vic Hadley
2015 – Cathy and Dave Hamilton
2016 – John Olschewsky
2017 – John Kreft
Is this the torch being passed to the next generation?
I hope to see you at the 2018 NW Expo, if not before.
Enjoy…go fish!