I was fishing East Lake again on Monday. But before we went, I had to restock the "provider box".
So I tied up some Callibaetis Sparkle Dun and Harrops Callibaetis Paraspinner flies along with my latest favorite Callibaetis pattern, the RiverKeeper Callibaetis Emerger.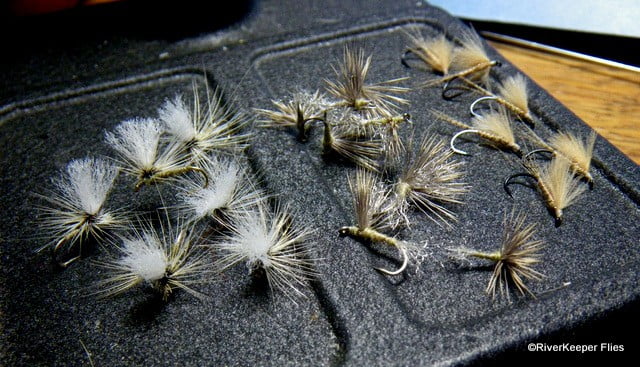 My latest theory about Callibaetis fishing is to not bother fishing with a Callibaetis dun. That's the adult version of a Callibaetis. (For more information about the Callibaetis life-cycle, check out the Callibaetis Mayflies post.) When they hatch, the nymph swims to the surface and the adult quickly pops out of their shuck…you can almost hear them pop! And off it flies. So the adult dun isn't available very much for the fish to eat.
But my experience is the fish key on the emerging insects, when they start to crawl out of the nymphal shuck. Sometimes they hesitate a little. The mayflies are easy pickins' as trout swim around near the surface keying on this phase. You can see them greedily swimming and chomp, chomp, chomp. The toughest thing as an angler is trying to detemine which way they'll head next. And cast your fly into their path. It's part of the game.
That's what we did yesterday. Using the RiverKeeper Callibaetis Emerger.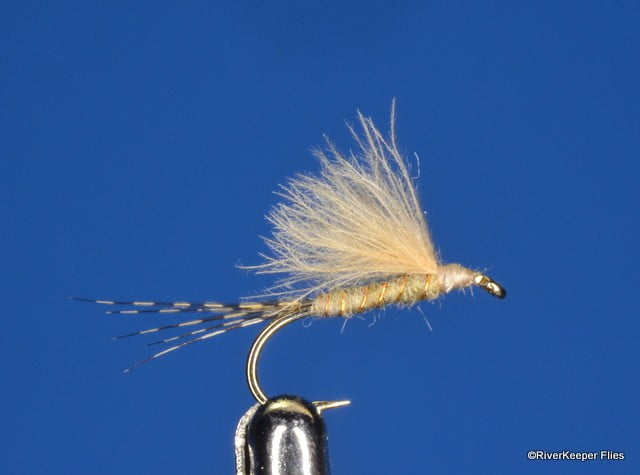 Here is an East Lake rainbow that took a RiverKeeper Callibaetis Emerger.
And my wife had quite a day…an East Lake grand slam…rainbow, brown, Atlantic salmon, and a kokanee.
She caught the kokanee to complete the grand slam as we headed to the dock wind drifting a Callibaetis nymph. Try a Freds Callibaetis Nymph – Variant. It's a good Callibaetis nymph imitation.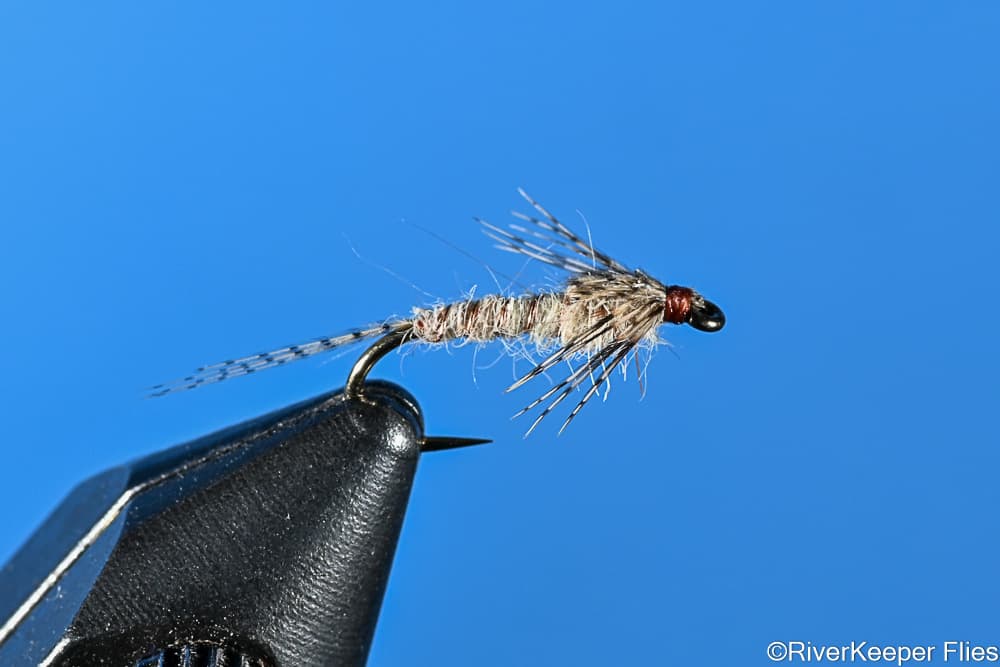 A few spinners were flying around, but not falling into the water. I'm guessing they were males waiting for the females to hatch. When a female hatched, you could see several other mayflies swarm to her.
I was waiting for spinners to fall so I could use the Harrops Callibaetis Paraspinner. But it didn't happen. At least I added a few to the provider box so I'd be ready the next time.
I did try fishing with chironomids. Had a few take-downs, but no hookups. I used an olive Zebra Midge as the bottom fly and a OB2wanchironomie as the top one. Don't know which one they took, but the olive Zebra has been working well for me.
You might recognize a few of these flies if you've followed my blog for awhile. I wrote a general description about East Lake, the fishery, and some of the flies I've used there in the East Lake Fly Box post. I have a couple of other flies friends have shared with me I'll be adding to the fly box. You'll be seeing those in the near future.
Oh, last but not least, here is the brown my wife caught.
Now, go fish!