I'm looking forward to fishing some larger mayfly imitations. You know what month it is? That's right, March. It means we can expect to see a few size 12 and 14 mayflies begin to appear on the water. I hope the fish are hungry! When I started this post, I thought it would be exclusively about March Browns. But after a recent trip to the river, I expanded the scope to include Ameletus and Cinygmula mayflies. Read on and you'll understand why I settled on a title of fly imitations for spring mayflies.
Dry fly fishing has been a little sparse lately and I've been using my Euro nymph rod to tie on a couple of perdigon-style nymphs and hook some fish.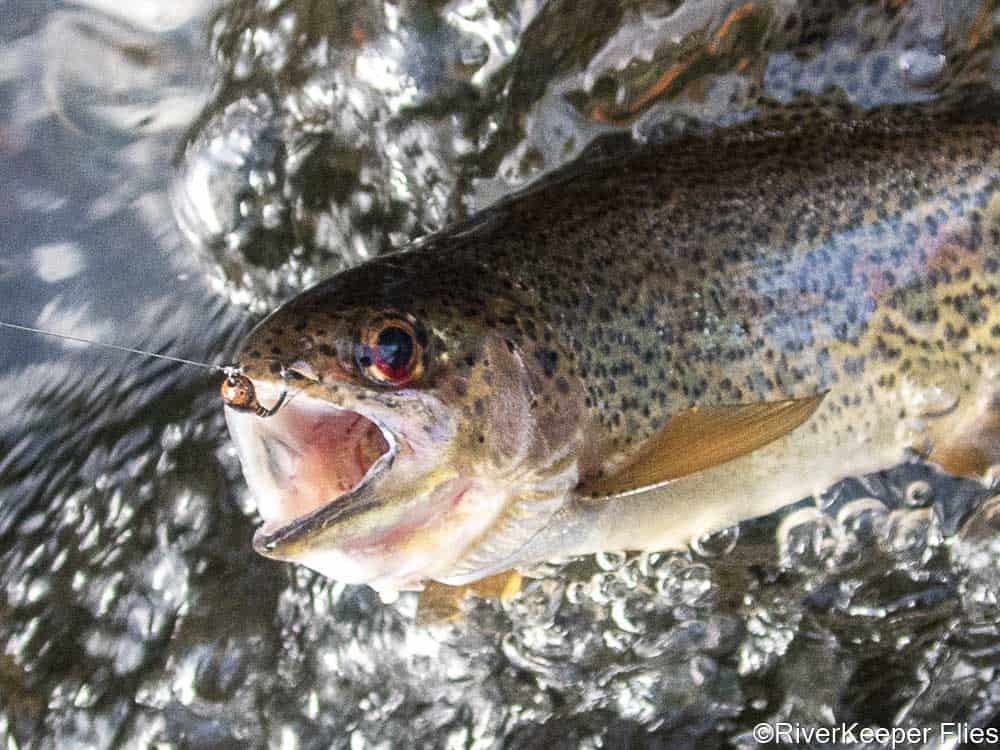 This rainbow ate my Pheasant Tail Perdigon – Variant. In fact, it's worked really well lately. I tie the fly with size 3.3 mm or 3.8 mm slotted tungsten beads on a size 16 hook, depending on the water conditions and how fast I want the nymph to sink.
I kept my eyes open for a Blue Wing Olive hatch and did find some early afternoon. But I only saw two fish rise, not enough to switch from nymphs to dry flies.
Just in case, I tied on a BWO Soft Hackle Cripple as the fly above the Pheasant Tail Perdigon and continued to fish the nymph close to the bottom. The soft hackle was fished as an emerger and worked on this beauty.
It might be a little early, but I was on the lookout for a few March Brown mayflies floating on the water. I haven't seen a prolific hatch on the Metolius like the ones I used to fish on the McKenzie or Willamette rivers in the Willamette Valley.
I was sitting on the bank tying on another fly and some movement caught my eye. I thought I found a March Brown. On closer inspection, it didn't look right. Perhaps it's a Caudatella, which are known to hatch around the same time and are very similar.
After I arrived home and downloaded my images, I was really confused. I pulled out a couple of my go-to book resources – Hatch Guide For Western Streams by Jim Schollmeyer and Western Mayfly Hatches by Rick Haefle and Dave Hughes.
I'm pretty sure this mayfly isn't a March Brown. I checked the Cinygmula pages, but decided to keep looking. I believe it is an Ameletus.
Do you think the fish really care? I don't.
It reinforces the fact that identifying mayflies can be very confusing.
As I've said before, when selecting dry flies, start with size, profile and lastly color. You don't need to know the Latin name of an insect to be successful!
Here is what I wrote in a post entitled Confusing Mayfly Names back in 2017.
Ameletus (#12 – 14) – This is the Genus level. There are 26 Western Species. The duns have 2 tails with body color brown, yellowish-brown, or pale olive and are body length of 1/2 inch, excluding tails.
Cinygmula (#12 – 14) – This is the Genus level. There are 10 Western Species. The duns have 2 tails and their wings are gray or amber, body color pale cream to olive, orange, red or grayish brown. Body length from 5/16 to 1/2 inches.
Both of these insects are similar to the March Brown, which I'll cover in more detail. I've written about them before.
Western March Brown mayflies (Rhithrogena morrisoni) are in the #12 – 16 size range. If you look at them from above, they appear a medium to dark brown. But that's not what the fish see. The fly's abdomen where I live is a reddish-brown. They might be different in the waters you fish. And their wings are very distinct…brown and mottled or some fly fishers would call it cathedral window-like.
Here is a brief description of a March Brown's mayfly life-cycle.
Like all aquatic insects, it begins with an egg. The egg hatches and becomes a nymph, living in fast, clean water. The March Brown nymph is known as a clinger because it attaches itself to the bottom of the river by it's gills, which act like suction cups. Meals consist of algae scraped off the rocks where the nymph lives and grows.
After living in the river for about a year, it's time to hatch. The nymph swims to the surface and escapes the nymphal shuck. And the adult, or dun as their known, flies away.
The dun lives along trees and brush waiting as it sexually matures, molting again into the spinner phase. After mating and laying eggs, spinners fall into the water where trout may feed upon them.
Nymph, emergers, and adults are all important to the fly fisher. All phases are easily imitated with the flies listed below.
I've seen a few good hatches. I was floating on the McKenzie River in a drift boat several years ago and observed nymphs swimming to the surface, pausing briefly while the dun broke free of the nymphal shuck and flew away. It happened so fast, I didn't have time to reach down and grab one to get a closer look. I'm guessing that's why trout rise with purpose. They don't want the dun to get away.
In some of the waters I fish, you could call March Brown mayflies April Browns. I find great fishing in the month of April. The Middle Deschutes River is an excellent example of April hatches. On more than one occasion, my timing was perfect and I arrived at the river to see many trout rising and eating March Browns off the surface.
So the question is, what flies should you use to imitate these important phases?
Well, let's start with a couple of nymphs and work to the adult stage.
Nymphs
You know I like simple flies, so here are a couple of nymphs that should work for you
Fish these patterns any time of year, but especially now when they're more active. And fish them in the upper part of the water column when the hatch starts, as fish are used to see them swim to the surface.
Emerger
Then there's the transitional phase where the nymph swims to the surface and hatches. Fish are actively searching for easy prey and these flies should work.
I like to use an old-style wet fly soft hackle for this phase…and it works for me.
Cripples
Cripples are adult insects with their wings caught in the surface film or stuck in the nymphal shuck. Many mayflies have difficulty escaping the nymphal shuck. And when they do, one or both wings may stick to the water, preventing their flight. I like my RiverKeeper Soft Hackle Cripple to imitate this phase. And I wouldn't be without a Sparkle Dun!
Duns (adults)
I use several flies to imitate the adult stage where the March Brown mayfly floats on top of the water as it drifts downstream before taking flight.
Several years ago, I had a tremendous day of fishing on the Middle Deschutes. I was lucky enough to hit a March Brown hatch that happened to last several hours. The fish weren't huge, but they were a mixture of Browns and Rainbows…and I caught a lot of fish! What fly did I use? A March Brown Comparadun…a simple fly. While I fish its cousin the Sparkle Dun, I'll never forget how the Comparadun worked so well.
Or try an old school fly…
I'm always amazed how well this older fly works. It seems to imitate any mayfly as long as the fly is similar in size. Kinda goes against my theory of matching body colors, but the fish are smarter than I am! I invite you to check out one of the Throw Back Thursday Flies page for a little history of the Parachute Adams.
The bottom line is this. I don't believe you need to know if the insects hatching are Ameletus, Cinygmula, or March Browns. Make sure your spring fly box has a few of the flies I've provided above.
Enjoy…go fish, stay safe!