We decided to head back to the river. I think we've made three trips and have been fortunate to hook and land fish each trip using dry flies. The river gods have been smiling upon us and we feel fortunate to be able to enjoy the days on our home waters, the Metolius, and get back to some zen fly fishing.
The color green is definitely noticeable. Brush, grasses, and trees are growing their annual foliage since we last visited in March.
And speaking of color, I missed green, red, and of course black spots.
Mayflies were out in abundance and we found lots of Blue Wing Olives (BWO) and Pale Morning Dun (PMD) naturals.
If you look in the Archives, I've written about how prolific PMD hatches can be in May. Read last year's post, PMD Hatch for a detailed description of this insect and the flies I use to imitate it.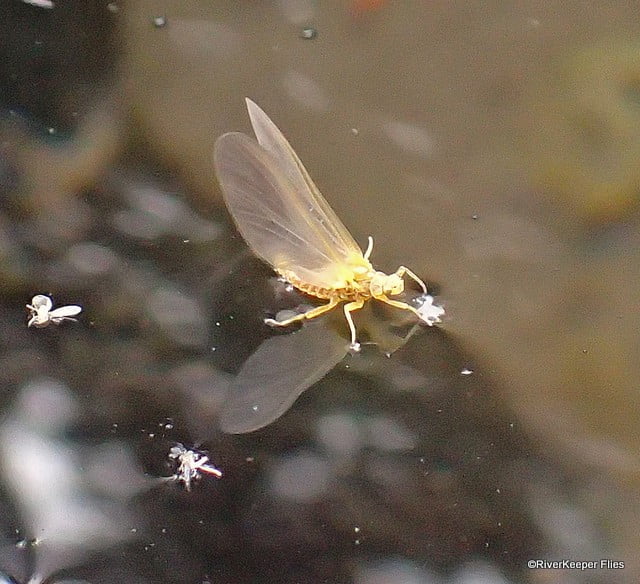 OK, here is a preview of one of my favorite flies to imitate a PMD, a RiverKeeper Soft Hackle Cripple. The fly is designed to imitate the wings caught in the surface film.
It certainly worked last week!
I was slowly getting into position to cast to rising fish and startled this Bull Trout. I was lucky he didn't go too far and slowly returned to his favorite lie, which allowed me to stick my Olympus TG-6 underwater and snap a few shots.
And before you ask, no, I didn't try to catch him. I don't think the 6X tippet on the end of my leader was the right choice! I was more concerned about hooking a Rainbow Trout and providing an easy meal. It's happened more than once where a Bull Trout has attempted to eat my trout…sometimes with success! That's when the fun begins.
We found this mayfly dun floating down the river and was able to catch it. Not sure what it is, about a size 14 fly with creamy/tan underbody. I'll have to pull out my copy of BugWater by Thomason or Western Mayfly Hatches by Haefle and Hughes and do a little research.
And here is how a close-up image is made with my Olympus TG-6 camera.
It was certainly noticeable on the water and was hatching before PMD's came out. I plan to keep my eye out for more of them. I think the fish keyed on them for a few days.
Lastly, we've seen a couple Green Drakes beginning to hatch. It won't be long now.
Time for some more zen fly fishing.
Enjoy…go fish…be safe!