Last week found us floating the Deschutes River from Warm Springs to Trout Creek, a very popular drift section. Perhaps you read my post, Water is Life on the Deschutes River a few weeks ago where we fished with Littleleaf Outfitters on the Warm Springs Reservation.
Our hope was to fish Salmonfly and Golden Stone imitations to coax up a few fish.
We started at Warm Springs Boat Launch.
While I have a drift boat and have drifted the Deschutes River numerous times, we joined our friend Eric on this float. Perhaps you recall previous trips I've written about as we floated with Eric, the most popular being Eric's Deschutes River Bar and Grill.
We enjoy being the first of the second wave launching the boat. Many guides have already floated downstream with their clients. We hoped by fishing later in the day, warmer weather might make the bugs active, and provide some great dry fly action.
After launching the boat, we spent a little time to fish the area before departing down the river.
Here is Eric giving it a try.
Karen and I moved the boat away from the launch area and anchored next to an island. We usually fish upstream, but it appeared a guide had the same idea and his two clients were fishing there. The guide mentioned it was time for them to hop in the boat for their trip and as they walked by our boat, one turned to me and asked "are you John Kreft"?
I answered "yes, I am" and he stated he's been a regular reader here at RiverKeeper Flies. The encounter made me smile. A short time later, we floated down the river and there was John with a big smile on his face.
I mentioned earlier we were hoping to find stoneflies in the grasses. I didn't see any Golden Stones, but a few Salmonflies were on the streamside grasses.
I planned to use one of the following three flies:
I tied on a Clark's Lady Salmonfly with hopes of coaxing a fish to the fly.
We drifted by some islands and found a nice grassy area to try.
Eric hooked and played a nice trout. It wrapped itself around some woody debris and played it quite a while.
He was lucky and landed this 17″ Rainbow.
I fished downstream next to some grasses and moved a couple of fish, hooking and landing a small trout.
Back in the boat, we floated down the river past Mecca Flats Campground.
This is a beautiful float through the Deschutes River canyon. Be sure to notice the blue sky in the image above. Remember the sky and compare it to images later in my report.
Mecca Flats Campground is a great place for river access. You'll find great spots along the road as you drive from where we launched to the campground. In addition, several miles of access can be found below the campground.
We continued our float and stopped at the downstream end of an island to try fishing. I walked upstream along the edge, casting my Norm Wood Special, since I saw more Golden Stones in the grasses.
I moved a nice fish towards the bottom of the island. The fish was holding along the edge of a drop-off. I couldn't get him to return despite the additional casts I placed over it.
I cast to seams during my jaunt upstream. Nothing.
At the top of the island, I placed my fly on the seam between fast and slow water and a nice fish rose to eat it…a NICE fish!
I played the fish and was able to see it as it jumped a couple of times out of the water. A short time later, I placed the net under the fish and landed this beautiful 19 1/2″ Rainbow Trout.
I had walked upstream by myself, so this is the only picture I took. I wish one of my fishing partners would have been closer to take a picture. It might be the biggest Deschutes Rainbow Trout I've caught.
Downstream we went in search of a spot for lunch.
While this isn't the original location of Eric's Bar and Grill, we made do.
I enjoy barbequing river burgers…
…and drinking a beverage while the burgers cook.
I think they were a hit, along with a Moscow Mule!
After spending a little time on the island, we continued our journey down the river.
Remember a mention of gray skies? Well, the farther down we went, more clouds were building. We also began to notice more Golden Stones flying over the water and touching down to deposit their eggs.
Here is a spot where we stopped to fish because we noticed fish rising along the edge.
The grasses had quite a few Golden Stones in them.
I was fishing a Clark's Lady Golden Stone and landed this beauty.
Then I tied on a Norm Wood Special and was lucky to have several fish rise to the fly.
My wife got in the action as well by landing this beauty.
And this fish too.
We were fortunate to land several. A natural would float downstream and a fish ate it. Then we'd cast our imitation through the same water and either move the fish or hook up.
They do wiggle a bit…
It was getting late, and we felt an occasional raindrop. Our last stop is one of my favorite places, a riffle alongside fast-moving water. We've had wonderful luck in past trips with Caddis imitations at this spot. And it turns out, we saw several different Caddis flying around the boat and landing on us.
I tied on a #14 Hemingway Caddis and hooked and landed a fish on my first cast.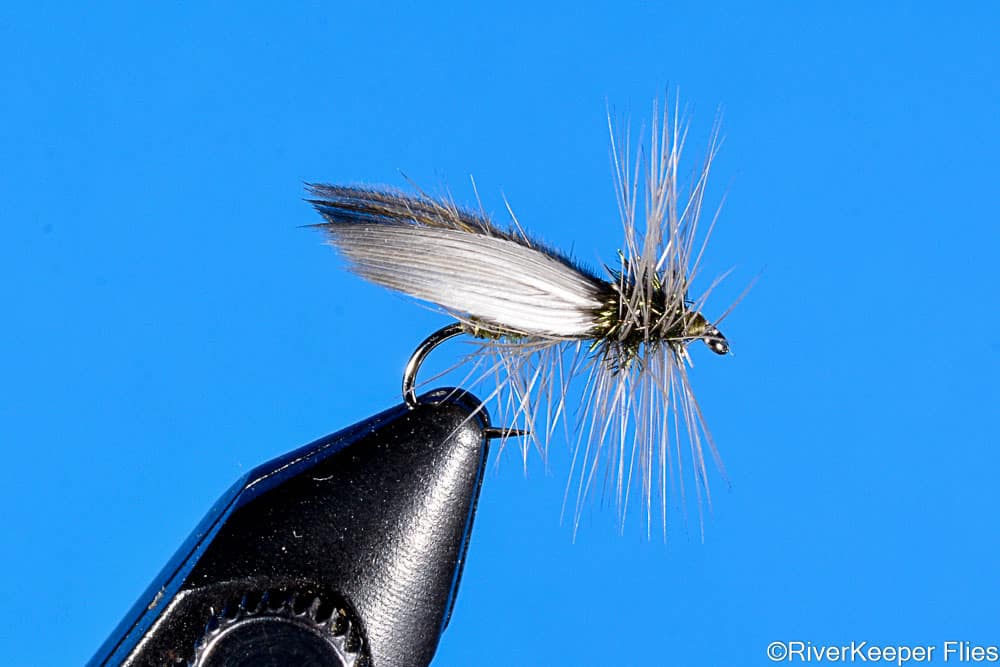 On my second cast, another fish rose to my fly.
I shouted to Eric to tie on a Caddis. He tried a Peacock Caddis and landed several.
I moved several more fish, but no more hook-ups. I changed to a favorite Caddis imitation the I can see during fading light, an Iris Caddis – Amber.
And it worked!
We had more action lower in our drift. It could have been the additional number of insects I saw or the warming temperatures to get them flying…or a combination of the two.
Regardless, it was a great trip and one I'll remember for a while.
Enjoy…go fish!