Here we are back at the Madison River. We had some spectacular fishing in July (Fly Fishing the Madison River in 2020) during a caddis hatch and wanted to return for the legendary Baetis hatch, hoping for another wonderful experience. We've grown to love this Valley, not only for the fishing, but the beauty as well. It's a magical place where we find our Zen. We looked forward to fly fishing this fall on the Madison.
We spent 5 days fly fishing the Madison River on our 2,591 mile fall fly fishing road trip. Most of our days were smokey, but the last day finally gave way to blue skies for a short time.
The first stop was a place we found last year when hoppers were prolific in the lower river, Storey Ditch boat access. Why not stop and see if hoppers are here?
We saw hoppers in the grass as we walked to the water. I tied on a Thunder Thighs hopper, but was disappointed when I didn't get a rise. How about a Plan B Purple hopper? Both of these fly patterns are new-to-me. Two customers asked me to tie these patterns and I tied a few extra for our Montana trips. I had several fish rise to the Plan B Purple hopper, but only hooked up on one.
Back in the van, we drove upstream and stopped at Lyons Bridge where we've had success before. It didn't pan out for me, but my wife picked up a couple. Our plan was to spend time fishing around $3 Bridge the next day.
And it didn't disappoint…
There weren't very many insects flying around, but we did see a few rising trout who willingly came to our fly.
Plus we did a little blind-casting to spots we know have held fish for us in previous trips.
When the fishing slowed down, I decided to try a Pheasant Tail Perdigon – Variant for the point fly and a $3 Dip. It seemed the right thing to do since I was fishing the $3 Bridge area.
OK, the $3 Dip was close to the mouth, isn't it?
I did try the Thunder Thighs and Plan B Purple hopper patterns. Again, I had several rises to both flies, but didn't manage to hook any fish.
Here are hers/his identical Blue Wing Olive (or Baetis) Tacky fly boxes. At least they started out identical. I created them earlier this year and we've been using them for several months.
We were hoping to find a Baetis (or Blue Wing Olive) hatch while on the river. A customer of mine ordered some Almost There Baetis earlier this year and I tied a few for me. It looked like a great pattern, but I hadn't used it yet.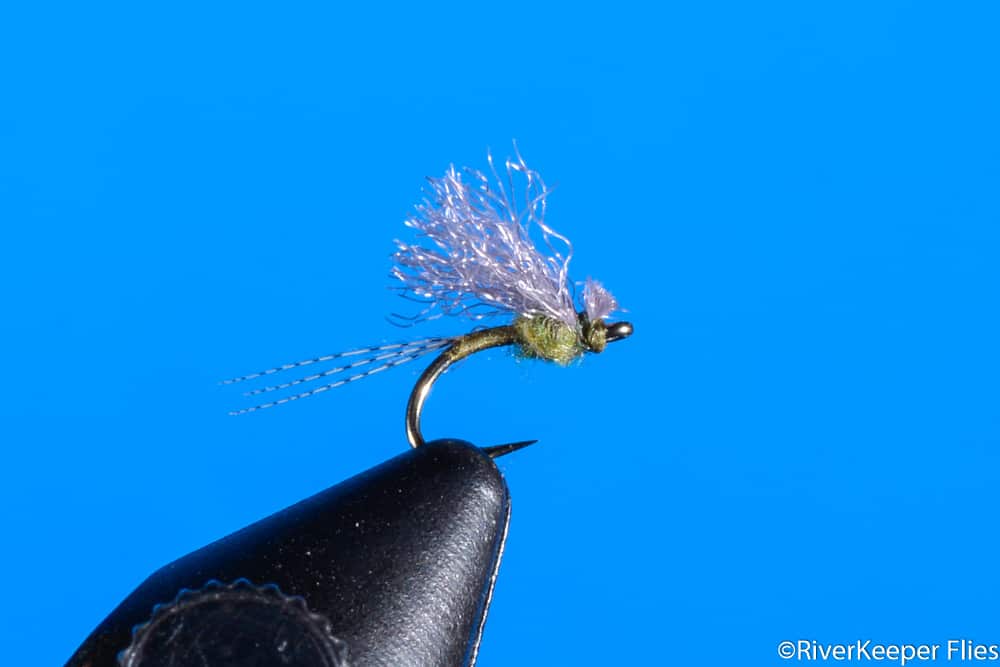 It's tied on a Daiichi 1140 hook in sizes 18 and 20, but the sizes are misleading. A size 18 compared to a normal dry fly hook makes the fly more like a size 20.
The following image is from a post I wrote a few years ago entitled Comparable Fly Fishing Hooks. The top row is the Tiemco 206BL in sizes 18 and 20. The second row is a size 18 Daiichi 1140. It appears to me the Daiichi size18 is similar to a size 20 hook. I didn't include the Daiichi 1140 size 20 because the Tiemco 206BL doesn't come smaller than size 20.
For those of you who don't tie your own flies, don't worry. This is what it looks like in a fish's mouth.
It's hard to see, but I drew a circle around the fly.
We had several fish eat this fly. In fact, we could see them move to the fly. It was so small, I'm surprised they wanted it so badly. I'm a fan of the Almost There Baetis. It's a fly I'll keep tying and fishing.
Here are the flies that worked for us.
Late one evening, I decided to try a size 20 Mighty Midget Emerger when I saw fish begin to rise. I cast 3/4 downstream and swung the fly tight in the current. I had several hits and did manage to hook and land a 13 inch rainbow.
Here is an example of the water we fished, concentrating on the swath of water 5 to 6 feet this side of the seam between fast and slow water. My wife hooked, played, and lost a big fish here. Come to think of it, I had the same experience on an earlier trip!
We caught some nice fish around and below $3 Bridge. Here are a few.
The same fish happy to be back in its normal environment.
I'm already looking forward to next year!
Enjoy…go fish, stay safe!