Here are some Products we use. Be sure to support your local fly shop first, but if you can't find them, I've added a few links.
Galvan Fly Reels
I use the Torque T-5 as my main reel and love it! The T-6 is used for lake fishing with my intermediate line. These reels are light and have very smooth drags. I bought my wife one recently for her birthday jewel tone pink.
Ross Fly Reels
I decided to try a Ross Evolution LTX fly reel in black. I've used it for my 2020 fly fishing road trip to Idaho and Montana. It's a great reel!
Winston Rods – www.winstonrods.com/
We fish the BIIX 9′ 5 weight most days. They are a joy to cast and fish all day long. It's an older fly rod, but head to your local fly shop and cast their newer models to see which one you like best. You can't go wrong with a Winston rod!
RIO lines – www.rioproducts.com/fly-lines/
I fish with Intouch Rio Gold fly lines and attach their leaders too. My wife fishes their regular Rio Gold. They work quite well.
Korker Wading Boots – www.korkers.com
Korkers are the best boots I've ever had! I wore first pair of Devil's Canyon boots from 2015 – 2018 and ended up with roughly 350 days on the water. I like the interchangeable soles to switch back and forth between studded felt, regular felt, aluminum hex or bars, and rubber. And I don't have to deal with shoestrings! I always had trouble tightening the laces in regular boots. Seems like they always loosened up. The improved M2 BOA lacing system is even better than the original. They're quicker to tighten and snug up just great. I just take a couple of deep squats to make sure the boots adjust to my feet and can always get a few extra "clicks" with the BOA dial. Sturdy and lightweight! These are the boots I've worn for several years. Read about them HERE.
Korker Studded Felt Soles
I have several replaceable soles for my Devil's Canyon wading boots. Most of the time I wear their studded felt.
Korkers Omnitrax V3.0 Triple Threat Aluminum Hex Disc Wading Boot
I wear these soles when felt soles aren't allowed. The Triple Threat soles provide options to use the hex discs or aluminum bars. I've used both. Read about it HERE.
Redington Sonic Pro HD Waders
I've worn these waders for several years and are my go-to waders for summer fishing. They are heavy duty, but lighter than both the Simms G3 and G4 waders.
Simms G4 Waders – www.simmsfishing.com/shop/waders.html
I purchased the Simms G4 to wear during the cold winter months and it's another great wader. The gortex does it's job. Very comfortable for all-day fishing.
Renzetti Vise – www.renzetti.com
I have several fly tying vises, but the one I use the most is the Presentation 4000 Cam Pedastal Base. I still have my original Renzetti Traveler Vise and still use it on occasion. I thoroughly enjoy tying on these vises. These are true rotary vises. If you are in the market, take a look at them. Here is a link to the Traveler.
Olympus TG 6 Camera
I recently upgraded my waterproof fishing camera to this Olympus. It's a great camera and I highly recommend it. Most of the outdoor images you see on my RiverKeeper Flies website are from my Olympus cameras.
Olympus FD-1 Flash Diffuser
I've used this diffuser on this camera as well as my earlier TG 4. This product is a must if you try any close-up work. I use it to capture bugs as well as a few fish pics.
Olympus TG-6 Screen Protector 
This inexpensive tempered glass LCD screen protector easily and perfectly fits over the Olympus TG-6. This is a 3-pack.
Nikon Z50 Camera
I've recently upgraded to a Nikon Z50 mirrorless camera from my d7100. I'm using it for macro shots indoors and beginning to shoot video as well. I'm really pleased so far. The package includes two lenses: NIKKOR Z DX 16-50 mm f/3.5-6.3 VR and NIKKOR Z DX 50-250 mm F/4.5-6.3 VR.
Tokina 100mm Macro Lens
I use the Tokina at-X PRO M 100mm F2.8 D Macro Lens – Nikon AF Mount for macro images of my flies you see on RiverKeeper Flies. I've been very happy with this sharp lens.
Nikon FTZ Adapter
The Nikon Mount Adapter FTZ allows me to utilize the F-mount lenses I have and mount on the Nikon Z50 camera. I attach the Tokina 100 mm lens above with this adapter.
Bug vials
I use these vials to capture real bugs. Over the years, I've used denatured alcohol, but recently learned that good old Purel hand soap works too! Pick up some for yourself and start capturing bugs while you're out on the water.
Verilux Natural Spectrum Desk Lamp
I love this lamp! It provides enough light for me to tie and shows the true color of materials. Other lamps might have yellow or blue hues, depending upon the bulb. If you are serious about tying, this is a MUST!
Ikea Jansjo Desk Work LED Lamp Light
I've added this lamp to my fly tying bench as well to provide a little more directed light. Seems the older one gets, the more light is needed!
Postage scales
I purchased this SAGA postage scale for EBAY use. Works well!
Van equipment
DOMETIC Cooler – CFX3 75DZ -this cooler has been a life saver on our fly fishing road trips. It's a dual zone cooler capable of separate temperatures for each side. We use one side as a freezer (set at -5 degrees) and the other as a refrigerator (set at 37 degrees).
weBoost Drive Reach – This is a product we rely upon. It allows us to obtain a 4G signal most of the time in remote areas. I use it in conjunction with a mobile hotspot when writing my RiverKeeper Flies blog.
JBL Charge 3 Waterproof Portable Bluetooth Speaker – we love this speaker! Easy to use and excellent sound. Holds a charge forever.
Battery Operated Clip On Rechargeable Oscillating Desk Fan
LED Light Bar
VIAIR 90P Portable Compressor – I purchased the 89P, which is similar to this model.
AIMS 2000 Watt Pure Sine inverter Charger
SmartSolar MPPT 100/30 Charge Controller
Victron Energy SmartShunt 500 amp Battery Monitor
Victron Energy Orion-Tr Smart 12/12-Volt 30 amp 360-Watt DC-DC Charger, Isolated (Bluetooth)
Webasto Air Top EVO 40 – Gasoline – purchased at Vanlife Outfitters – https://www.vanlifeoutfitters.com/store/webasto-airtop-evo-40-promaster-sprinter-install-kit/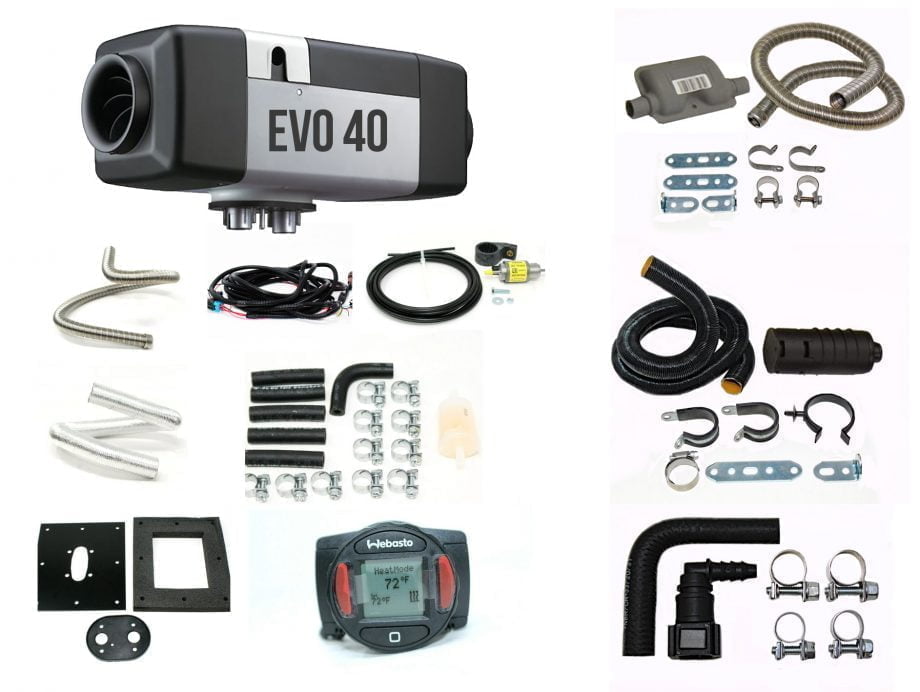 (John Kreft is a participant in the Amazon Services LLC Associates Program, an affiliate advertising program designed to provide a means for sites to earn advertising fees by advertising and linking to amazon.com.)