We fished a total of 10 waters during our 29 day 3,233 mile trip. I didn't write about all the places we fished, so this week's post will be wrapping up our fly fishing road trip.
If you missed it, here are the waters I wrote about:
In addition to those rivers, we also fished Ennis Lake, Yellowstone River (at Big Timber and in the Park), Luce Reservoir, and Soda Butte Creek.
Ennis Lake
We camped along the shore of Ennis Lake, not expecting to fish at all. We were looking forward to fish the Stillwater River.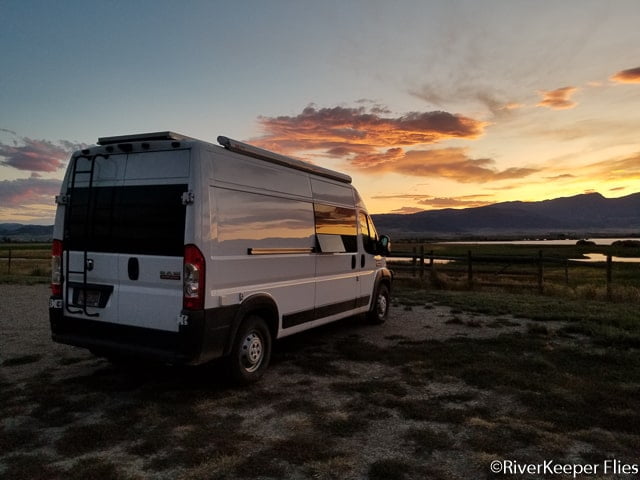 The sunset views were beautiful.
The next morning, I found all these Trico mayflies on the van.
They were molting from the dun to spinner stage.
We were about to leave (Karen had her seatbelt attached) when a fly fisher pulled up next to us and got ready to fish the lake. I got out and talked to him.
Needless to say, a short time later we headed to the lake and try our luck.
Our new friend Ken helped us locate a spot to fish and explained how the Trico mats were floating slowly with the river current into the lake. There were millions of dead flies sticking to everything.
It was difficult to bring our flies in without coating them with Trico's. This size 14 fly has at least a dozen Trico's on it.
Lucky for us, the fish were keying on Callibaetis mayflies. We found some spinners floating on the surface and tied on an imitation.
I won't go into all the details, but we managed to hook, break off, and eventually land a few nice Rainbows.
Yellowstone River near Big Timber
On our way from the Boulder to the Stillwater River, we stayed overnight next to the Yellowstone River just out of Big Timber, MT. The Yellowstone here is a large river that most fly fishers fish by boat. We stayed at Otter Creek and tried our luck that evening and the next morning fishing from shore.
Lots of fish were rising that evening and Karen had a couple fish take her fly, but no hook-ups. I didn't have anything.
The next morning, I walked downstream with a hopper fly pattern. I did land a couple small fish, but that was it.
We decided to hit the road and head to the Stillwater River.
Beartooth Pass
After fishing the Stillwater River we drove through Red Lodge, MT and took the Beartooth Highway to Cooke City on our way to the northeast corner of Yellowstone Park. Our plan was to fish the Lamar River, Soda Butte Creek, and Slough Creek. The Beartooth Pass in Wyoming is at 10,947 feet above sea level.
Driving the Beartooth Highway is spectacular.
We took our time and camped that evening, enjoying the sunset.
Lamar River, Slough Creek, and Soda Butte Creek
We expected low water in late August, but as we drove through the Lamar valley, I was surprised to see how low the water really was. We chose to forgo fishing Soda Butte Creek because of all the bison in the area and got down to the lower end of the Lamar valley where we could fish. Only problem was, evidently a bear or wolves were close by and many people were parked in all the turn-outs with spotting scopes, binoculars, and cameras to capture any action there might be. Strike two!
How about Slough Creek?
Lots of people we talked with told us about the good fishing in the upper meadows. We are a little bear wary and haven't ventured up to fish the meadows. If we do fish Slough Creek, we concentrate on the water below the campground.
There were a few fly fishers in the water we normally fish and we decided to continue our journey through the Park to the Yellowstone River.
Yellowstone River in Park
The last time we fished the Yellowstone River was in 2017 (Fly Fishing the Madison and Yellowstone Rivers). We had done fairly well on that trip, so we decided to head that direction in hopes we might run into a few more Green Drake's hatching.
As we walked to the river, we were amazed at all the empty Golden Stone nymph cases. I wonder what fishing might have been a week or two earlier?
This section of river is easily waded.
I usually wait to spot rising fish, but decided to give it a try.
I think it was my third blind cast and I hooked this beautiful Yellowstone Cutthroat.
My wife hooked and played a nice fish which almost came to the net. Somehow it just popped off. It was bigger than mine.
A couple other fish came to our flies, be we didn't hook up. We continued to try, but decided it was time to head out of the Park and find a spot to camp.
Since you can only camp in specifically designated areas in the Park, we had to find spots outside the Park which were close (relatively speaking). That lead us to try the eastern entrance and the road to Cody, WY, which is how were came to fish the North Fork Shoshone River.
It was about an hour and a half drive reach direction, but it's the only choice available. We returned the next day, but only found a couple rising fish which we couldn't hook.
Luce Reservoir
Luce Reservoir is one of Wyoming's trophy trout lakes. We found out about this fishery in Cody, WY at the North Fork Angler's. While getting information about fly fishing the North Fork Shoshone River, we stated our plan to return to the northeast corner of the Park via the Chief Joseph Scenic Byway.
Luce Reservoir was only a few miles off our route and we decided to check it out. Located 20 miles out of Cody, we drove to Hogan Reservoir to camp that evening. Luce is only a 1/4 mile walk away. Hogan is a put/take fishery with Cutthroat Trout. We'd heard Luce was managed as a trophy Rainbow Trout fishery with the potential for large trout.
I didn't expect too many people, but we found another fly fisher from Oregon and two rigs from Florida. The Florida fly fisher provided some intel for us about Luce. Part of it as to beware of rattlesnakes, grizzly bears, and western quicksand! Sounds like my kind of place to fish!
I walked over that evening for a glance at the lake.
The next morning, we took our fly rods and walked along the shore looking for cruising trout sipping Callibaetis mayflies. We did find a few and they didn't seem to be interested. They would swim by and return later. One of the fly fishers next to us hooked and landed a couple of fish.
We continued to walk the shoreline.
I noticed adult damsels and a pretty good boil next to some weeds. I changed to my Braided Butt Damsel Fly – Variant and finally landed a fish. I missed another and we decided to call it a day and head to our next location.
I gave the fly fisher next to use a couple of Braided Butt Damsel Flies to say "thanks" for the information they had provided.
Chief Joseph Scenic Byway
Back on the Chief Joseph Scenic Byway. We traveled a short distance and turned off one of the many scenic overlooks. To our surprise, we located the lakes we had just left!
The Byway is a 47 mile drive from Cody, WY to Cooke City, MT and the northeast corner of Yellowstone National Park. The Beartooth Mountains and the Clarks Fork of the Yellowstone River are located north of the byway and the Absaroka Mountains lie to the south.
Slough Creek
Back to Slough Creek to determine if we would fish that evening.
There's something special about this meadow as well.
Stopping there to check it out, I found this nice Yellowstone Cutthroat swimming. The water looked low and I decided not to bother this guy.
We decided to pass on Slough Creek this year. For some reason, I felt sorry for these fish and didn't want to bother them.
Soda Butte Creek
We were making our second trip through the northeast corner and wanted to check out Soda Butte Creek if the bison weren't there. They weren't…
We walked a short distance to the Creek where we've always caught fish.
It's a little corner with deeper holding water. We got the Creek early, but no fish came to our flies. We could have waited, but chose to find different water.
The low water at this time of year really drove out decision. We thought there were better choices of where to fish.
One evening, we stopped near Pebble Creek Campground area to watch the sunset along Soda Butte Creek.
Pebble Creek Campground is at an elevation around 6,900 feet. Those are the Absaroka Mountains in the background.
Yellowstone River in Park
Our last day in the Park, we decided to fish the Yellowstone River below LeHardy Rapids. It would be the third day we fished it.
My wife hooked and played a fish before I even got to the water. They fought each other for awhile, but it ended up getting off.
I hoped this would be a sign we might find and hook a few fish.
What we found were occasionally fish would rise and stop. I think they were taunting us. It seemed we'd cast to them and move them out a ways. They'd come back, but we never were able to hook any of those fish.
We fished until the sun set on Yellowstone River. It was beautiful a beautiful evening.
It was a great way to end our fishing in the Park.
Enjoy…go fish!