The last stop on our 2017 road trip was fly fishing the Madison and Yellowstone rivers. Our initial planning didn't include fly fishing the Yellowstone River, so be sure to read the end of this post about how happy we were with our little side trip.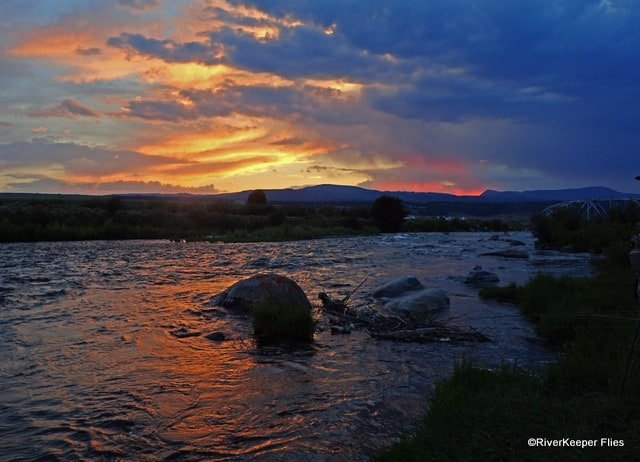 We arrived at the Slide Inn to the words…"you happen to be between hatches". Sound familiar? I heard that phrase about the Missouri, St. Joe, and Clark Fork too. But we've fished the Madison River in prior years and planned to fish early in the morning and late evening for some dry fly action. That strategy has worked in the past.
We've stayed several times at Kelly Galloup's Slide Inn just below Quake Lake on the Madison River, MT. This year was no exception.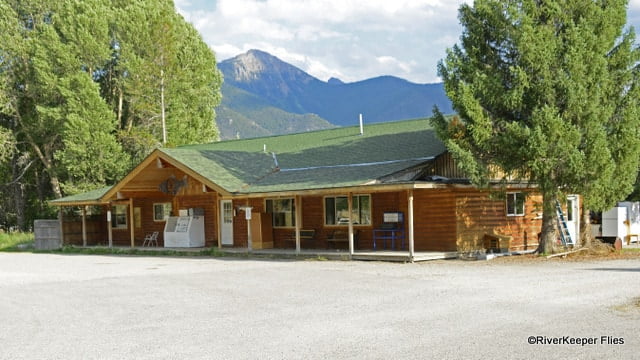 This is the front of the fly shop.
The Store Cabin, attached to the back of Kelly's fly shop, is where we stayed for a few nights.
I really like to stay at Slide Inn because we can be fishing a few favorite spots within minutes. It's very handy because you'll usually find us fishing till dark and enjoying sunsets like the one above. The first sunset picture was taken a short distance above $3 Bridge. Here are a couple more.
In addition to the familiar "between hatches" comments, water temperature was high due to continued work at Hebgen Dam.
I thought work on the Hebgen Dam was supposed to be completed last year, but it appears the dam inspectors asked for the old wooden tunnels to be reinforced or replaced. Therefore, warm water once again was being released and affected the water temperature of the Madison River below Quake Lake.
But back to the fishing…
We tried not to let the warm water affect us and picked places to fish where creeks or springs entered the river to provide cooler temperatures. Our hope was to find a few bigger fish looking up for hatching caddis or perhaps some Rusty Spinners.
Our first fishing spot we tried was just upstream from $3 Bridge.
Besides the beauty of the river, it's been a favorite area and we always catch a few fish there.
I like to walk from pocket to pocket casting dry flies around rocks and along seams where fast water and pools converge. It's a great location for trout wanting an easy meal. And in prior years, the fish always cooperated.
Iris Caddis are a staple in our fly boxes and they usually work here…but the trout weren't eating anything at all. I wonder where they were? Remember the phrase "between hatches"?
Here is a Brown Trout that finally ate a caddis imitation.
Not only did we fish $3 Bridge, we tried the river upstream from Lyon's Bridge as well.
Not much at all. We did move a few fish and land several small fish.
Hmmm, this is not the type of fishing we were hoping for. Perhaps I should have tried to catch them with nymphs, but as I stated earlier, we've always caught fish in these areas using dry flies.
Remember my "plan B" from other stops on our 2017 fly fishing road trip?
I was in Blue Ribbon Flies in West Yellowstone, MT culling through the Sparkle Dun deer hair bin and my wife was roaming around the fly shop listening to the banter. I was missing a conversation about a Green Drake mayfly hatch on the Yellowstone River, but not my wife. She began asking questions about more specifics, like location, time of day, size of the mayfly. OK, I started to listen…
"Plan B" hatched as we drove back to Slide Inn because the Madison River was being a little stingy and not allowing us to see, hook, and catch fish.
If you've been to Yellowstone Park, you know the traffic can be really bad. So we decided to hit the road around 6:30 am the next morning and entered through West Yellowstone, turned left at Madison Junction, right at Norris Junction, and right at Canyon Village. At 8:00 am we arrived at the Canyon Village visitor center and talked with Ranger "Rick", asking him where Buffalo Ford was. Well, he pulled out a "tear off" map and couldn't find it. I told him that was fine, so we just drove upstream trying to remember where we might have pulled off to fish.
We never found a "Buffalo Ford" sign, but I'm sure we found a spot or two where we probably stopped…because it was full of these.
The bison won out because they were all over this valley so we continued to drive all the way to Yellowstone Lake and walked across the Fishing Bridge. I hadn't been there in years. After our short visit, we headed back downstream in search of rising trout and hopeful to find Green Drakes hatching.
After finding a parking turn-out below LeHardy Rapids, we got our gear together and began walking the banks in this section.
We saw a fish rise and I covered it with the Parachute Chernobyl I wrote about in a Throw Back Thursday Fly post. The fish rose gently to my fly and nibbled it, but didn't hook up. Then we watched live Salmonflies and Golden Stones floating downstream with fish rising and eating them. I've always said to use your observation skills and the river will speak to you. Well, it did loud and clear. So I tied on a Norm Wood Special and fooled a couple of beautiful Yellowstone Cutthroat Trout.
This fish was between 22 – 23 inches long…and thick. I caught another as well.
Only a few fish rose to our flies and these were the only fish that came to the net.
Driving back through the bison, literally stopping on the road, we talked about how lucky we were to have found a few rising fish and landing them. What to do?
It took us over 1 1/2 hours to make the 83 mile one-way trip. Should we drive the 166 mile round-trip tomorrow and try it again?
Back to $3 Bridge for the evening hatch, we hoped. But only a couple of fish came to hand, with this Brown Trout being one of them.
Well, we did drive that 166 mile round-trip again to fish the Yellowstone River! It seemed to be our best bet because we had found rising fish the previous day.
It was our lucky day. We found a few rising fish…eating Green Drakes.
Here is the only big Yellowstone Cutthroat either of us caught that day.
A few other smaller fish came to hand, but this one made our day.
The Green Drake hatch lasted about 20 minutes. I was amazed to find fresh duns floating on the surface with spinners mixed in.
As we drove once again out of the Park, we were happy to have made the trip and find Green Drakes on the Yellowstone River.
The last morning as we headed home, we decided to fish just upstream from Raynolds Pass Bridge (elevation 6,844 feet).
The fish gods were smiling down upon us and we were able to land several fish with spinner patterns.
Here is the last fish of our 2017 fly fishing road trip.
Even though the fish were not as cooperative as I hoped, we still had a great time fly fishing the Madison and Yellowstone rivers. 
Enjoy…go fish!
Read about the other rivers on our 2017 fly fishing road trip: