My subscribers are expecting a Throw Back Thursday post today, but I decided to provide a "bonus" post instead. We're on another fly fishing road trip and headed to Montana. My last post stated the next spot we planned to fish was the Madison River. But…I always am open to a "plan B". Well, fly fishing the Beaverhead River ended up being our "plan B".
How did we get there?
I was driving through Idaho on Tuesday and received a phone call from the Winston Rod Company letting me know my rod repair was complete. Yes, I broke my Winston BIIX 9′ 5 weight rod right after I broke my wife's too. Don't ask me to explain. I'm still upset about breaking both of them!
We were on Highway 20 past Picabo, ID on the way to Idaho Falls when we got the call. Instead of continuing to Idaho Falls, we turned north on I-15 and headed to Twin Bridges, via Dillon.
It just so happens the Beaverhead River runs through that area. We've fished the Beaverhead River one other time in August 2017. It hasn't been a destination for us.
The Beaverhead River flows out of Clark Canyon Reservoir and is used mainly for irrigation. And it looks like an irrigation ditch to me. It's a popular river to float, but I've never done that. I enjoy walk and wade fishing and we've tried to find spots where we can fish from shore. It's tough to do.
We learned where to fish from Frontier Anglers in Dillon, MT in 2017. We found a spot about one mile below the dam and did well there one evening.
So we decided to stop at the same spot and see if any fish were rising.
We arrived about 2 pm. No one was in the eddy we like to fish and in fact, a few fish were rising.
Out came the fly rods and we began casting to rising fish. My wife was the first to hook up and her fish jumped and spit the hook.
I hooked up next on a nice Brown Trout.
Several more fish came to hand. We did catch a couple of Rainbows, but most of them were Brown Trout, very healthy Brown Trout. Most were in the 16 to 18 inch range. One measured at least 19 inches.
I think we broke off four or five fish using 4X tippet.
What flies were successful for us?
X Caddis – Tan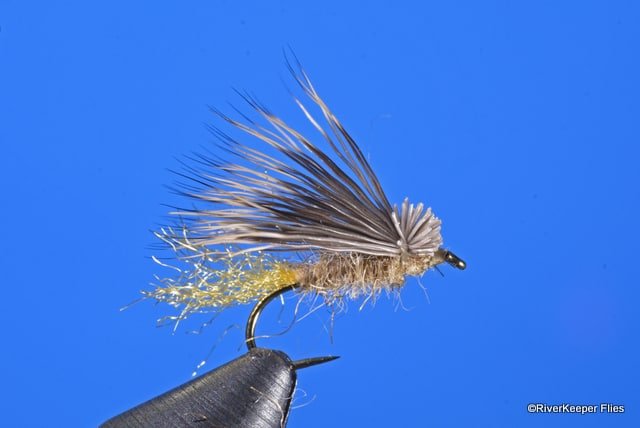 Iris Caddis – Tan
RiverKeeper Soft Hackle Cripple – PMD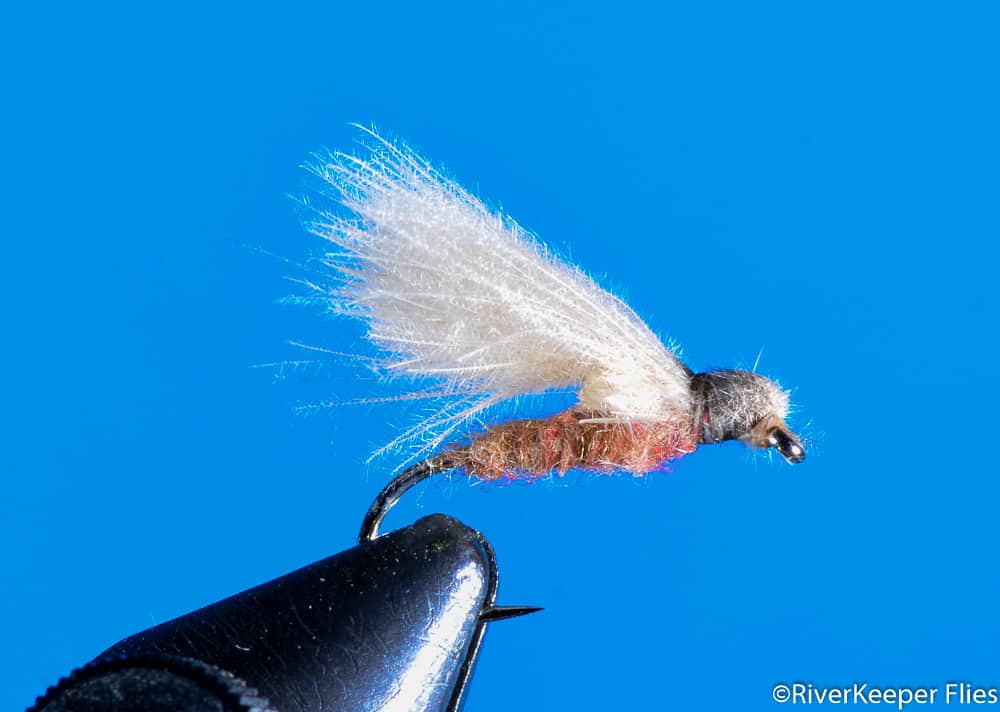 We spent the night on the river and I fished for awhile the next morning. I was only able to coax one 14 inch Brown Trout to the net.
Oh, I almost forgot…I did pick up my rod later the next day.
Next stop, Madison River. Really!
Enjoy…go fish!