If you fish a variety of waters, how do you select the right rods, lines, and leaders to use? Well, that's exactly the problem I'm dealing with tonight as I prepare to float the Lower Deschutes River tomorrow.
The answer is pretty easy for me. I'll take my Winston BIIX 5 weight fly rod. It's the best rod I've ever used. I have lots of other rods I like to fish, a couple of 4 weights and a 6 weight, but this one is in my hands most of the time. I fish it with a floating weight forward line and attach a 9 foot 5x leader and add a section of 6x tippet.
Many of you know my home waters are the Metolius River. I love to fish this river and it's why we live in Sisters, OR.
And that Winston BIIX 5 weight fly rod does a great job when I hook into a fish like this.
But I do fish other waters on occasion. In fact, I'm headed down the Lower Deschutes tomorrow. While the Metolius eventually flows into the Deschutes, it is very different water…a spring creek with several creeks from the eastern edge of the Cascade mountains flowing into it.
I packed a Winston BIIX 6 weight as well in case the wind blows hard through the canyon. Sometimes that extra punch is needed, especially when throwing big flies.
And what are those big flies I'm trying to imitate?
Salmonflies and Golden Stones.
The gear I use to fish both rivers are pretty much the same, but the biggest difference are the leaders and flies I plan to use.
I have found to be successful on the Metolius requires long, light leaders. That means a tapered leader down to 6x. To learn more about my simple leader, read this Fly Fishing Leader post.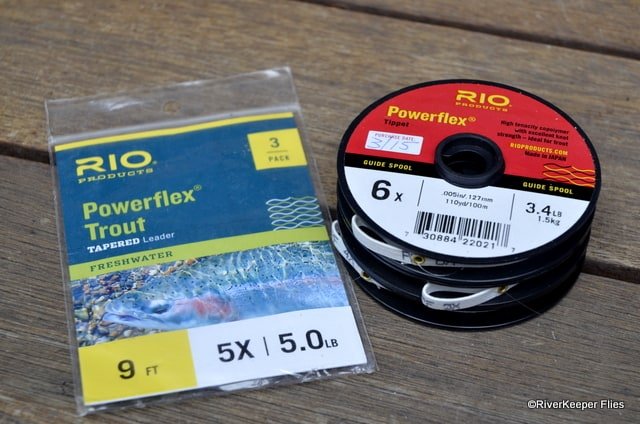 I'm hoping the big Salmonflies and Golden Stones cooperate. I'll be carrying a full provider box with Clarks Golden Stone to imitate both Salmonflies and Golden Stones. This is the box I carry.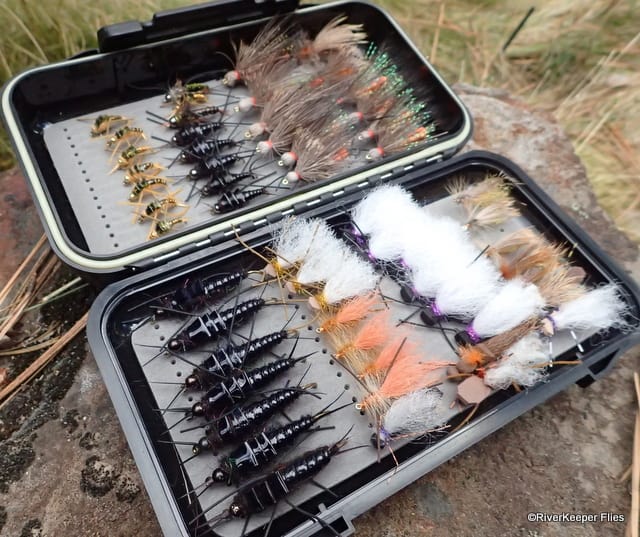 What's in this fly box? I wrote a recent post – Favorite Golden Stone and Salmonfly Fly Patterns – where I talked about the flies I use as well as pictures of the real bugs I imitate.
One of the last flies I tied for the trip is Clark's Lady Stone. I have a lot of confidence in this fly.
I plan to fish the Deschutes River this time of year in hopes the fish will be taking dry flies. I'll carry some big nymphs, but haven't needed them in similar trips in past years.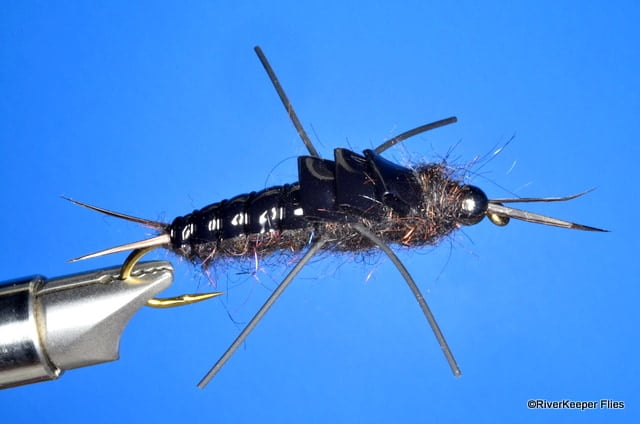 I won't need a 9 foot leader for the Deschutes. I plan to start with a 7 1/2 foot 2x or 3x and add a length of 3x or 4x leader to attach my fly. I'll be fishing big, fast, and colored water where the trout use the current to fight.
I've written about past trips down the Lower D in these posts – Fishing the Lower Deschutes (2017) and Eric's Deschutes River Bar and Grill (2016). Here is a picture from one of those trips.
I hope I find more like this beauty!
Enjoy…go fish!