I wrote a post a couple of years ago about my favorite Salmonfly patterns to fish. Since Salmonfly season is just around the corner, I thought it was a perfect time to update the post. I've added Golden Stoneflies to the mix because this slightly smaller stonefly hatches just after (or even during) the Salmonfly hatch. I've included my favorite Golden Stone and Salmonfly Fly Patterns below.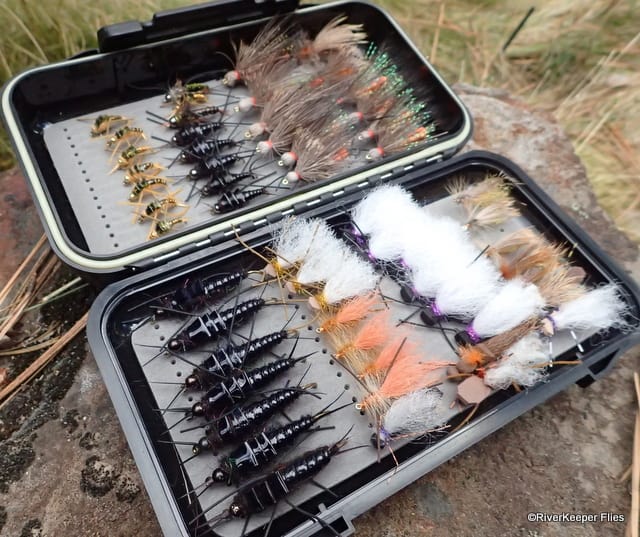 My previous post included some information about the Salmonfly life cycle and included pictures of hatching bugs and you'll see it again below. In addition, I've updated the flies I use to imitate Salmonflies and Golden Stoneflies.
Here we go…with a few updates.
Remember what they look like? These are the biggest bugs the fish in my area will see all year, so the fish usually go crazy when they're around. Salmonflies range from size 6, with some stretching out to size 2!
OK, now I have your attention!
Here are a few pictures of what the hatch looks like.
This adult is beginning to climb out of the nymphal shuck.
Still climbing…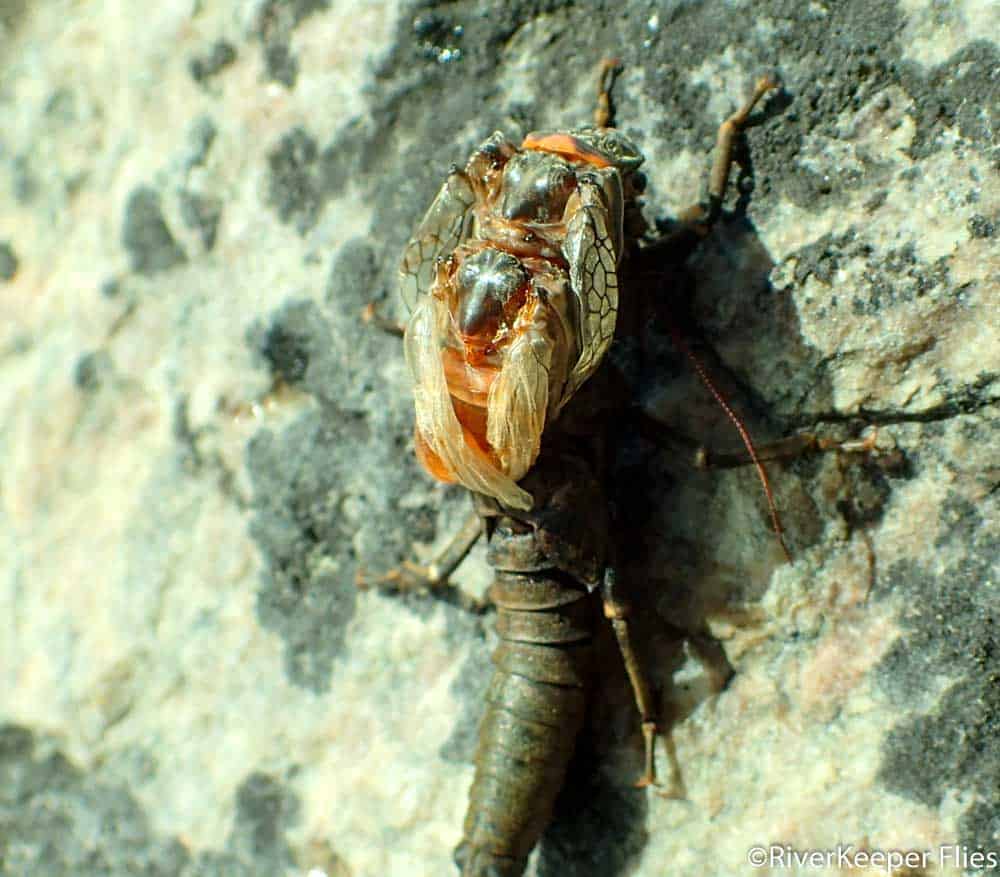 And drying the wings.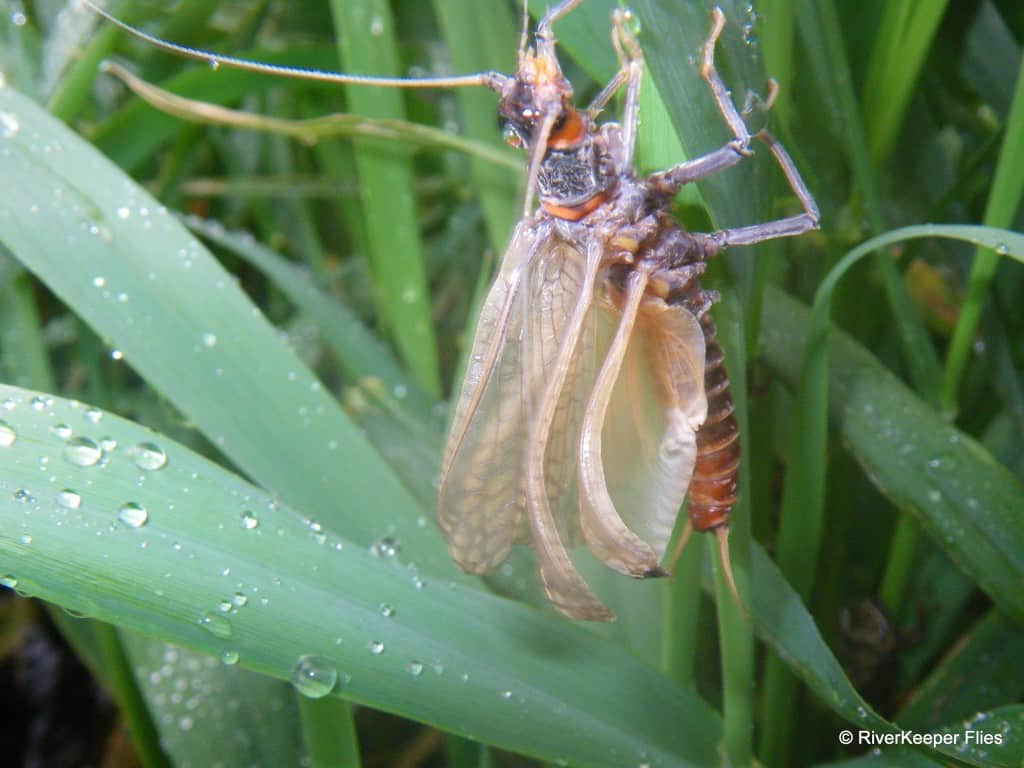 Lastly, here is a female waiting to lay her eggs.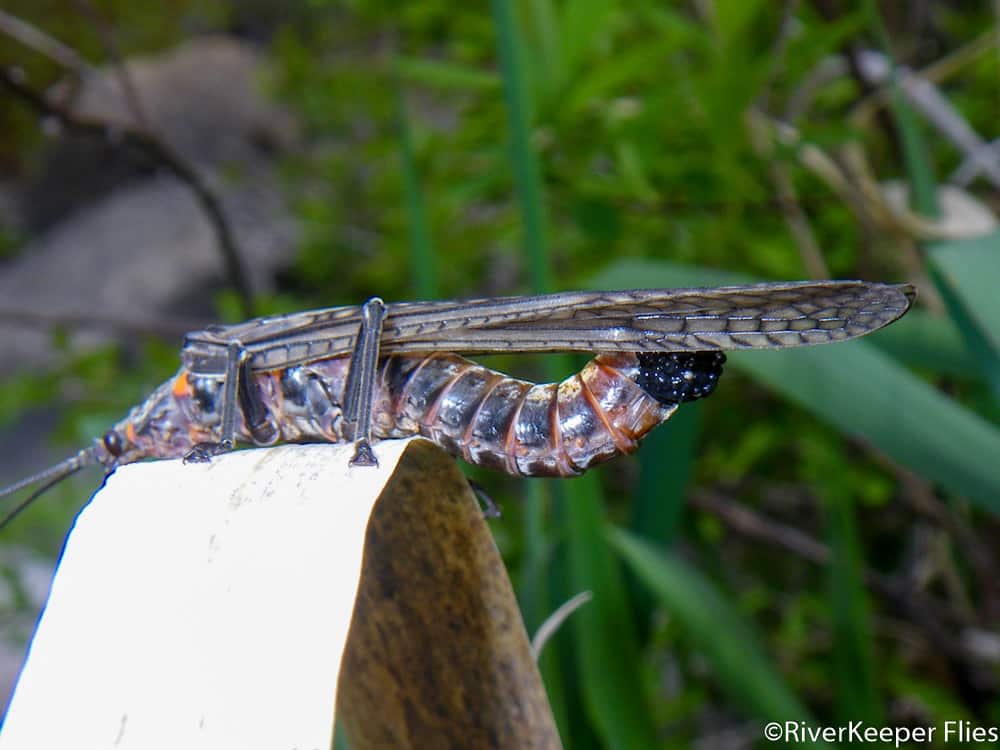 Those were the Salmonflies, or Pteronarcys californica.
What about Golden Stoneflies? A couple species are lumped under the heading "Golden Stonefly" – the Hesperoperla pacifica and Calineuria californica. Who cares what the scientific names are, we can call them Goldens. They are the "little brother" of the bigger Salmonflies. A fly pattern in sizes 10 or 8 imitate the natural quite well.
Some fishermen say when Goldens and Salmonflies are available, fish seem to key on Goldens. Who knows why.
When you don't see the adults on the water, tie on a nymph as the fish have seen and will continue to see these in the water column for awhile. Many fly patterns will work, but I like my own RiverKeeper version in sizes 6 and 4: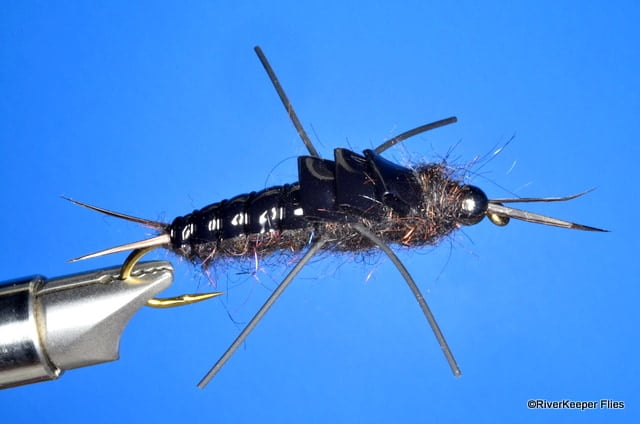 The Kaufmann Stonefly Nymph below is the fly I used to tie and fish during the Salmonfly hatch. What I don't like about it is the turkey wingcase. They always seem to split on me. Does this pattern catch fish? Sure…I just updated the fly pattern for my own need.
KAUFMANN STONEFLY NYMPH
The most exciting time is when the fish explode at the surface to take a dry fly. Here are a few ideas for flies to put in your fly box.
How about some Chubby Chernobyl's?
Or perhaps a purple Chubby Chernobyl. I don't know why, but purple just works. In fact, I wrote a post about Purple Flies.
One of my favorite Golden Stone fly pattern's is Clark's Golden Stone, a fly pattern Lee created 40 years ago.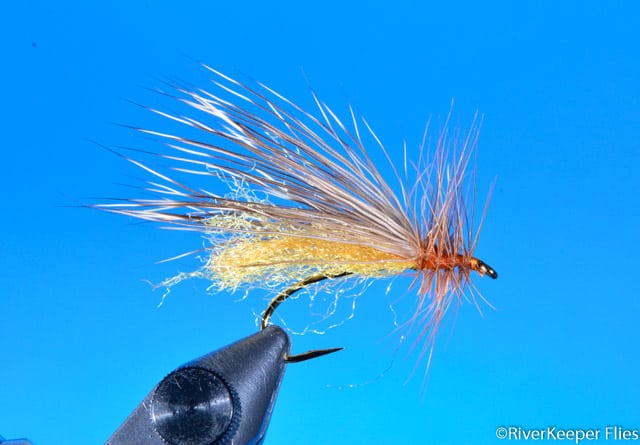 For some reason, it just catches fish.
Lee Clark created a Clark's Lady Stone a few years ago (2015). The subtle difference of adding the egg sac is something fish key on. It's a great fly pattern!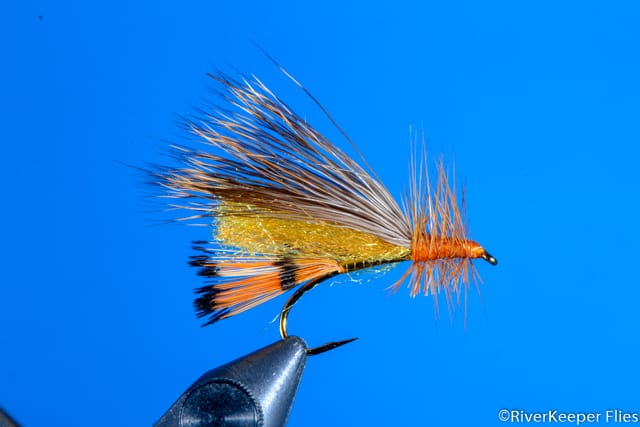 Oh, I almost forgot the Golden Stone nymph.
Here is what I've been using lately – McPhails Golden Stonefly Nymph – Variant.
So these are a few of my favorite Salmonfly and Golden Stonefly patterns. What are your favorite patterns?
Enjoy…go fish!