What leader length do I use? What tippet size do I fish? I've been asked those questions quite a bit. And I always point people to a previous RiverKeeper Flies post entitled Make Your Fly Fishing Leader Last Longer about the fly fishing leaders I use to fish dry flies.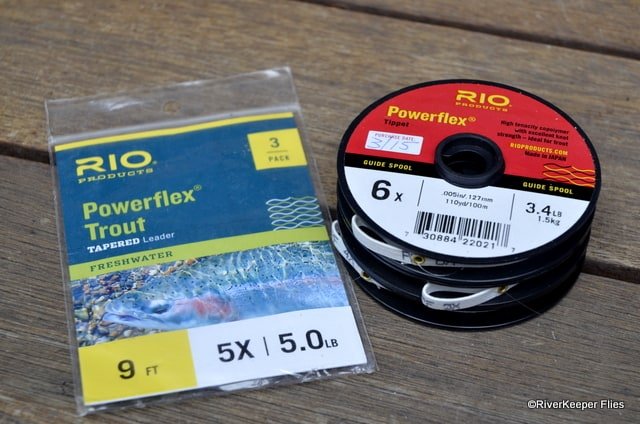 But if you are new to RiverKeeper Flies, perhaps you haven't had a chance to read previous posts. So I thought this simple tip was important enough to highlight again.
It falls under the heading "you can do whatever you want, but this is what I do." Evidently I say this a lot. But I really mean it. If you find a technique that works for you…do it! If you are open to new ideas and would like to try a different way to tie fly fishing leaders, read on.
I've fly fished quite a few years and used many leaders during that time. I created my own dry fly tapered leaders using blood knots, sometimes up to 20 feet long. Now that's a LONG leader!!
If you take time to conduct a little research about the best dry fly leaders, you'll eventually find George Harvey's Slack Leader Formula as well as ideas from Gary Borger. Subjects like stiff vs. supple nylon and hand-tied vs. extruded leaders will fill your head for a while. Other thoughts will include how a long, thin monofilament affects how the fly line and leader turns over and straightens out. Do you want the leader to be a straight line or fall gently in a series of "S" curves.
Those thoughts led me to try 18 – 20′ leaders. But did I catch any more fish? I don't think so.
I believe the most important tip I can give fly fishers is to use a drag-free drift. I use a combination of leader and specific casting strokes to present a drag-free drift with my fly to the fish.
So what leader do I use? Most of the time I pull out a new Rio Powerflex 9′ 5X leader and cut off the last 12 inches. Next I take a spool of 6X tippet and pull off about 3′, tying it to the leader with a triple surgeon knot. The result? A leader at least 11′ long.
The benefit of this approach is you know exactly the tippet size your fly is tied to. By changing flies a few times, you'll get closer to the knot. You decide when it's time to cut the short 6X tippet off and repeat the process again.
You're always fishing with 6X.
Don't need 6X for your fly fishing? A 4X or 5X tippet is what you use? Select a 3X leader and use the technique described above and end with 4X. If you fish 5X tippet, use a 4X leader and tie on 5X tippet.
Fish a shorter leader of 7 1/2′? The same technique applies.
You get the idea.
I hope this helps you develop your own effective fly fishing leaders.
Enjoy…go fish!