How many fly fishing leaders do you use in a year? Here's a tip to make your fly fishing leader last longer.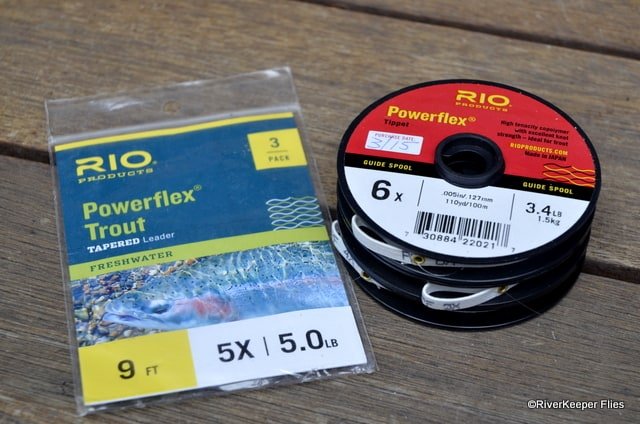 The problem: you connect a standard 9′ leader to your fly line and go fishing. How many times do you change flies? If you're lucky, you catch fish on the first fly tied on the line. That normally doesn't happen to me!
Instead, I change flies trying to find the "magic" fly. Every time you change flies, the tippet length gets shorter. What do I mean?
Well, a standard out-of-the-package leader is tapered. It's thicker at the fly line and tapers down in diameter so it's smaller where the fly is tied on. It's designed in that manner to "turn the fly over" and continue the job of the fly line. The last section of a tapered leader is called the tippet. Generally, it's about 20″ long. What happens when you change flies? You reduce the tippet length. Change flies often and that 20″ tippet is gone. It's time to replace the tippet or some people replace the whole leader.
Let's take an example: I generally use a 6X tapered leader for the spring creek waters I fish. The "X" designates the tippet diameter (larger the number, smaller diameter). When I change flies, I cut off tippet material. Do that enough times and I don't have any tippet remaining. I end up in the 5X or 4X section of my leader. And yes, I still tie my fly on and fish it. That's not what I want to do. I decided earlier to use 6X and I'm now fishing with a 5X or 4X leader.
I could never determine where the taper changes. I needed a different solution.
Here's what I did.
If my goal is to fish with 6X tippet, I'll purchase a 9′ 5X tapered leader. Upon attaching it to my fly line, I'll cut off 12″. Yup, that's right. I've already cut my new leader off! Next, I cut a 3′ length of 6X tippet and attach it using a triple surgeon's knot.
Why? I want to continue the leader taper to my fly and using 20″ (that's the normal tippet length) is too long. If I add additional tippet material to the 20″, the fly won't turn over properly. By cutting off 12″, my taper is reduced to 8″. That's where I add the 3′ section of 6X. I now have a total leader length of around 11′.
Fish bigger water and don't need that long of leader? Purchase a 7 1/2′ 3X leader and cut off 12″. Add a 2′ section of 4X tippet and you're fishing with an 8 1/2′ leader.
Now I start fishing…and changing flies…and fishing…and changing flies. You get my drift. Every time I change flies, I get closer to the surgeon's knot. I know EXACTLY where the taper changes. My practice is to wait until I get about 12″ from the knot and I cut off the tippet at the knot and start over. Attach another 3′ section of tippet.
With this method, I've don't purchase near as many leaders as I used to. They last much longer. I hope your's will as well.