I was invited to speak about my home waters, the Metolius River on the Destination Angler podcast hosted by Steve Haigh recently. I thought I should create a post here on RiverKeeper Flies to share much of the information, especially my favorite images of the river, the fish, the bugs, and the flies. I'll even provide a few fishing tips at the end.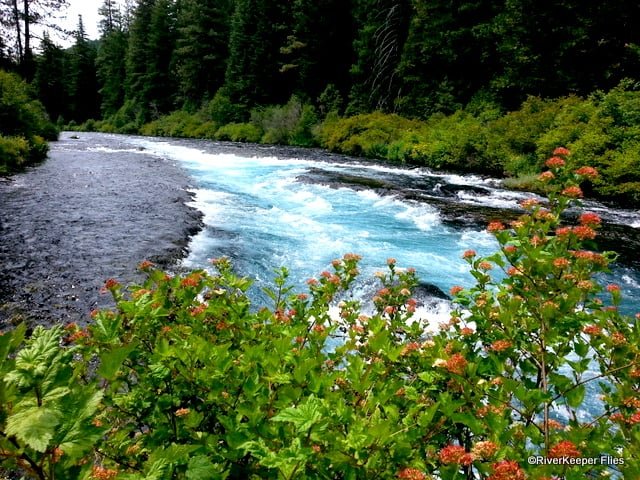 If you are interested in listening to the podcase, just click the link below and it will take you to Steve's Destination Angler website. I hope you can hear some of my love for the river as I explain this special place.
https://www.destinationanglerpodcast.com/the-wild-scenic-metolius-river-with-john-kreft-riverkeeper-flies/
You might ask, why is this river my home waters?
I'm fortunate to live in Sister, OR. We live here because of the river.
I've fished the Metolius for 50 years and this river has been and continues to be an important and meaningful part of my life.
Over the years, I kept returning to this place during different decades of my life to find my Zen. It's difficult to put into words how important this place feels to me. It's more than the fishing for me…it's a magical place.
But the fish…
I've fished a lot of rivers in the West and I always marvel at the coloration of the rainbow trout I catch here on my home waters. These fish are known locally as redband trout, a subspecies of Rainbows found in waters of the Columbia River. The other two subspecies are the McCloud River redband trout and the Great Basin redband trout.
The Metolius is known as a very challenging place to catch fish. I can attest to that statement! But I really enjoy the challenge of fishing here. Some say you need a PHD in fly fishing to catch fish on this river. At times, I'd agree with that statement. Other days, it can be an unbelievable experience with insects floating on the surface of the water and fish rising all over the place. But the latter doesn't happen often.
After experiencing a prolific hatch with fish rising everywhere, return the next day and you'd swear there are NO fish in the river. That's the Metolius River in a nutshell.
The River
Let me try to describe the character of the river.
While the Metolius River is in Central Oregon, it's not located in a high desert. The river sits in the rain shadow on the eastern slopes of the Cascade Mountain range with Green Ridge on the east flank. You'll find large ponderosa pines, cedars, and fir trees along the river which makes for a beautiful setting.
The Metolius was designated a wild and scenic river in 1988 and is located in Central Oregon's Deschutes National Forest, a short distance from my hometown of Sisters.
I believe it was 1995 when they stopped stocking the river. Since then, the fishing has improved tremendously.
There is no guiding allowed on the river (except for a small section of private property of House on the Metolius). Why? I don't know. But this restriction creates a very different vibe, one I thoroughly enjoy.
If you think about many of the blue ribbon rivers of Montana, the Metolius is different with its Zen-like quality because no major highway or train track runs along it.
The river is 28.6 miles long and flows into Lake Billy Chinook where it joins the Middle Deschutes and Crooked rivers. The Lower Deschutes then flows approximately 100 miles where it meets the Columbia River flows eventually into the Pacific Ocean.
"The name of the river comes from the Warm Springs or Sahaptin word mitula, meaning white salmon and referring to a light colored Chinook salmon and not a whitefish." (Wikipedia)
The first 12 miles from Head of the Metolius to Bridge 99 is designated fly fishing only. The remaining 16 miles can be fished with spinning gear, however, the entire river is catch and release.
The Metolius isn't your normal spring creek of slow, flat water.
It begins from two major springs located at the base of Black Butte. The water is cold, clean, and clear. Other springs provide water to the river along with several creeks, including Lake Creek, Spring Creek, Jack Creek, Canyon Creek, and Candle Creek.
I call the river a modified spring creek because of all the water flowing into it from these creeks.
While maintaining a fairly constant water level year-round, it does see fluctuations due to snow melt and rain events from the creeks feeding the river. The water temperature is fairly constant at 48 degrees, but I've measured temperatures up to 55 degrees during warmer months below Wizard Falls Hatchery.
There is very little private property on the river. While the Headwaters are private, you'll find cabins on the west side of the river in the small community of Camp Sherman. The cabins lease their rights from the Forest Service and a hiking trail is located on both sides of the river for easy access.
A total of 11 Deschutes National Forest campgrounds are located along the 12 mile stretch from the Headwaters to Bridge 99, with 5 campgrounds on the east bank in the first 3 miles. Many sites may be reserved using the Recreation.gov website.
I divide the river into three sections as follows:
Upper River
The Headwaters to Gorge campground section is about 3 miles in length where one can safely wade across the river in many locations. It's generally slow-moving, but surprisingly strong as you get mid-thigh in depth.
Allingham Bridge is where fishing closes in the fall months to allow the Rainbow Trout to swim undisturbed as they create their redds and spawn.
Many fly fishers concentrate in the Upper River from the Headwaters to Gorge campground. You'll find great water here. Look for seams and drop-offs where trout hold.
Below Gorge campground, you'll find just less than a 1 mile section of river with private property on both sides. This is House on the Metolius, a resort featuring cabins and lodging for you to rent.
Middle river
The character of the river begins to change below House on the Metolius as the river leaves its relatively flat meadow. It narrows and becomes deeper when Canyon Creek joins the river adding a substantial amount of water.
The gradient increases and creates substantial rapids in the next couple of miles before opening reaching Wizard Falls Fish Hatchery.
The river slows to create a few pools in this section which hold Rainbow Trout and Bull Trout. In fact, Canyon Creek is a major spawning area for Bull Trout. Many swim up from Lake Billy Chinook beginning in mid-August to spawn.
The image below is of a well-known fishing spot called the Idiot Hole. Notice the deep blue pool? It's made from carved out lava along the banks.
The river widens out now and becomes shallower in locations as it continues the journey downstream. Parking lots at the Hatchery provide great access on both sides of the river. Several pullouts are found on the road above the Hatchery and below the next Forest Service campground, Allen Springs.
From the Hatchery to Bridge 99 is about 3 miles. Another section of private property with a few cabins is found a short distance from Allen Springs Campground. Trails on both sides of the river continue around the property.
Find an eddy in this section and keep an eye out for rising fish. Patience is the key!
Here is what I consider the end of the Middle River. It's called Bridge 99 and Lower Bridge campground is located just downstream of the bridge. Fly fishing only restrictions end here.
Lower river
The water continues to pick up speed here and while there are spots to fish, it is more difficult to access them.
This doesn't look like your normal spring creek anymore!
Candle Creek flows into the river about a mile downstream from Bridge 99 on the West side and is the beginning of the Warm Springs Indian Reservation. It continues to Lake Billy Chinook and the Lower Deschutes river for many miles. You won't be able to fish the west bank, but a dirt road which is gated allows access all the way to the reservoir along the east side. Either hike or bike downstream. The only issue I had is it takes you away from the river in many places. You'll have to bushwhack to find water and even then, it is fast with few holding spots. I'm not saying there aren't fish to be had, it's more difficult finding them. I choose to concentrate in other areas.
The Fish
Rainbow Trout can be found throughout the river.
While an occasional Brown Trout is found in the Middle River, my experience shows most of them are in the Upper River.
Some Bull Trout are year-round residents. Others migrate from Lake Billy Chinook around the middle of August to spawn in the clear, cold tributaries. A few will spawn in the main river as well. They will continue to stay in the river for quite a while before slowly moving back to their home in Lake Billy Chinook.
Bull Trout are usually meat eaters. On occasion, they will take nymphs and we've caught them in sizes 9 – 16 inches or so using dry flies! It's not uncommon to play a trout only to look behind it and watch a Bull Trout chasing it! Yes, we've hooked them and fight both fish only to have the Bull Trout release it at the last minute. I've also kicked at Bull Trout while I'm landing a nice Rainbow. They also take fish off your hook. As I mentioned above, they are meat eaters!
Kokanee Salmon also migrate from Lake Billy Chinook and spawn in the river during late summer and early fall. You might be lucky and see Sockeye Salmon too! This poor fish has a transmitter and tag to determine where they spawn.
Lastly, Spring Chinook are being restored to the river with mixed success.
I've written about planting fry and smolts in the past. Here are a couple of links:
My understanding is there was higher success releasing smolts into the river, so the fry program has ended. You'll see holding ponds near the Hatchery in the spring and smolts are released into the river during May.
Click the green button below for images of more Rainbow, Brown, Bull Trout, Mountain Whitefish as well as a couple Chinook and Sockeye salmon too.
I'll continue to add images to the gallery, so check back occasionally.
The Bugs
Trying to determine what bugs the fish are eating is part of the challenge I enjoy.
How many different insects can you identify here? My wife stuck her hand in a back eddy where insects were collecting and slowly finding their way back into the current where fish continued to feed.
There are multiple mayflies of various sizes and color, some caddis, and don't forget a small stonefly or two.
Here are a few PMD mayflies caught in an eddy. Yes, hatches can carpet the water, but not often.
You'll find prolific hatches of mayflies, caddis, and stoneflies. There are days we'll watch fish rise to real bugs and swim away without eating them! It's happened multiple times during a Green Drake hatch. If they won't eat a real bug, why would they eat my fly? Time to find another spot.
Two of my favorite hatches of the year are Green Drakes and PMDs.
Click the green button for more insects found on the river.
The Flies
I love the challenge of trying to catch fish using the dry flies I tie. But fishing nymphs can be very productive when there's no surface activity.
Here are a few of my favorite flies for the Metolius. You'll find a larger selection broken down by insect type by clicking the green button.
Fishing Tips
I've been known to say, "you can do whatever you want, but this is what I do".
Gear
A 4 – 6 weight rod is great for Rainbow Trout on the river. If you target Bull Trout, I'd suggest a 7 or 8 weight rod as these fish can get quite large.
You'll usually see me with my trusty Winston BIIX 9 foot, 5 weight rod. It's an ideal rod I've used for my dry fly fishing for many years.
In the winter, I switch over to my Euro nymph rod. Any nymph set up will work.
Leaders
What leader do I use? Most of the time I pull out a new Rio 9′ 5X leader and cut off the last 12 inches. Next, I take a spool of 6X tippet and pull off about 3 feet, tying it to the leader with a triple surgeon knot. The result? A leader at least 11 feet long. It's important to cut off those 12 inches to create the taper needed to turn the tippet and fly over.
The benefit of this approach is you know exactly the tippet size your fly is tied to. By changing flies a few times, you'll get closer to the knot. You decide when it's time to cut the short 6X tippet off and repeat the process again.
You're always fishing with 6X. You can choose a heavier leader system, but I've found over time more fish will rise to a fly with 6X tippet.
Here is a link to the leader post I created, which explains it in more detail – Fly Fishing Leaders.
When Euro nymphing during winter months, I usually start with a 5X leader and attach a tippet ring to the end. A section of 18 to 20 inch 6X tippet is added. A shorter piece of 6X, about 5 inches, is tied to the tippet ring as a dropper. You can use fluorocarbon or regular monofilament, which is what I do. Seems to work just fine for me.
The image below is from an Early Winter Euro Nymph Fly Fishing post I wrote in December.
Casting
I'm the first to say I'm not a perfect caster. I get by.
The Metolius River runs through a forest, so casting from shore is difficult. Brush and trees are everywhere looking to grab your fly on a backcast. There are a couple trees we call "Christmas trees" because they are decorated with so many flies!
Here is a spot where I fish. Notice the corridor just wide enough for a cast? I've learned to effectively cast here, but it took a few flies hung in the trees behind me to figure it out. If the wind blows too hard, I'll bypass this spot.
There are spots for your backcast. You just have to look for them.
I cast upstream, across, and down when needed. Most of the time, you'll find me casting across and slightly downstream. I wiggle my rod tip to add slack line while the fly move downstream. There are places I can get a 30 foot drag-free drift with this technique.
One casting technique I find effective is a parachute cast. Slack line is created when the tip is dropped as your line straightens out. I won't tell you more than that, Google it for more information.
Lastly, I don't use a roll cast to straighten my line before picking it up to cast. I've seen others do that and I believe it slaps the water and scares fish. But that's just me.
Where to cast
One of the reasons it's so difficult to catch fish using dry flies are all the micro-currents. A drag-free drift is imperative to trick smart fish in clear water. Using 6X tippet certainly helps, but here is a tip.
Over the years, I've developed a strategy I call "casting at windows". The image below shows multiple currents, but can you locate the smooth water? That's what I call a window.
If I cast a fly into this "window", I'll end up with a longer, drag-free drift.
Sometimes it will only be for a few feet before the window closes, meaning the micro-currents affect the tippet and begin to drag the fly. Accept the fact that at times, you might only get a drag-free drift of 3 feet. It might be all you need to trick a fish.
Here is a closer look at micro-currents. See all the patterns in the water? That's what I mean by the term micro-current.
Cripples and emergers
I really believe fishing a cripple or emerger fly pattern will increase my success. Many naturals hatch and their wings get stuck on the surface, they lay sideways, upside down, or don't fully hatch from their nymphal shuck.
Fish are lazy and see these flies as an easy meal because the fly isn't about to leave the water.
Select a fly like the Sparkle Dun PMD with a shuck for the tail to imitate this phase.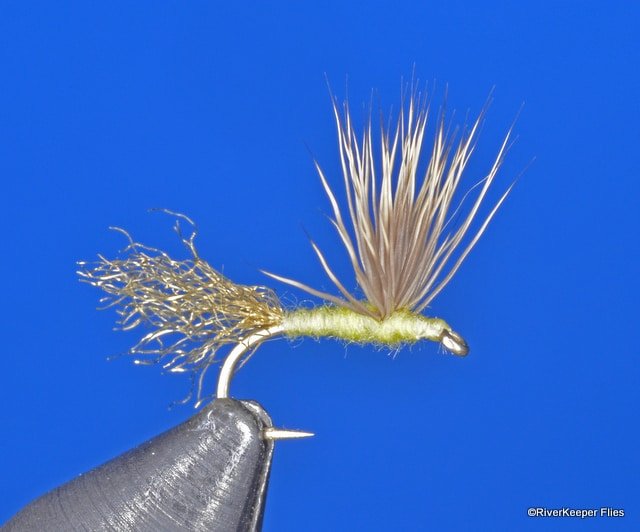 This profile is why I developed my RiverKeeper Soft Hackle Cripple. It imitates the wing caught on the surface.
Wading
I wade occasionally, but fish from shore most of the time. Why? Because many of the fish I see rising are only a couple rod lengths from shore. I've seen many fly fishers approach the water and immediately begin wading exactly where the fish were rising.
When approaching the river, stop and observe to see if there are fish rising.
Sure, if you are set on nymphing, wading is fine to get into a better position. Just know you might have spooked some trout getting there!
Ethics
Lastly, don't crowd your fellow fly fisher on the river. Stay a long cast away. Even better, talk to them and see where they are fishing. They might be watching the water for rising fish.
Don't step in below them and slowly move upstream and crowd their spot.
I've seen nymph fly fisher's float their strike indicator into an area of a dry fly fisher. Don't be that person. Respect your fellow angler.
Conclusion
I hope this post shares some of the joy I find when fishing the Metolius. It's a special place.
Many of the posts you'll find here on RiverKeeper Flies are the result of things I've learned by listening to the river. Some will be flies, others are tricks and techniques.
I plan to update the links to The River, The Fish, The Bugs, The Flies periodically. I enjoy going back to appreciate the many images I've created over the years. It's my own slide show and an easy place to view them. I hope you enjoy them as much as I do.
I'll add links to my Homepage in the near future for easy access to this information.
Enjoy…go fish!