The 2019 NW Fly Tying and Fly Fishing Expo in Albany, OR begins in a couple of days. It's one of the largest events of its kind in the country. Besides being a Demonstration Tyer on Friday and Saturday, I'll be teaching Fine Tuning Your Tying Techniques class on Friday afternoon.
I tied two flies for plates to be auctioned on Friday night – the Legend's Plate and a plate from my local Central Oregon Fly Tyer's Guild.
The Legend's plate is a long-time tradition which includes flies tied by members of an exclusive group – those selected as a Stan Walters Memorial Fly Tyer of the Year. There are some terrific fly tyers on this plate! I am honored to be part of it.
I submitted a Benn's Coachman steelhead fly for this year's Legend's plate.
My local Central Oregon Fly Tyer's Guild continues to create fly plates for the NW Expo to auction. I've had flies on those plates and this year was no exception. This year's theme was the Green Drake Life Cycle.
Here is the Mercer's Poxyback Green Drake Nymph I tied for the plate. UV resin has replaced epoxy for my flies. It's much faster and cleaner to apply
Lastly, I've been tying lots of flies the last few weeks to fill orders. Here are some Clark's Stones. You'll see the original Clark's Golden Stone, a Clark's Lady Stone and the Salmonfly versions. These are tied in sizes 8 and 4 respectively.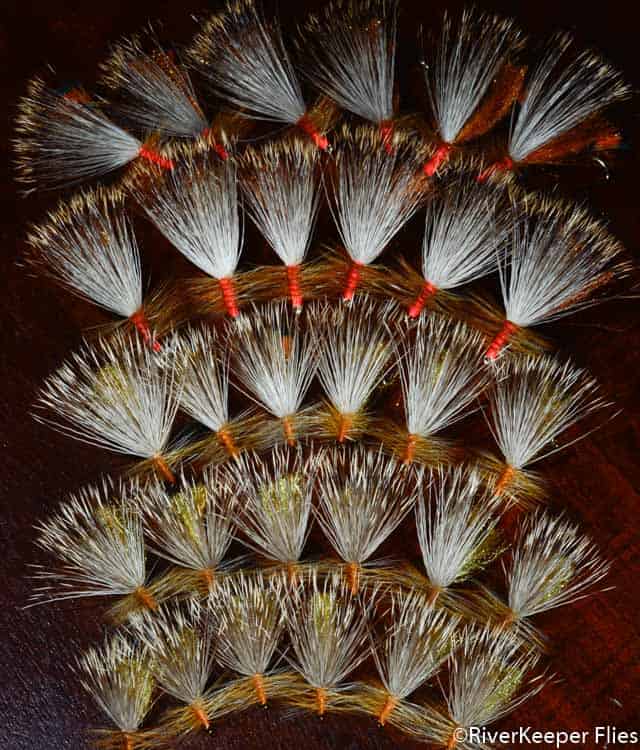 Here are other blog posts from previous NW Expo's I've written about. If you haven't seen them, I encourage you to check them out.
I hope to see you at the 2019 NW Expo!
Enjoy…go fish!