This week's Throw Back Thursday Fly is Wright's Fluttering Caddis.
This is a fly that was recently brought to my attention by a customer asking me to tie some. I hadn't heard of the fly before, but it's similar to Buz Buszek's Kings River Caddis below. The only real difference is the wing.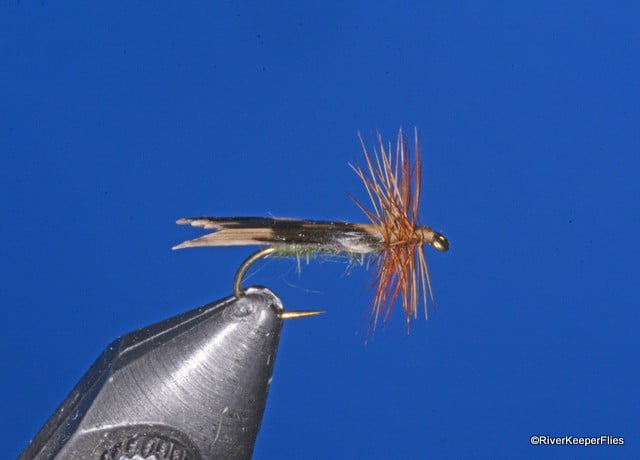 Leonard Wright (1922 – 2001) was an advertising executive in New York and fished the Catskills. He believed too much attention was given to mayflies and caddis were ignored. He wrote in Fishing the Dry Fly as a Living Insect (1972) caddis were "the fly that fisherman forgot."
In an article from Southern Wisconsin Trout Unlimited, by Rusty Dunn, the fly pattern sheet lists a body of peacock herl and mink for the wing. Hackle fiber was also utilized for the wing, which is what I used in the fly above.
Other names for this fly include the Mink Tail Caddis and Wright's Skittering Caddis.
And a top view of the fly.
I have more flies to tie before completing the fly order. Keep looking for a few more variations I plan to tie up.
Enjoy…go fish, stay safe!