I haven't fished in several weeks because I continue to follow the coronovirus stay home recommendations and I'm doing my part for the greater good. Do I miss it? You bet! So I decided to take a look in my photo library and see if I could put together a virtual fly fishing trip. And as they say…"based upon a true story" from a couple days fly fishing the Metolius River last May.
First things first. Since it's been awhile, I have to remember what they look like.
We are fortunate to be able to fish the Metolius River. It's why we live in Sisters, OR.
Normally, we arrive at the river between 11:00 and noon on most days, which coincides with insects hatching. When we lived in the Willamette Valley and traveled over the mountains to fish, I fished every moment I could, which meant fishing nymphs. Now I'm spoiled. I can get to the river whenever I want. And that means concentrating on dry fly fishing. I love watching trout rise to my dry fly!
Here is what a normal day in April or May looks like on the river.
The first thing we look for upon arriving at the river are the subtle rings of rising trout. Most of the time we won't see splashy rises, but it depends on the hatch and run.
If we don't see fish rising, we look for insects floating on the surface. Depending on the time of day, it generally means mayflies are hatching. But it could be mayfly spinners floating downstream after depositing their eggs or caddis (or alder flies) flitting on the water laying their eggs as well.
Trying to identify insects can be tough, but we use a natural "catch basin"…an eddy.
On this day, we found a few mayfly cripples floating along the edge of the eddy.
If you've never looked, you'd be amazed what you can find. I always say the river will speak to you if you listen!
Look at the profile of these insects carefully. We developed the RiverKeeper Soft Hackle Cripple to imitate the insects floating with their wings caught on the surface film. This fly is fished dead-drift, floating on the surface.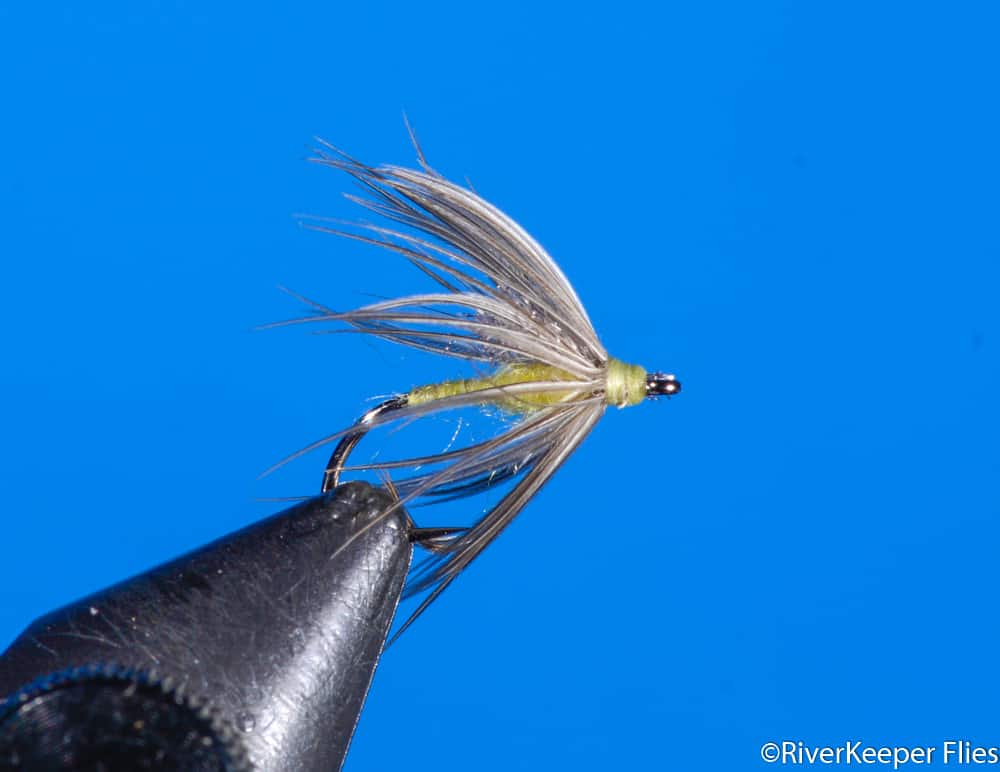 Honestly, I don't recall what flies we used last May during this trip to the river. If it wasn't a RiverKeeper Soft Hackle Cripple, perhaps a Sparkle Dun PMD might have tricked a trout or two.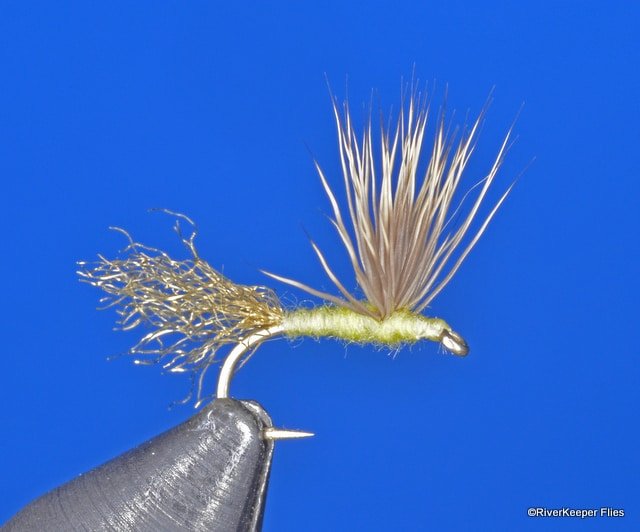 After tying flies on our leader (see the leader we use HERE), all that's left is casting to a rising fish. The fish were rising to our flies that day.
Here is my fishing partner landing a Rainbow trout.
We always marvel at these beautiful fish…the spots, rosy cheeks, gorgeous stripe down their side…
After a quick photo op, they quickly go back in the water.
"I had it a second ago!"
Here is another beauty that ate one of our flies.
And another…
Looking at our pictures, we had a great few days I was able to use when creating my virtual fly fishing trip. I hope you enjoyed the short trip as much as I did remembering those days last May.
I can't wait to get out on the water soon!
Enjoy…stay home, stay safe!