I'm headed back to the vise this week to stock up on trout flies.
I finished my last "plate" fly for the season. It was an Atlantic Salmon fly called the Blue Charm, a "Simple Strip Wing", my contribution for a Central Oregon Fly Tying Guild fly plate. This plate will be at the NW Fly Tying & Fly Fishing Expo on March 10 and 11, 2017 in Albany, OR. (See this week's upcoming Throw Back Thursday Fly post for more information on this fly.)
I've enjoyed learning new fly tying techniques. The Green Butt Skunk Spey fly was the other "plate" fly I tied and donated. I hope it is one of the Spey Plate flies for the NW Expo as well.
Truth be told, there were a few frustrating times tying both these flies. I'm getting better with my technique, but the biggest problem I encountered was selecting the proper materials…or having the right materials to tie Atlantic Salmon and Spey flies.
It is so much easier to tie flies with the right materials. I reinforced that point as I taught the Sparkle Dun during last week's Central Oregon Flyfishers Winter Fly Tying class. I demonstrated how the right deer hair made the fly easy to tie.
After struggling with wing materials for the Blue Charm, that point hit home with me. I really don't have a lot of selection to choose from to tie these flies.
But overall, I was very happy with how these two flies turned out.
Now I can spend a little time stocking the provider box.
You may not have a provider box, but I'm guessing if you fish much, there may be a few holes in your fly box. This is a good time to take inventory and stock up on trout flies. If you don't tie, leave a comment below and place an order for a few RiverKeeper Flies.
What should I tie? I need to fill in lots of holes. It can be overwhelming if I think about all the flies I should be tying. I tell myself – "just start"!
Here are a couple nymphs that are a staple in my nymph fly box: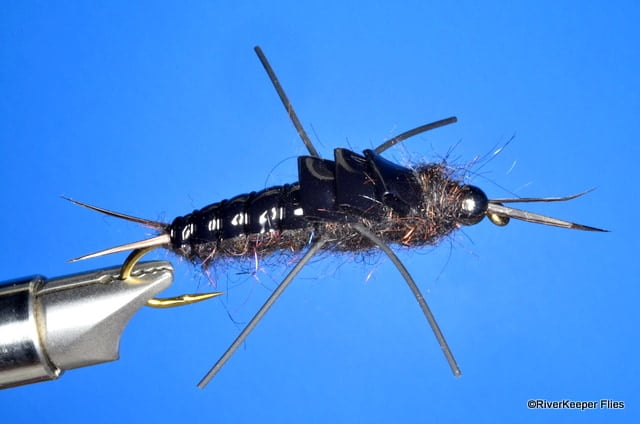 McPhail's Golden Stonefly Nymph – Variant
But I think I'll start with a Parachute Adams.
A friend of mine is tying them and has asked for a tip or two. If I tie a few of them, I'll be prepared to offer some advice.
Ok, I'm headed to the vise…right after I take the snow blower out again!
Enjoy…go fish!