The last stop on our early fly fishing road trip was fly fishing the Madison River, MT. To say we had a terrific time fly fishing the Madison River is an understatement. Today's post might be a little longer than normal from all the images. Between the scenery and fish caught, I couldn't help myself.
We fished the river parts of seven days and on some of them, it was the best dry fly fishing we've had. Tons and TONS of Caddis were flying around. And we used dry fly caddis imitations almost exclusively.
But I'm getting ahead on myself.
This was the last stop on our early summer fly fishing road trip.
We arrived at the river early in the evening after a quick stop in Twin Bridges, MT at R.L. Winston Rod Company to pick up a repaired fly rod, my wife's…that I broke! But that's another story…
We stopped at Lyon's Bridge, hoping to find caddis flies and rising fish. We found lots of caddis flying around and our expectations were very high. While waiting for the fish to rise, I pulled out my fly tying kit and started tying flies right along the riverbank.
A few fish came to our flies, but many just swiped at the fly and didn't hook up.
The next few days, we concentrated our fishing around the $3 Bridge area. We've been there several times and go back to some favorite spots where we have either caught very nice fish, or have seen them rising.
Our strategy worked, because Brown Trout and Rainbow Trout both came to our nets. Many of them were in the 16 – 17 1/2 inch range. Most of the trout we landed were so fat!
Here are a few images I hope you enjoy.
Salmonflies and Golden Stones were out. We located a few Salmonflies hatching.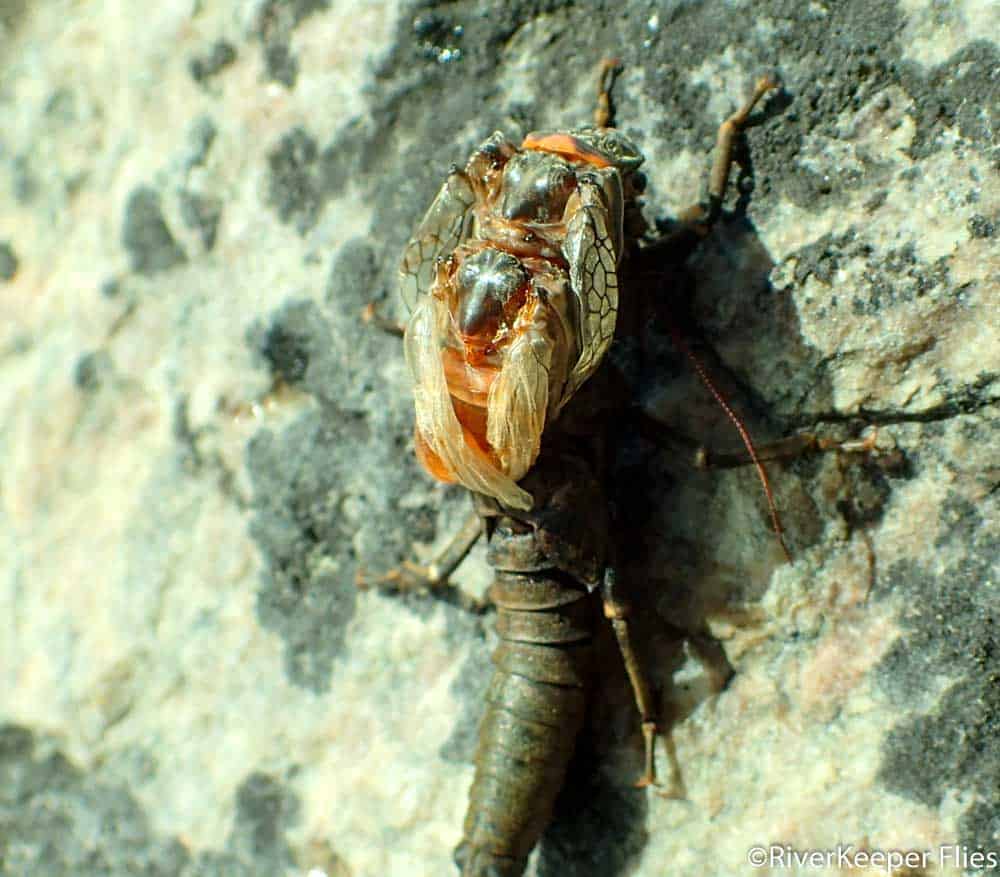 I tried fly patterns for each, but the fish didn't seem to be interested in them even though the females were flying over the river laying eggs.
Big fish started to show themselves the last hour of light almost every night. At this time of year, that meant fishing between 9 and 10 o'clock! Caddis were hatching then as well as a few Green Drakes…yes, Green Drakes!
I caught this nice Brown Trout using a tan Iris Caddis.
A Green Drake Sparkle Dun took this Brown. I think it's the largest Brown Trout I've caught using a dry fly on the Madison. It was somewhere in the 18 – 19 inch range and so THICK.
I had to work for it. I saw fish rising on the far side of this log in the seam of the fast water. When I got close, I noticed Green Drake duns floating down and fish easily picking them off. I was lucky to get some good drag-free drifts and eventually, I placed the fly about 2 inches from the log and the fish rose and took the fly.
A quick rodeo ensued and I was lucky to keep the Brown away from the logs. I guided him downstream and back in to the slower eddy water where I could land him. This fish is one I'll remember for a long time!
There's always the story of the one that got away. Well, that happened multiple times too me. I hooked some very nice fish that jumped so I could get a good look at them. They ran into the fast water sometimes wrapping my leader around a rock; other times they almost came to the net and popped off. These were big, strong fish. I'm going to have to think long and hard about fighting these fish.
What flies were successful?
As I said earlier, it was mostly a caddis game for us.
We had thunderstorms almost every day. Some passed through quickly and others seemed to go on forever. One evening below $3 Bridge, it started to pour down rain and I decided to stick it out. Well, I got drenched!
But after the storms passed, we had some beautiful views.
The spectacular scenery late each night is one of the reasons we feel the need to return to the Madison River Valley each year.
You might also know I tend to check out the Whiting feather selection at Campfire Lodge after a wonderful breakfast.
Yes, I did end up with a few feathers – a grizzly saddle and Coq de Leon cape. This year, we decided to head home via Missoula. That led us back down the river towards Ennis. Bucky, from Blue Ribbon Flies, suggested we try the water upstream from the McAtee Bridge put-in.
We stopped for an evening of fly fishing, but didn't see any rising fish. The water looked a lot different from that around $3 Bridge where we enjoy fishing. We found pockets like the one below and tried to fish the seams between fast water and the slick, as well as the soft water next to shore. Our strategy proved successful.
Throwing our X Caddis and Improved F Fly patterns, we picked up some smaller fish. As the sun started to set, we saw a few rings from feeding fish. Covering them with our dry flies, we caught a couple nice Brown Trout.
If you are a regular here at RiverKeeper Flies, you might recall the churn we experienced on long road trips with our Tahoe.
That's changed. We've had our Ram Promaster for about a year now and we love it. It allows us to camp close to the waters we fish.
Seems like almost everything has a place. Here is a view of the garage under our bed.
Overall, we had some terrific dry fly fishing on the Madison River. We fished the area around $3 Bridge last year about the same time last year. And we have plans to return in early August to try it again. Not only will we fish the Madison, but hope to get inside Yellowstone National Park and the northeast corner to fish the Lamar Valley.
Here are previous posts from our other fly fishing road trips you might enjoy reading:
Enjoy…go fish!
PS: Consider following me on Instagram (@RiverKeeperFlies) or Facebook (@RiverKeeperFlies)