This week's Throw Back Thursday Fly is Dave Whitlock's Red Fox Squirrel-Hair Nymph.
Dave Whitlock (1934-2022) passed away in November 2022. I decided to feature one of his flies as a way to honor his memory.
I thought about this fly, but didn't have the right dubbing to tie it. A good friend sent me the dubbing for a body and thorax in an envelope a couple week's ago. I finally got around to tying the fle.
Whitlock created the Red Fox Squirrel-Hair Nymph, which he called the RFSH Nymph. What a creative mind! He was a writer, artist, naturalist, and conservationist.
Along with Dave Whitlock, Fly Fisherman Magazine named Joe Brooks, Lefty Kreh, and Lee Wulff as Fly Fisherman's "Fly Fishing's Mount Rushmore".
In fact, a more fitting tribute to the man can be found in their recent article entitled – Fly Fishing Legend Dave Whitlock Passes from Stroke Suffered on Thanksgiving Night
"This nymph was a key ingredient in both my nymph-fishing enthusiasm and my confidence in the suggestive theory of fly tying. As so often happens, I discovered the Red Fox Squirrel-Hair Nymph (RFSHN) by accident.
When I first began tying soft, fur-bodied nymphs (back in the 60's) I was most influenced by the flies tied and fished by Thom Green, Ted Trueblood and Polly Rosborough. But I lacked the furs that they often recommended, such as otter, mink, seal, hare's ear and beaver. I substituted the gray and red fox squirrels, muskrat and rabbit that I could obtain locally, often from road kill, for my nymphs but seriously lacked the confidence that these would have the same magically effective qualities of the three master's nymphs.
The RFSH Nymph worked well for me from the very start and so my confidence increased. As the years have passed, I have been fortunate enough to gain a fine inventory of furs, synthetic dubbing and other useful fly materials, but I have yet to tie a nymph pattern with any other fur that is more effective for me for my all-purpose fly fishing."
Dave called the Red Fox Squirrel-Hair Nymph an impressionistic fly and defined it as a creature that "looks alive, vulnerable and edible to fish", not imitating a specific nymph.
I think his fly is very similar to the Rosborough Casual Dress Nymph.
What do you think?
Whitlock developed several variations of the nymph:
Bead-head, rubber-legged
Caddis pupa
October caddis pupa
Standard RFSHN
Bead-head
Crustacean
You can read the full story along with his tying instructions from the link to his website – HERE.
BTW – I only tied one of these nymphs. The next one will have a shorter tail with less fibers.
I'll leave you with another Whitlock creation I featured as an earlier TBT Fly – Dave's Hopper.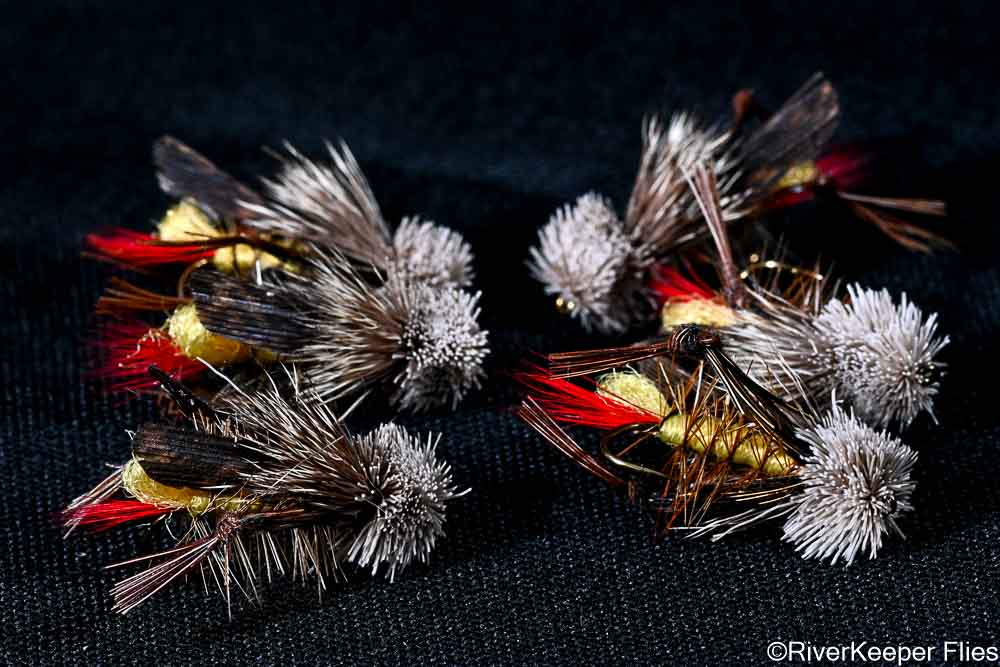 Enjoy…go fish!