What a difference a year makes. Who would have thought we'd have spring fly fishing in February? I thought I had a lot more time to tie flies for my fly box and provider boxes. Last year by now, much of the snow that had fallen in December and January was melting. But this year there is hardly any snow and the highs last week were in the mid-60s!
I just returned from a couple of weeks in Maui and have been hearing from my friends how much it seems like spring fishing already.
I was able to tie 4 dozen flies while I was in Hawaii and began filling the Caddis provider box. I tied Iris Caddis – Amber in sizes 12, 14, and 16. It's always been a great fly for me.
I'd planned to tie 15 – 20 dozen flies in February, but with the weather so nice, I wonder if I will have to choose between tying flies and fishing.
Besides plans to tie the Iris Caddis in a variety of colors and sizes, here is a short list of other flies I wanted to complete.
Dry flies
Nymphs
And those are the regular flies I fish all the time.
In my mind, I have so many flies I want to tie. Which ones you may ask? A Bunse Green Drake for one. This fly uses foam for the extended body. I need to set aside some time and just tie them! In addition, I'd like to tie a few more extended body mayflies.
I haven't tied many Atlantic Salmon Flies lately, but feel I'd like to give them another try. I've purchased a few more materials that I hope will make a better looking fly. The more flies I tie reinforces the need for quality materials. Unfortunately, many times the only way to learn this lesson is tying more flies. Selecting materials makes a huge difference which is why I try to pass along what I've learned over the years. Examples include deer hair for Sparkle Dun and Caddis flies, feathers for soft hackle flies, and CDC feathers.
Then there are more Carrie Stevens streamer fly patterns. I've tied a couple of them which were used in fly plates, but it's been awhile. Here is a Carrie Stevens Green Drake Streamer.
And not to mention a few more Denny Rickard lake fly patterns, like his Callibaetis Nymph.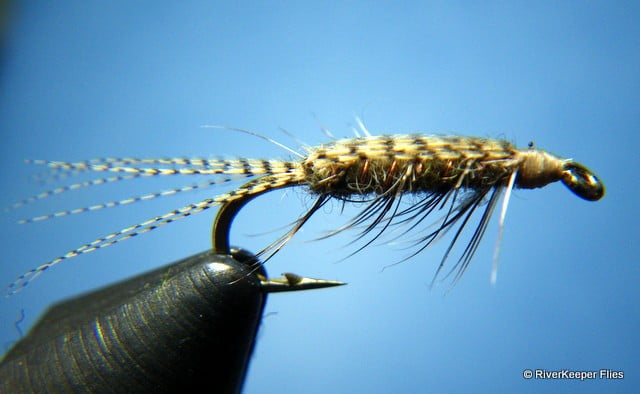 Or my variant of the Braided Butt Damsel fly where the body is tied with foam.
Well, you get the idea…it looks like I need to focus on my fly tying. Here's hoping for a little more bad weather!
I guess that's why I enjoy being a just-in-time fly tyer.
Enjoy…go fish!