Happy New Year 2019 everyone. I thought today's post would be a good time to take a look back at 2018. I'd like to express my gratitude to all the RiverKeeper Flies subscribers and readers who have found me one way or another. 2018 has been another good year.
To celebrate all of my great memories of 2018, I'll begin with a few statistics about RiverKeeper Flies:
Page views – 164,516
Number of sessions – 84,456
Since I started RiverKeeper Flies in March 2014, I've added lots of fly patterns and pictures to go along with all the posts. Here are the latest numbers:
Number of fly patterns – over 200
Number of pictures – 2,400
The top three posts for last year were:
I continue to receive positive recognition for my RiverKeeper Flies website and I appreciate all your comments. I am pleased so many fly fishers deem it reliable and informative. A couple of Resources have been well received:
And a few of my favorite images from 2018 as I went back through this year's posts.
And a few close-up images…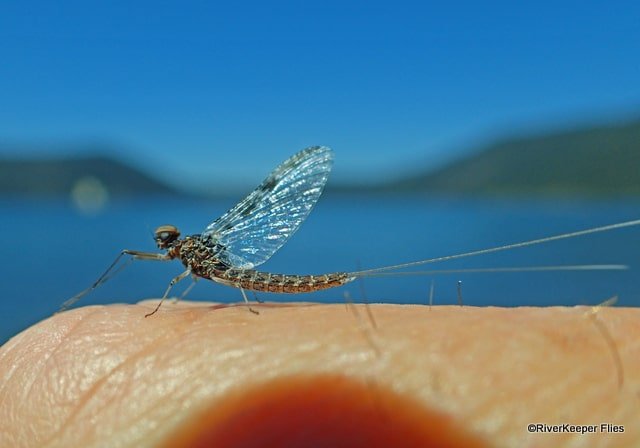 My wife and I completed a couple of fly fishing road trips in Idaho and Montana this year. I think we totaled over 30 days on the water. I hope you read our stories. If not, you can read about them here:
You might recall I keep track of the flies I tie. This year, the grand total is 2,434, which includes the flies I use, give away, and tie for my customers. I'd like to give a special "thank you" to my customers who purchased RiverKeeper Flies flies. I hope you enjoyed fishing them as much as I did tying them!
I traveled for presentations to fly clubs, including the McKenzie Flyfishers, Santiam Flycasters, and my own Central Oregon Flyfishers.
Lastly, I attended several fly fishing fairs and Expo's during the year. You might have seen me at the Western Idaho Fly Fishing Expo (Boise, ID), the NW Expo (Albany, OR), the FFI National Fair (Boise, ID), or the Pacific NW Fly Tyers Rendezvous (Portland, OR).
I hope you continue to read my posts and utilize RiverKeeper Flies website as a valuable resource for your fly fishing and fly tying.
I'm looking forward to 2019 for some exciting fly fishing road trips.
Enjoy…go fish!