I've been tying flies for customers recently. And perhaps a few for Dancing Trout and me as I try to fill the provider box. More tying than fishing lately. I thought you might be interested in a few of the flies flying off the vise.
You might have seen a couple of pictures on my social media feeds – Facebook and Instagram. If you'd like to follow me so you don't miss out, just click the appropriate button at the bottom of this post.
These are a few of the two dozen Braided Butt Damsel flies – one dozen for a customer and one dozen for the provider box.
The Braided Butt Damsels were part of an order for several Iris Caddis. A good customer of mine had seen a previous post about Filling the Provider Box and decided he needed some of them.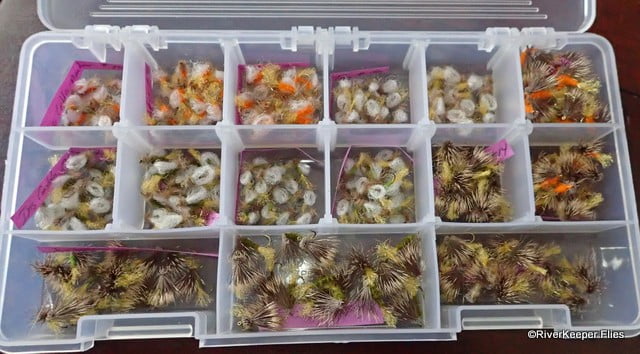 The other picture you may have seen is a few Bird's Nest nymphs. After I tied these flies, I added a fly pattern sheet for the Bird's Nest nymph.
These nymphs were for a customer. I would call these "Throw Back" flies, because I don't see a lot of fly fishers using them these days…me included. But they are as good today as when Cal Bird created them in the 1980's. I wrote about this fly as a previous Throw Back Thursday Fly. You can read about it HERE.
I needed some fresh RiverKeeper Soft Hackle Cripples for the Blue Wing Olive hatching last week.
I've written about Blue Wing Olives before, as well as my Favorite Blue Wing Olive Imitations. If you need a refresher about these small mayflies and the flies I recommend imitating them, be sure to read these two RiverKeeper Flies posts.
My fly box has a few RiverKeeper Soft Hackle Cripples left from last year, but I need to replace them with new flies.
I figured tying a couple of dozen for me and the provider box would get me back in the groove quickly to tie these great flies. Why? I'm working on a fairly large order and my customer asked for several dozen of the RiverKeeper Soft Hackle Cripple flies in various sizes and colors. So I have concentrated on tying them…lots of them.
I thought you may enjoy seeing my fly tying desk and how I manage the process of tying so many flies.
Oh, that's my trash container filled with remnants of Mallard covert feathers, with a few damsel leftovers as well.
I go through phases of tying these flies and sit down with a couple Mallard wings and pull the feathers off, strip the butts, and size them for their appropriate hook.
I have written about Preparing Mallard Wings for Soft Hackle Flies. If you would like more detail about where I get my feathers for these flies, I discuss in detail the covert feathers used for many of the mayflies I imitate.
Lastly, I plan to start tying Sparkle Duns later this week. And here's why…a Blue Wing Olive Sparkle Dun worked on this rainbow trout.
Well, back to the vise. I have an order to fill.
Enjoy…go fish!