It's the middle of winter and the major hatch on the river these days are Blue Wing Olives.
I get confused what to call these bugs…Blue Wing Olives…Blue Wings… BWOs…Baetis … I'm no expert, but I think they are all the same insect. Or close enough for a fly fisher.
To be sure, I consulted one of my go-to books to review what I thought I knew…BugWater by Arlen Thomason. Arlen mostly discusses bugs in layman's terms, although there is a little entomology involved, so you will slowly learn how the insect hatches, time of hatches, and characteristics of bugs that may help you catch more fish. Check out his book on my Favorite Fly Fishing and Fly Tying Books in the Resources tab.
BWOs are the smallest of mayflies found on rivers. A large one will be size 16, but can easily be a size 22 or 24. Can you see those tiny flies on the water? Tough to do. I tend to tie and fish size 18 and 20 imitations.
They are found in moving water and can hatch almost any month of the year. Blue Wings are quite important during the winter months because hardly any other bugs hatch. And trout are very opportunistic so this is a match made in heaven for the dry fly fisher.
So I wonder why they call them Blue Wings? The wings don't look blue to me! They are gray or what a fly tyer would call "dun".
And the second part of the name…Olives. The bodies of real insects vary greatly from dark olive to a non-descriptive light brown. This is when it's a definite advantage being a fly tyer because I can change the body color to my hearts content, go to the river and give it a try.
I tie them using Superfine dubbing in Blue Winged Olive, Callibaetis, Dark Tan, and a custom color I blend from several different dubbings.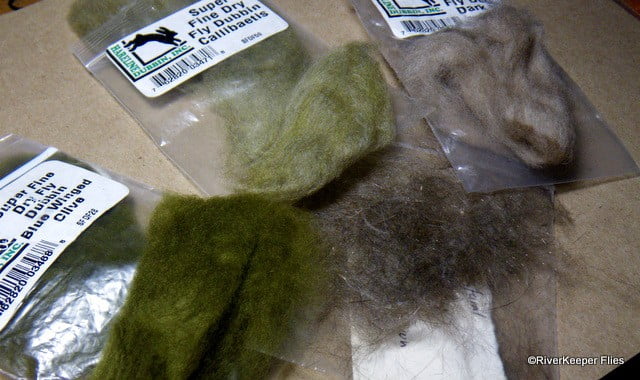 Here is a picture of the real deal I found on the water last week. See how one of the BWO's wings are caught in the water?
And a few dry flies I use during a BWO hatch.
Notice I only use one true dry fly? The others are emerger or cripple patterns. In fact, I find them more likely to catch fish. Many bugs float by with wings caught on the surface or mangled in some way. These are easy pickings for trout because the bugs won't try and get away…they can't. And this in turn is good for the fly fisher!
How about a nymph? Good question. BWO nymphs are swimmers, eventually getting to the surface where it breaks free from the nymphal shuck and hopefully flies away. That reminds me of a the Baetis Foam Nymph from Blue Ribbon Flies in West Yellowstone, Montana. A good imitation for the nymph at or in the surface film. I better add that fly to my Fly Patterns page!
Here are the two nymph patterns I use:
Recently, I've had great success with a Midge imitation called the $3 Dip in a size 16. It's probably one size too big (although I tie and fish it in size 18), but I'm beginning to question whether the fish are taking it as a BWO nymph. Either way, I don't care as long as the fish eats the bug!
Notice the color is similar to a Pheasant Tail Nymph or Copper John.
But what is surprising to me is the variety of bugs I found on the water when I was checking out BWOs floating by me in the eddy.
Here is a fly that looks similar to a PMD – it may be a BWO because the wings are similar…but check out the body color. For some reason, this really looks yellow on the water.
Or an Amaletus looking mayfly that I thought only hatches in the late fall. We call it a baby Green Drake because of the similar characteristics to the bigger one.
And then there was something floating towards us we couldn't figure out. A midge cluster!
I've heard of them, but have never seen them. Sorry for the blurry picture, but here is one along the bank. These guys are tiny! Probably a size 20.
Always interesting to check out bugs floating in eddies. I learn a lot. So keep your eyes open!
Well, I hope this information helps with your Blue Wing Olive fishing this winter.
Maybe I'll see you on the water.